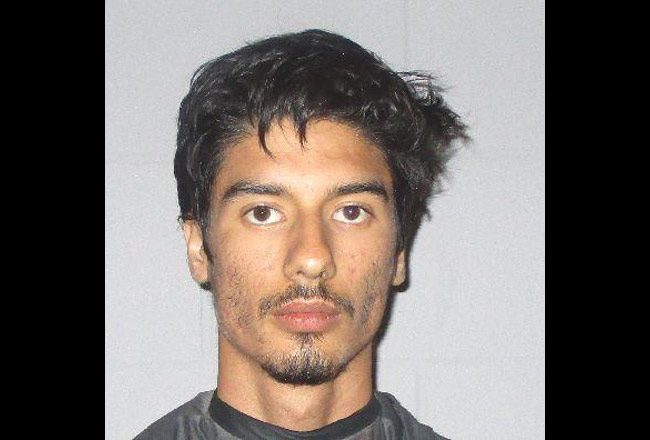 Levi Ovenshire, the 19-year-old Palm Coast resident who shot his friend Marco Salazar at Ovenshire's F-Section house last June 24, was sentenced to 15 years in prison in a plea deal, though Judge Dennis Craig imposed the maximum allowable, with the first 10 years being mandatory. He had faced an attempted second-degree murder charge, a second-degree felony.
Ovenshire was also sentenced to 5 years in prison for fleeing cops the afternoon of the shooting as he led Flagler County Sheriff's deputies on a chase through the R Section before losing control of his vehicle at Rae and Raleigh Drive, where he was arrested. Ovenshire has been at the Flagler County jail since, giving him eight and a half months' credit for time off his sentence.
But the same day that sentence was pronounced (March 7), Josh Davis, Ovenshire's attorney, filed notice of appeal to the Fifth District Court of Appeal. It's not clear on what grounds: The appeal has not yet been filed. The case had been proceeding to trial, with depositions and a mental evaluation of Ovenshire ordered.
Davis (who took over representing Ovenshire after the public defender's office had been the attorney of record) had filed motions to suppress Ovenshire's confessions to deputies, among other motions, but it was denied.
The case against Ovenhire was substantial. Salazar had walked into Marion Gardella's garage at 12 Fulton Place the afternoon of June 24, "bleeding to death," as Gardella described it to a 911 dispatcher, from what looked like a gunshot wound to the stomach. In fact, Salazar had been shot in the back. The bullet exited through his abdomen. Salazar told the woman that Ovenshire had shot him at the house across the street. Three minutes later, Ovenshire's parents called 911 to report what they believed to have been a burglary at their house at 13 Fulton–by their son. They'd seen him rush out, get in a car and speed off. After walking in the house Ovenshire's mother described to the 911 dispatcher a scene of blood and mess everywhere, and told the dispatcher she believed Ovenshire had shot himself. Meanwhile a registered nurse who'd been nearby was able to tend to Salazar's wound. He would survive.
Salazar could not explain why Ovenshire had shot him, but after Ovenshire was apprehended, Ovenshire spoke of "the kid that I ended up shooting" but in terms that suggested he was not entirely within his faculties. At one point he said he was shooting a blank, but then loaded a real bullet and shot again with a .45-caliber handgun. He'd been angered by "annoying little gay comments" by Salazar, which he told deputies he was not going to take anymore, and claimed he'd seen Salazar look like a lizard. His biological father would later tell deputies, after speaking with Ovenshire at the intersection where he was arrested, that he thought his son was on some sort of intoxicant.
Two .45-caliber wounds would later be recovered at the F-Section house. The gun had belonged to Adam Bivens, who lived at the house with Ovenshire's mother, Norma Bivens. Ovenshire had ostensibly taken the gun from under the Bivens's mattress, along with $1,500 in cash.
The gun was found in the Honda Accord Ovenshire drove off the road in the R Section. Salazar was taken to Halifax hospital and was in critical condition for a while, his injury being life-threatening. But he pulled through: had he not, Ovenshire would have likely faced a second-degree murder charge and life in prison. As it is, and the appeal notwithstanding, he may be out of prison by the time he's 33 or 34.