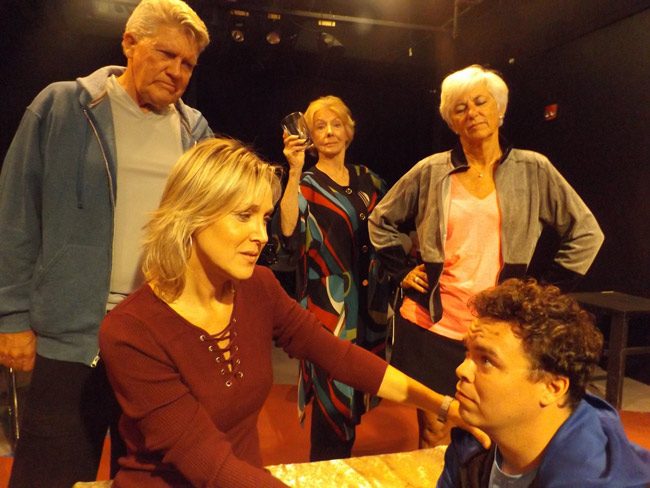 To easily book tickets for "Other Desert Cities," go here.
The cast of "Other Desert Cities" is discussing the City Repertory Theatre play, which opens Friday, and the dour talk is churning through the Vietnam War, protest bombings, suicide and a family torn asunder by a toxic hippies-vs.-the-squares generation gap.
Then, like a bear woken from a bad hibernation, City Rep director John Sbordone bursts in, a tad late to the roundtable interview, and roars: "I don't know what anybody's talking about! This is funny. I laugh a lot in this play. It's Noel Coward with a serious bent!"
The play by Jon Robin Baitz, who wrote for the critically acclaimed TV shows "The West Wing" and "Brothers and Sisters," was a finalist for the 2012 Pulitzer Prize for drama. But Sbordone agrees with critics who have assessed the work as a "dark comedy." At the mention of that term, the five-person cast chimes in almost in unison: "It is." That's not unusual at CRT, where any comedy without shades of darkness would be like "Hair" without music. Or hair.
Set in 2004 in Palm Springs, Calif., "Other Desert Cities" tells the story of a writer who upsets her conservative parents when she visits them and announces she is writing a family memoir – one that will explore the suicide of her older brother Henry, a protestor who was involved in the bombing of an Army recruiting center during the Vietnam War. The play takes its title from a directional road sign on Interstate 10 in Southern California.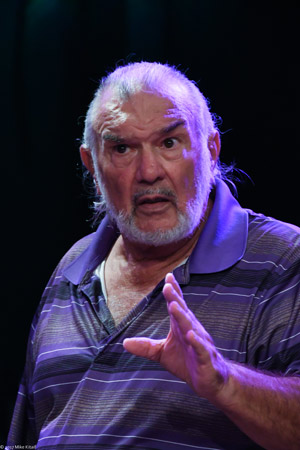 "You're talking about this story as 'Oh my God, it's dark' and 'It's a chess match between the characters,' " Sbordone playfully chides his cast. "They are witty. They are intelligent. They are having fun in spite of all the things that are going on."
John Pope plays the father, Lyman Wyeth, a former U.S. ambassador under President Ronald Reagan. "He's just trying to keep his family together and he wants everybody to be peaceful and quiet and get along," Pope says.
Sue Pope, his real-life wife, portrays his fictional wife Polly. "She's the matriarch," Sue Pope says. "If you hear the story about the woman behind the man, that's Polly. She has given up a lot of her life to control her family and her husband. It's all about control with Polly."
Sharon Resnikoff is their daughter Brooke. "I came up with my own mantra for Brooke – 'I write, therefore I am,' " Resnikoff says. "That's what she lives for. It's her cathartic healing process. It's what she uses to get through the day a lot of times. She self-medicates with alcohol and pot. She's in therapy. She also takes drugs prescribed by her therapist. She's had a lot of struggles dealing with the loss of her brother."
Anne Kraft is Polly's sister Silda – a financially broke, former screenwriter and recovering alcoholic who's "sort of a rogue member of the family," Kraft says. "I'm against everything they stand for." Beau Wade plays the younger brother Trip, a television producer.
"For those of us who lived through Vietnam, this is a real story that could have happened to thousands of families," Sue Pope says.
Indeed, husband John served in the Army in Vietnam from 1965-66, then joined the FBI before returning to the Army and serving as a military policeman in Vietnam from 1971-73. "So, it's a very real story to me," he says.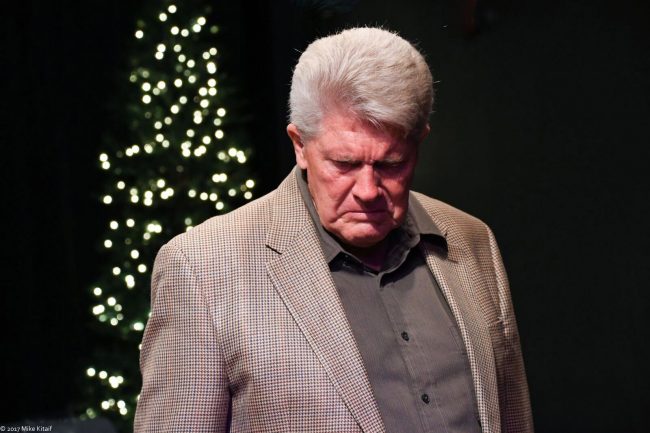 "Brooke's take is that her brother Henry was a free spirit and you should have stood up for him," Sue Pope says. "Our take as parents is that he was fighting against us. And this is the story of this family. We love and want to protect our children desperately. But where does it end, and then whose truth is it to tell? Who has the right to tell this story?"
"We're sitting here talking about Vietnam – it's not about Vietnam," Sbordone says.
Indeed, like Cain and Abel, Hamlet and perhaps every story on down, "Other Desert Cities" is a play about a dysfunctional family.
Despite Sbordone's earlier protest, Resnikoff does see the play as a "chess match" between the characters, "and it's referred to several times that we're all really good at chess. We've got Lyman the king, Polly the matriarch is the queen and we're her pawns because she's very manipulative, very controlling, very domineering and she tries to coerce us into things."
City Repertory Theatre will stage "Scapino!" at 7:30 p.m. Friday and Saturday March 17-18 and March 24-25, and at 3 p.m. Sunday March 19 and 26. Performances will be in CRT's black box theater at City Marketplace, 160 Cypress Point Parkway, Suite B207, Palm Coast. Tickets are $20 adults and $15 students, available online at crtpalmcoast.com or by calling 386-585-9415. Tickets also will be available at the venue just before curtain time.
Click On:
---
"For your own good," Sue Pope adds impishly.
As tensions rise at the Wyeth home one Christmas eve and the psychological chess moves abound, Baitz "doesn't dumb down the language," Sue Pope says. "It's amazing."
She goes into character to provide an example, deriding "the grotesque characteristics of various and sundry friends of ours who come across as a parade of doddering, self-satisfied, paleolithic halfwits."
But Baitz's play isn't a death match between the politics of Left and Right.
"It would be easy to get skewed over what this play is about because of the politics," Sbordone says. "I'm as liberal as I think you can be, but one of the amazing things about the play for me is to have such great affection for these old Republicans. They're human beings and you see that."
Given that the play is set in 2004, it's also littered with references to the Iraq War — "this war in the desert," John Pope says. Given the United States' continued military involvement in the Middle East and Afghanistan, that makes "Other Desert Cities" oddly contemporary, he notes.
And, adds City Rep stage manager Jerry Lapidus, "There are so many lines that sound as if they were written for 2017."
"The one thing I love about this play is that the audience will not go out of here and talk about what they're going to have for dessert," Sue Pope says. "There will be discussions. It will open up dialogue between people."
–Rick de Yampert for FlaglerLive

"Other Desert Cities," at 7:30 p.m. Nov. 10-11 and 17-18, and at 2:30 p.m. Nov. 12 and 19 at City Repertory Theatre's venue in City Market Place, 160 Cypress Point Parkway, Suite B207, Palm Coast. Tickets are $20 adults, $15 students. For more information or tickets, call the CRT box office at 386-585-9415 or easily book tickets online here.