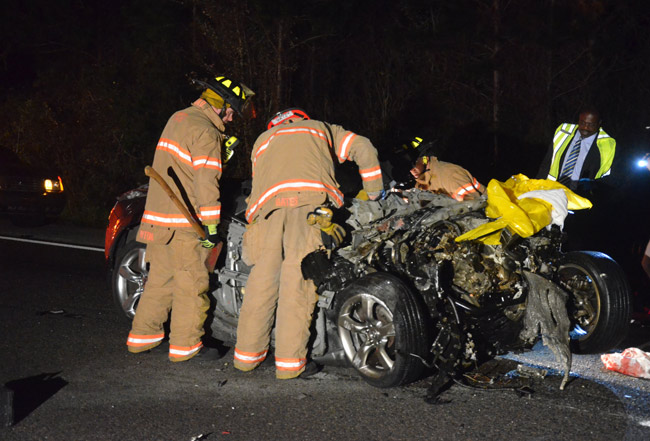 If you have lousy driving tendencies, you may want to stay away from I-95 in Flagler County and the rest of the highway to the Georgia border Friday.
On a good day, the Florida Highway Patrol might have eight troopers patrolling four counties from Flagler to St. Johns, Duval and Nassau, along I-95. On Friday, the highway patrol will deploy 40 troopers on the northeast Florida stretch of the interstate, including Flagler, along with two fixed-wing aircrafts, for what it calls Operation Checkered Flag—a focused effort against aggressive, impaired and speeding drivers in which civilian drivers are also being asked to play a role.
Operation Checkered Flag will take place Friday between 10 a.m. and 6 p.m. on I-95 in Flagler and the three other counties.
The highway patrol is asking drivers in those four counties to dial *FHP (or *347) on their cell phone and report any sighting of drunk drivers or aggressive drivers, including those who follow too closely or weave in and out of lanes dangerously.
"Obviously just speeding, that's not aggressive driving," says Florida Highway Patrol Captain Keith Gaston. "If you're driving in the center lane and seeing people coming up behind you, and they're weaving in and out, left and right, trying to get ahead of somebody, that's aggressive driving."
There is a degree of subjectivity when reporting bad drivers. Following too closely, for example, is not a matter of distance so much as time needed between vehicles to make a safe stop. That's a variable, depending on the size of vehicles in question. A small sports car may need no more than 10 car lengths to make a safe stop when traveling at highway speeds. A big rig would need much more than that.
Why give away the operation?
"My goal," Gaston said, "is not to give somebody a ticket. My goal is to get somebody to drive and be safe," and to get drivers to their destination without an accident. "And if you put this out on the media and help me to share with the people to be safe, you've done half my work for me."
The highway patrol periodically stages operations of the sort to crack down on bad driving. Friday was chosen as a target date because of the combination of the races taking place at the Daytona International Speedway this weekend, and because of the Independence Day holiday week. That's the only such operation taking place in Florida this weekend.
Deploying two planes will help better gauge speeders and aggressive drivers, Gaston said, by giving troopers a much wider field of vision and perspective, so that the driver going 80 isn't stopped while the driver just behind him, going 90 and weaving all over the place, zips through.
Civilian drivers will be asked to help by signaling impaired or aggressive drivers to authorities in the following ways:
1. Noting the location of the vehicle and the direction the vehicle was traveling. For example, if you notice an aggressive driver near the Palm Coast Parkway exit traveling north, FHP would want to know that it was near mile marker 289 on I-95 northbound.
2. Noting as accurate a description of the vehicle as possible—its color, make, model, two-door or four-door.
3. A description of the driver, if possible: the driver's sex, race, or other identifiers.
4. The vehicle's license number and state, if it can be obtained safely.
The highway patrol stresses the safety measures drivers must themselves take when reporting another driver. Pursuing a driver is not acceptable, Gaston said. "Don't even think about that," he said. Drivers will be told as much when they call FHP. "We're going to have enough people out there to try to identify that vehicle."
Gaston said he's not worried that civilian drivers will act like vigilantes. The highway patrol has always encouraged drivers to report unsafe driving behavior. The difference on July 6 is that there will be many more troopers on I-95 to respond to such reports.