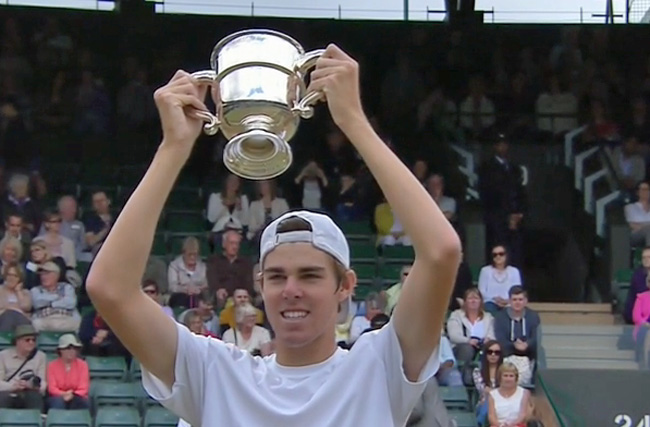 Last Updated: 5:02 p.m. with Reilly Opelka interview.
Serve up an ace of your own: we've taken great pride and joy in FlaglerLive's coverage of Reilly Opelka's conquest of Wimbledon, but it doesn't come cheap. Please consider making a tax-deductible contribution here.

Ten years ago Reilly Opelka wandered onto the courts of Trails Racquet Club, just another little kid looking for a sport to try.
Now he's a Wimbledon champion. And he belongs to Palm Coast.
Let's say that again, because it sounds unreal the first time. Reilly Opelka is a champion of Wimbledon.
For Palm Coast, a city perpetually searching for the ace in its marketing strategy, it's more than a big deal that lends itself to all sorts of possibilities, just beyond the congratulations. "I want to congratulate Reilly on becoming the 11th American to win the Wimbledon Juniors Championship," Palm Coast council member Jason DeLorenzo reacted immediately after the match. "All your hard work and dedication makes us #PalmCoastProud."
The 17-year-old, 6-foot-10 kid who had never been past the second round at a Grand Slam tournament until June finished off an incredible week by defeating Mikael Ymer of Sweden, 7-6 (5), 6-4 Sunday morning to grab the Wimbledon boys singles championship.
Rocketing forehands and backhands past Ymer and using the match's only service break late in the second set to propel him, Opelka clinched the win when an Ymer backhand sailed wide.
"I was just really thrilled, and kind of happy I was able to get to this point," Opelka said by phone from London. "I'm pretty happy with how I played all week, and today … there's no way I could've expected this to have happened when the tournament started."
Opelka, true to his calm demeanor, didn't throw his racket in the air or scream, or even fall to the ground as so many champions do when they triumph on the most prestigious grounds in the sport.
He simply smiled widely, shook his racket a bit in excitement, and stared into the crowd at his parents, George and Lynne Opelka, and his coach, Diego Moyano.
It was a moment created through thousands of hours in the hot Florida sun, hitting ball after ball. A moment that never would've happened if Opelka hadn't saved a match point in his first-round match on Monday.
And it was a moment that's never been known before from a kid from Flagler County, where the Opelkas moved in 2002 when Reilly was 4.
Jay Berger, the director of men's tennis at the USTA Training Center in Boca Raton where Opelka trains, was awfully proud of his protégé Sunday.
"We know Reilly has the ability to play extremely good tennis, and it was a lot of fun watching him do that today," Berger said of the second consecutive Wimbledon boys champion to hail from the U.S. (New Yorker Noah Rubin won the 2014 crown). "He went for his shots and served very well, and he's earned this win with all the work he's put in the last few years."
Opelka had a chance to be a two-time winner at Wimbledon this year, but in the first bit of bad news he's had all week, he and partner Akira Santillan lost in the doubles final to Sumit Nagal and Nam Hoant Ly, 7-6, 6-4.
Still, Sunday will be a day he remembers for the rest of his life. Opelka gets to go to the Wimbledon Champions Dinner Sunday night, an exclusive affair where he can hobnob with Serena Williams and Novak Djokovic, among others.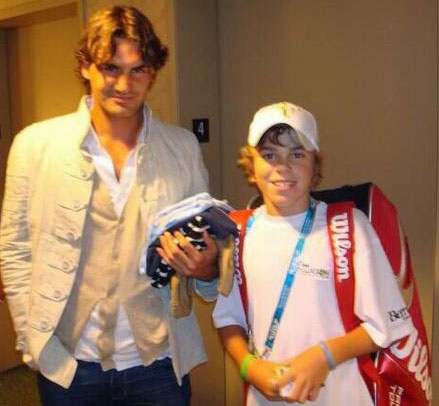 And in the locker room after his win, Opelka said he ran into one of his heroes, a guy named Roger Federer. In August of 2007, a 9-year-old Opelka got to meet Federer at a tournament in Cincinnati, and Reilly's dad George Tweeted this picture of the two from that encounter (Reilly's grown a tad since then).
The two met after Opelka's win and Federer's defeat in the men's final in the locker room on Sunday.
"He was very kind and very gracious, even though you know he was upset that he lost," Opelka said. "He congratulated me and was really nice to me."
Opelka, who lived full-time in Palm Coast for eight years and went to Indian Trails Middle School until moving to Boca Raton, didn't play his best match of the tournament Sunday against Ymer, but he played extremely well at all the right times.
From the start Opelka dictated the pace of play, smacking 41 winners and making 37 unforced errors, while Ymer, a 16-year-old who's a foot shorter than his opponent, drilled only eight winners while making 11 errors in the 85-minute match.
Opelka, who defeated Ymer in the second round of the French Open juniors in June, had no trouble holding serve throughout the first set, rarely being threatened, but Ymer, with his howitzer of a forehand and strong serving of his own, didn't surrender a break point chance either.
"My serve was really on today, but I wasn't having a lot of success against his serve," Opelka said. "When the games got tight on my serve, I was able to hit an ace or a service winner when I needed it. That was huge."
With six straight holds of serve by each player, the first set went to a tiebreak. At 3-all Opelka made his move, tattooing a short forehand for a winner to go up 4-3, with two serves to come.
At 6-5 in the breaker, Opelka again unleashed a scorching forehand winner to take the lead, pumping his fist on his way to his chair.
"He's got a very strong backhand and always has had a clear vision of what he wants to do out there," said Berger, a former top pro who had been at Wimbledon all week but watched the final from his home in Florida. "He takes the racket out of his opponent's hands if he plays like he did today."
---
"The people in Palm Coast are amazing, and I'm very thankful for all their support," Opelka said.
---
In the second set Opelka had a few chances to break Ymer's serve at 1-all, but the 16-year-old Swede steeled himself and hung in.
Still, Ymer couldn't touch Opelka's serve, as Opelka smashed 15 aces and won 86 percent of his first-serve points.
Finally at 4-all in the second set, Opelka pounced, and Ymer cracked. An Opelka overhead at 15-30 gave him two break points that Ymer subsequently saved, but on Opelka's third break try, Ymer double-faulted long, and suddenly Opelka was about to serve for the Wimbledon title.
"I just sat there trying to clear my head," Opelka said when asked what he was thinking on the changeover. "I was telling myself to focus on each point, and not think about the situation."
Unlike in his semifinal against Taylor Fritz, when Opelka wobbled while serving for the match, this time the kid whose favorite player is Juan Martin del Potro and roots hard for the NBA's Chicago Bulls stayed clutch.
Two aces got Opelka to 40-15, and moments later Ymer's error gave the Palm Coast kid the championship.
This victory, naturally, puts Opelka's career into a different category. He has never truly been considered one of the top few American junior prospects, nor given the hype of players like Frances Tiafoe, Stefan Kozlov or Fritz.
But breaking through on such a grand stage will mean increased pressure, increased attention, and increased expectations for Opelka, starting at the U.S. Open in Flushing Meadows in September. And of course there's no guarantee juniors success will translate to the pros, though Opelka has a lot going for him.
That's all for another day, though.
Right now, Opelka can revel in a thrilling victory, and know that he's headed back home to the USTA Training Center Boca Raton for a few days off before resuming practice.
He said his next big tournament will likely be the U.S. national championships in Kalamazoo, Mich., in the first week of August, where a win would automatically gain Opelka entry into the main draw of the men's U.S. Open.
In the meantime, Palm Coast can take pride in having nurtured a Wimbledon champ.
Asked about it, Opelka couldn't have been more grateful for the love he's feeling from his hometown.
"The people in Palm Coast are amazing, and I'm very thankful for all their support," Opelka said. "I've gotten a ton of messages from my old friends at Indian Trails this week. It's been so much fun hearing how excited people are for me. I really, really appreciate it."
–Michael J. Lewis for FlaglerLive

Hello tennis fans, and welcome to FlaglerLive's live blog of the Wimbledon Boys singles final this morning between the unseeded 17-year-old Reilly Opelka, who grew up in Palm Coast, and 16-year-old Mikael Ymer of Sweden, whose seeded 12th.
Follow the match here as former Opelka Coach Gene Paul Lascano joins FlaglerLive's Michael Lewis starting at 8 a.m.
We'll be updating the blog constantly as the match goes on, with commentary and analysis, as Opelka tries for his first-ever Grand Slam championship, and tries to become the first-ever Grand Slam singles champion from Palm Coast.
The match is slated to begin at 8 a.m. Palm Coast time, pending the weather in London Sunday (rain is in the forecast). Opelka is also in the doubles final later Sunday with partner Akira Santillan. You can also watch the match live on ESPN3.com, and on the Watch ESPN app.
No need to refresh the page: the blog below will update automatically the moment Lewis and Lascano add a line. So keep it here as a local boy goes for history.

…Welcome everyone, and thanks for joining us for this first-ever live blog on Flagler Live (hey, the word "Live" is in our name, we ought to be coming to you live, right?).
This is Michael Lewis, longtime sports journalist and chronicler of Reilly Opelka since he was 12 years old and I was still taller than him. I'll be here this morning with longtime Flagler County tennis pro Gene Paul Lascano, currently working at Hammock Beach Resort, analyzing the match as our own Reilly Opelka goes for his first-ever Grand Slam championship against Mikael Ymer of Sweden.
Even as I typed those words it's still a little surreal; Reilly is a wonderful kid with a terrific family, but who ever thought he'd playing for a Wimbledon championship? It should be incredibly exciting.
We'll be back around 8 a.m. as the players begin their warmups.
Looking a tad bit iffy rainwise in Greater London.
Michael: All right, it's straight-up 8 o'clock and the players should be walking onto Court 1 any moment now.
And there they are, right on cue: There are a lot of "firsts" being achieved by Opelka this week, and now this is another first: He's playing on famous Court 1 at the All England Club, an enormous court.
Sounds like the crowd is giving them a big hand as they walk on.
Michael: A couple of pre-game notes to give you before the match starts, about Opelka's opponent, 16-year-old Swede Mikael Ymer. He has a brother, Elias, who is 19 and already in the top 200 on the professional tour. The Ymer's parents are Ethopians who tried to get their boys into running as kids, but they preferred tennis.
It certainly seems to have been the right choice!
Gene Paul: the bell is about to ring!
Michael: Ymer and Opelka are both ranked in the Top 20 in the ITF Junior rankings, and Opelka defeated Ymer in the French Open last month, 6-4, 6-4.
Michael: Opelka to serve first, hey, if I had a 130-mile per hour serve, I'd choose to serve first every time, too.
 by Gene Lascano
Gene Paul: 1 for 1 in challenges
Michael: Welcome Gene Paul, and thanks for doing this with us. Can't wait to hear your comments.
Michael: You have to expect both players to be nervous at the start, clearly the biggest tennis moment in both of their lives. But Opelka opens with a strong first game, ending it with a sweet drop volley to go up 1-0.
Michael: This match is the latest in the fabulous rivarly between Sweden and the U.S. in tennis; going back decades, we had Bjorn Borg vs. John McEnroe (I seem to recall a fairly-famous 1980 match between them at Wimbledon), Stefan Edberg and Mats Wilander also had classic matches with McEnroe and Jimmy Connors. Sweden has been a terrific tennis country for decades but has seen their number of pros fallen off in recent years.
Ymer is part of a new wave of talent.
Michael: Strong first service game for Ymer, who clearly beats Opelka in the "cool hair" department today. Man, I'm jealous.
Michael: If you're new to the Opelka story, he's 17, was born in Michigan but moved to Florida with parents George and Lynne, and sister Brenna, when Reilly was 4. He's learned under great coaches like Gene Paul Lascano and Tom Gullikson while in Palm Coast, and Reilly moved to Boca Raton to train full-time at the USTA Training Center five years ago.
Michael: Great volley there at 30-all by Opelka. Gene Paul, what do you think are the keys to Reilly winning today?
Michael: Opelka holds for a 2-1 lead, and really doesn't appear nervous, except for one that missed easy volley last game.
Michael: Reason No. 4,383 of why I love Wimbledon: The ties that the umpires and linespeople have to wear. Such a nice touch of class. Plus, they're already dressed if they want to go out to a nice dinner after the match.
Gene Paul: Obviously Reily needs to serve well.  Not just getting free points, but putting himself in immediate opportunites to win the point early.
Michael: Weather forecast is calling for rain soon in London, I'm sure both players want to play as quickly as possible due to that. Opelka normally plays fast, anyway.
Michael: What are your thoughts on Ymer so far, Gene Paul? Kid looks pretty calm out there, with terrific groundstrokes.
Gene Paul: I'd also like to see him move forward and use his length at the net.
Michael: I have to keep reminding myself that I'm 5-foot-6, and I was taller than Opelka when I first met him. Seems impossible now.
Michael: 30-all, 2-all, first danger spot for Opelka on serve.
Gene Paul: Chance for Ymer here—maybe…
Ymer:
Michael: Strong response to first bit of a challenge from Opelka, holding serve with some big serves to go up 3-2. This looks like it'll be a very close match, which suits Opelka just fine
And Opelka
Gene Paul: If I'm Ymer, I do my best to make as many balls as possible—play more counter-punch tennis…
Michael: That's a great point Gene Paul, the more balls you can get back in play against Reilly, the better chance you have. Make the points longer.
Michael: Ymer's forehand is fierce. Really impressed with his groundstrokes so far. As Opelka just unleashes a howitzer of a forehand winner. 3-all now, first set.
Gene Paul: If he can find a few opportunites to neutralize some of Reilly's big serves at key points, it could be a huge difference maker
Michael: An ace for Opelka (you're going to hear that a lot today) and he enjoys an easy service game. On serve, 4-3 in first set. Excellent start for both players, no nerves visible.
Gene Paul: big game here for both players
Michael: In case you were wondering how Reilly got so tall, his dad George is 6-foot-6 and mom Lynne is about 6 foot tall. I never got past 5-foot-6, and blame my parents (both shrimps) for that. One more thing I can blame them for :)
Michael: More fun facts about Reilly: His other favorite sport is basketball, he's a huge fan of the Chicago Bulls, and his best tennis buddy is Tommy Paul, who won the Boys French Open singles title in June.
Michael: Gene Paul, what can Reilly do to better work himself into Ymer's service games?
 by michael lewis
4-all, first set, no break points for either player so far. This set looks like it's headed for an eventual tiebreaker
 by michael lewis
Beautiful flick backhand pass by Opelka there for a winner. That was downright Federer-ian.
Gene Paul: I love how he's standing in there taking Reilly's serve early.  Often times players facing an opponent with a big serve tend to drift back, but on this surface, that would be a fatal mistake
 by michael lewis
Opelka with a terrific game there, to go up 5-4. Ymer needs to hold to stay in the first set. And all those shots of the kids eating in the crowd are making me hungry.
 by michael lewis
Opelka with a terrific game there, to go up 5-4. Ymer needs to hold to stay in the first set. And all those shots of the kids eating in the crowd are making me hungry.
Gene Paul: WOW!  great stab volley there!
 by michael lewis
Tremendous volley by Opelka cross-court! Wow, that was great. Love-30, Opelka two points from the set!
Gene Paul: big challenge here……
 by michael lewis
Well that's proof for you that Gene Paul and I aren't in the same room, we typed almost the exact same comment at the same time…
 by michael lewis
Sorry for any delays in my comments, I'm occasionally getting mesmerized staring at Ymer's hair. It really is sensational.
Gene Paul: big hold for the Swede
 by michael lewis
Excellent recovery by the Swede there, down love-30, he wins four straight points. This whole match looks like it'll come down to just a few points.
Gene Paul: late challenge—can't do that…
 by michael lewis
Ymer arguing he should be allowed to challenge
 by michael lewis
Ymer's forehand is just lethal. Beautiful passing shot there.
 by michael lewis
I just asked famous ESPN commentator Darren Cahill on Twitter what he thinks of Opelka's overall game. He's supposed to be a heck of a nice guy, I hope he answers me. If he does I'll post it here.
I remember watching the Borg-McEnroe finals in 80 and '81 on this very court, before they built the big one with the retractable roof, back when McEnroe was supposed to have the big serve (after Roscoe Tanner). Borg would stand somewhere to the south of the Isle of Wight to receive. It worked the first time in '80, when they had that mighty fourth-set tiebreaker. Didn't work in '81, when Borg was dethroned. Oh, the great days of bandannas, wooden rackets and big hair. To think that Opelka's serve today is way beyond what either Borg or McEnroe could serve up back then. Great tight match here.
 by michael lewis
Opelka holds for 6-5. What tennis people I've talked to about Opelka say is so devastatingly effective about his serve is that it's not just fast, but he moves it around the service box so well, and opponents can't pick up his patterns.
 by michael lewis
Pierre, you wore plenty of bandannas back in the day, I've seen the photos and will release them if I need to :)
 by michael lewis
Pierre, you wore plenty of bandannas back in the day, I've seen the photos and will release them if I need to :)
 by michael lewis
You could tell Opelka is trying hard to be aggressive and come in whenever he can. Just gotta stay away from Ymer's forehand, it's clearly his best shot.
 by Pierre Tristam
That was my brother Michael, not me. I played in cufflinks.
Text alert: Palm Coast City Councilman Jason DeLorenzo is having his tea and scones (which he translated as coffee and cereal for American audiences) as he watches the match, presumably all fingers crossed.
 by michael lewis
Gorgeous backhand winner by Opelka, to deuce. He is seizing his chance to break serve and go up a set.
 by Gene Lascano
i like that play particularly in this game—Opelka ripping the returns…putting some pressure on the Swede
 by michael lewis
Ymer steadies and holds to send the first set to a tiebreak, terrific quality of play so far.
 by michael lewis
Opelka mad at himself for that double fault on the first point of the tiebreak, he knows the margin for error in this match is tinier than Pol Pot's heart.
 by michael lewis
Opelka coming back strong, two big aces to go up 3-2 in the breaker. There is very little difference among these two, fantastic tennis so far.
 by michael lewis
Ace count so far: Opelka 9, Ymer 0.
 by michael lewis
Forehand winner for Opelka to go up 4-3, with two serves coming. That was big.
 by Pierre Tristam
Just occurred to me that this is another Swede-American match-up, just as with 1980 and 1981, on the same court.
 by michael lewis
I think they played on Centre Court in those finals, Pierre (am I allowed to correct the boss?)
 by michael lewis
Two great service points by Opelka, he's up 6-3 and has 3 set points now.
 by Pierre Tristam
Brilliant Opelka  is channeling Big Mac. My senility has me mistaking courts and decades of course Michael.
 by Gene Lascano
beautiful!!!
 by michael lewis
Huge first-set win for Opelka, wins it with a forehand cross-court and Opelka shows some emotion for the first time today, shouting and exhorting at his family and coach. Opelka wins the first set, 7-6!
 by Gene Lascano
set point looked ironically like a clay court point—going behind the opponent
 by michael lewis
Some quick first-set stats on the match, as we contemplate Palm Coast being 1 set away from having a Grand Slam champion: Opelka has gotten 73 percent of his first serves in, has 9 aces, and has hit 24 winners while Ymer has but 6. Opelka's making more errors (20-5) but that's because he's dictating the points and being really aggressive.
 by michael lewis
Gene Paul, Ymer obviously has to be disappointed about losing that set. How can he avoid letting the disappointment linger into the second, and affecting his play?
 by Gene Lascano
he needs to hold onto the fact that he was right there in the first set—not that he lost it…
 by michael lewis
Ymer holds for 1-0, first set. Huge cheer heard a moment ago, apparently that "other" match on Center Court is about to start. My pick? Djokovic in five scintillating sets. But like Reilly is, I'm pulling for Federer.
 by michael lewis
This has got to be the point in the match where Ymer is muttering to himself "how am I going to break serve against this guy?" We've all faced huge servers before, and it is no fun.
 by Gene Lascano
even though he hasn't had any break point opportunites, Ymer has had chances in some of Reilly's service games…I wouldnt necessarily try to play better if I was him, but maybe try to find ways to get Reilly out of his element…
 by michael lewis
Great, thanks Gene Paul. Another easy hold from Opelka, he's now five games away from a Wimbledon title.
 by michael lewis
Interesting thing about Opelka: When I first met him six years ago, he loved to attack the net and hit volleys, which is very rare for young kids. Most love to stand at baseline and whack away, but his then-coach, Tom Gullikson, marveled at how much Opelka loved to volley.
 by michael lewis
Beautiful backhand down the line winner for Opelka! Deuce at 1-1, this could be Opelka's moment to break and seize control of the match
 by michael lewis
First break point of the match, Opelka with a huge chance. But he gets a bad bounce on the grass off Ymer's serve, and it's back to deuce.
 by Pierre Tristam
 by michael lewis
Terrific hold by Ymer, fighting off a break point. We're on serve at 1-2 here in second set; Opelka has to be a little disappointed about not being able to break there.
 by michael lewis
Opportunity here for Opelka, but beautiful lob by Ymer at 30-all gets him a game point.
 by Gene Lascano
George!!!  hahahaha
 by michael lewis
Yeah, George Opelka looks pretty darn nervous there, huh? I would be too if my kid was in the Wimbledon final
 by Pierre Tristam
One of these days I'll get a handle on this Internet thing.
 by Gene Lascano
here's one of those "mini" chances i was referring too for Ymer…30-30…
 by michael lewis
I'm always amazed at how often the linesjudges get these calls right; some of these shots are coming 100 miles per hour, they have a split-second to call it, and they get it right all the time. Such a hard job they have (Not as hard as being a sportswriter, but still…)
 by Gene Lascano
and there it went…ace Opelka…
 by michael lewis
Spot of trouble (these British announcers are getting in my head, I never say "spot of trouble") for Opelka here, deuce on his service game.
 by Pierre Tristam
Opelka's first serves close to 70 percent in, to Ymner's 60 percent, but the difference has been at the net, with Opelka winning over 60 percent of his 31 approaches so far, with Ymer staying back: he's won just two of seven net points. The serve and volleyer clearly has the edge.
 by michael lewis
Well that was a fast game. Ymer holds at love, for 3-2. Looks like we might be on our way to another tie-break in this set. Which would suit the huge-serving Opelka just fine.
 by michael lewis
Pierre, channeling his inner Bud Collins!
 by Gene Lascano
the match is almost dead even on points won by both players…
 by Pierre Tristam
Indestructible. 
 by michael lewis
Awesome photo! Bud Collins is a god, truly a legend in the sport.
 by michael lewis
I'm just so impressed with how poised Opelka has been today, showing no signs of being overcome by the moment, and playing exactly as well as he's been playing all week.
 by michael lewis
Another easy hold for Opelka, 3-all, second set. Folks, Reilly Opelka is THREE games from a Wimbledon title.
Speaking of awesome photos, here are your commenters. This is Michael Lewis:
And here's Gene Lescano, a shot we stole from his Facebook page:
Meanwhile, back at the ranch:
 by michael lewis
Reilly up to 37 winners and 33 unforced errors, Ymer at 7 and 8, respectively. Rarely do you see one player have that large an advantage in winners.
 by michael lewis
Ymer holds, leads 4-3. And thank you Pierre for reminding me with that photo that I used to have a lot more hair :)
 by michael lewis
Gene Paul, when a player is this close to winning as Reilly is, as a coach, what would you like to tell them if you could?
I wonder if he has that prize-winning Palm Coast water shipped in for him.
 by Gene Lascano
stay the course and control what you control.  his gameplan of big serve and big forehand have been working despite the number of errors.  like they old saying goes, "if it ain't broke, don't fix it!"
 by michael lewis
Ymer starting to get frustrated, you can tell by his body language he realizes he's going to need a massive effort to break.
 by michael lewis
Opelka is now TWO games from a Wimbledon championship. His parents, George and Lynne, must be nervous wrecks sitting in the stands. Wouldn't you be? They're both such great people, George and Lynne, knowing them both. Wonderfully supportive, not your typical "overbearing tennis parents" at all.
 by Gene Lascano
tried to play that dropper a bit too cute…
 by michael lewis
Ymer backhand long, another huge chance for Opelka at love-30, 4-all. Reilly is six points from a title.
 by Gene Lascano
chance here for Opelka
 by michael lewis
Huge overhead after great approach shot by Opelka, he's got double-break point, 15-40
 by Gene Lascano
nice body serve by Ymer to fight off that break point…
 by michael lewis
But two big serves by Ymer gets him out of immediate danger. Deuce, 4-all.
 by michael lewis

HEre we go, another break point chance for Opelka here, he wins this point he serves for a Wimbledon championship
 by michael lewis
And there it is! Ymer double-faults on break point, and Reilly Opelka, raised on the courts of Palm Coast, will walk to the line in a minute to serve for a Wimbledon championship.
Unbelievable.
 by michael lewis
What must be going through Opelka's mind right now, knowing he's serving for a Wimbledon title?
 by michael lewis
Service winner on a 2nd serve, 15-0, 3 points away from victory.
 by michael lewis
15-all, Opelka sailed that forehand long, maybe a little too amped up.
i wouldve liked to seen him come in there…
 by michael lewis
HUGE second-serve ace down the middle by Opelka, to 30-15. He's TWO points away from victory.
Imagine how tight one gets such a small distance from the Everest summit.
 by michael lewis
Another huge serve out wide for an ace, Opelka has match point, at 40-15.
 by michael lewis
Ymer backhand sails wide, and Reilly Opelka has won the Wimbledon championship! 7-6, 6-4, and Palm Coast has a GRAND SLAM champion!
 by michael lewis
Opelka doesn't celebrate too much, he simply smiles, turns to his family and friends, and walks to the net to shake hands. Like Tom Gullikson taught him when he was 8, he takes off his hat and looked his opponent right in the eye. What a moment!
 by michael lewis
What a moment. Opelka becomes the second consecutive American to win the Wimbledon boys title.
 by michael lewis
Opelka grinning while kissing the trophy; I can't tell if he's in shock or that's just his natural calmness
 by michael lewis
What a wonderful moment for Palm Coast, for Opelka's family, and for all young tennis players dreaming of one day being in that position.
 by michael lewis
By the way, Opelka's day is only half-over; he can win another Wimbledon title later today, when he and partner Akira Santillan play for the boys doubles title.
Great acheivement for him and his team.  Minimum 90 minutes of rest and then onto doubles…
From Jason DeLorenzo: "I want to congratulate Reilly on becoming the 11th American to win the Wimbledon Juniors Championship! All your hard work and dedication makes us #PalmCoastProud."
 by Pierre Tristam
Michael will have a wrap-up and a story very soon, with updates throughout the day, including an interview with Opelka after his doubles match, and of course the results of that second championship, starting in about 90 minutes.
 by michael lewis
Thanks everyone for joing us, I've got to go write about some Palm Coast history!
Thank you and thanks to everyone that joined us this morning.  Again, congrats to Reilly Opelka, 2015 Wimbledon Boys Juniors Champion!