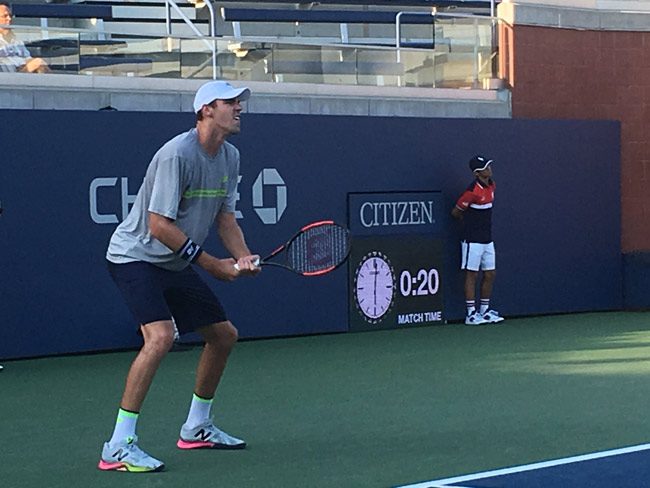 NEW YORK–This is the kind of year Reilly Opelka has had:
Last week the plane carrying him to New York for the U.S. Open was scheduled to land at LaGuardia Airport. But thanks to a big thunderstorm the aircraft circled for about 30 minutes, then landed at John F. Kennedy Airport, just 10 miles away, to refuel.
To then take off again and go to JFK like it was supposed to.
"I've never seen anything like that," Opelka recalled the next day in New York. "They told us the plane was needed (at LaGuardia) to go to Palm Beach or something, so it had to fully re-fuel. They let us get off at JFK if we wanted to. I got off the plane."
Hey, at least the plane landed safely, making sure the most successful pro tennis player in Flagler County history could try to change his recent luck, at the U.S. Open.
Opelka, the 19-year-old former Wimbledon Junior Boys champion, has had a rough go of it the last few months on the Association of Tennis Professionals (ATP) Tour.
The former Indian Trails Middle School student who left Flagler County after 7th grade to train full-time at the USTA Training Center (then in Boca Raton, Fla.) has had a ton of close losses in the past few months, a normal occurrence for someone so precocious who plays men often a decade older. (Opelka's parents, George and Lynne, still live in Palm Coast.)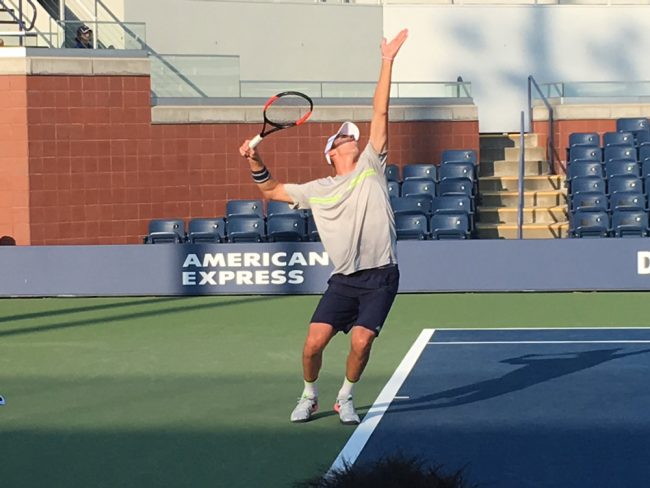 After rocketing into the Top 300 with some breakthrough wins in 2016, then starting off 2017 with a fantastic five-set loss to then-world No. 11 player David Goffin at the Australian Open in January, the 19-year-old has absorbed one excruciatingly close loss after another this year.
The 6-foot-11 3/4 inch Opelka ("I'm not 7-feet yet," he said with a chuckle) is competing in the U.S. Open men's qualifying tournament this week at the Billie Jean King National Tennis Center in Flushing Meadows, N.Y., with a new coach (the USTA's Dustin Taylor) in tow.
Currently ranked No. 179 in the world, he played his first match Tuesday afternoon against fellow American Alexander Sarkissian, and has been typical for Opelka all year, it was a squeaker that went the distance. Recovering from a first-set loss, Opelka used strong serving and clutch backhand groundstrokes to defeat Sarkissian, 6-7 (5), 6-3, 7-6 (2).
Opelka needs to win two more matches to qualify for the U.S. Open men's main draw for the first time, which would be a huge accomplishment for the 19 year old.
"We'll see how it goes, because this summer has been insane," Opelka said a few days before qualifying started. "The big thing is physically I've been able to play this year. I've had nagging injuries but nothing that has forced me to stop playing matches."
Last year at this time Opelka's season results were 180 degrees different than they are now. He broke through last summer with terrific qualify wins over former Top 10 player Kevin Anderson, and Top 50 foes Donald Young and Jeremy Chardy.
But after re-injuring his already-wounded foot during U.S Open qualifying ("that was really dumb on my part, I shouldn't have tried to play," Opelka says now), he needed to be in a boot for a month, and that slowed him down.
After the thriller at the Australian Open with Goffin this year, which augured great things for Opelka, and some encouraging spring wins, he's struggled. Opelka had eight match points against Malek Jaziri in Atlanta in July and ended up losing. He fell in a third-set tiebreaker to rising Canadian star Denis Shapavolov in a Wimbledon tuneup. He lost two tiebreakers in a Wimbledon qualifying match against Rajeev Ram. In all, Opelka is 1-8 in ATP Tour-level matches in 2017.
"It's been 100 percent mental, those matches that I lost," Opelka said. "It's been one point here or one point there, and it's been insane how close I've been."
After working with coach Diego Moyano for five years, an eternity in tennis, the two had an amicable split in July, and Taylor, who's coached former American pros like Ryan Sweeting and Steve Johnson, coming on board as full-time coach. Opelka's professional team now also includes physiotherapist Scott Clark and trainer Mark Kovacs.
"That's made a huge difference, having Scott and Mark helping me and working with me full-time," Opelka said.
Opelka gave full marks to Moyano, who "I can't be more thankful for," but said it helps to have fresh eyes and a new perspective from a coach like Taylor.
"You look at those matches and if he plays six or seven of those points differently, he wins all those matches," Taylor said. "He's definitely right there with these Top 50 players he's been playing, and in a few of these tight matches when things have gone wrong I'm sure he's had in his head a couple times, 'Oh, here we go again.'"
ESPN broadcaster Darren Cahill said that with Opelka being so young, results are far from important at this stage; it's much more important that his game progresses.
"It's going to take him a while to get used to his body and develop everything," Cahill said. "Putting too much pressure (to win) on Reilly is the wrong thing to do. He's got a bright future and his window of really succeeding at a high level is probably 3-5 years from now. When he hits 22, 23 years old, that's when he'll be in his prime and will really be excelling. Anything he does before then is a bonus."
Taylor said that while it was still very early in his relationship with Opelka to make any conclusions, his goal is to work on prioritizing and maximizing Opelka's time, perhaps doing less on-court work and more core and leg strengthening.
"He's been given great fundamentals by (longtime Flagler resident) Tom Gullikson and Diego, now it's just about getting stronger in the legs and in his core," Taylor said. "His legs are not going to look at 22, 23 years old like they do now. When his leg strength comes, the rest of his game will follow."
–Michael Lewis, special to FlaglerLive

Follow FlaglerLive special assignment writer Michael Lewis here.