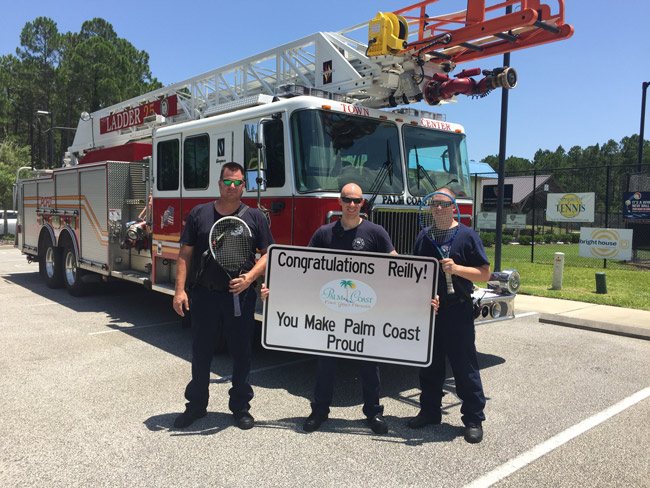 Serve up an ace of your own: we've taken great pride and joy in FlaglerLive's coverage of Reilly Opelka's conquest of Wimbledon, but it doesn't come cheap. Please consider making a tax-deductible contribution here.

Gene Paul Loscano has taught tennis for a long time in Flagler County, at different clubs and public courts. And one thing has been true forever: In the summer, when it's as hot and humid as only Florida can get, little kids want to get off the tennis court as soon as possible when their lessons are over.
"Just about all of them can't wait to get out of there and jump in the nearest swimming pool," Loscano said this week. "Which is perfectly understandable when you're 7 or 8 years old."
That's usually the case, but it wasn't that way for one 7-year-old blond kid Loscano taught a decade ago. This kid couldn't hit enough balls, and couldn't do enough drills. He ate up the sport like a hungry alligator pursuing lunch.
"With him, the session would be over and he'd be like, 'What, no more hitting?'" Loscano recalled. "I called him 'The Talented Mr. Reilly.'"
That tyke has grown up to become quite the tennis sensation. Reilly Opelka, born in Michigan but raised on the courts of Palm Coast, has had a dream week over in England.
With his booming serve and powerful groundstrokes, the 17-year-old Opelka has won five singles matches to advance to his first-ever Grand Slam junior final on Sunday, against Sweden's Mikael Ymer. On Saturday, he won his third straight doubles match as he and partner Akira Santillan advanced to the boys doubles final, defeating Americans Taylor Fritz and Michael Mmoh, 6-3, 6-4.
The boys singles final is scheduled for 8 a.m. Palm Coast time and will be televised live on ESPN3.com and the Watch ESPN app. The doubles final will take place no sooner than 90 minutes after the conclusion of the Opelka-Mikael Ymer singles final, as 90 minutes is the minimum required rest period between matches.
The people back home in Flagler County are awful proud, and reveling in the exploits of a local boy made good (even if several media outlets erroneously called Opelka a Michigander on Friday.)
"I'm not going to say I knew he was going to do this well, and maybe win Wimbledon one day," Loscano said, "but I knew he was a special kid."
"It's a huge thrill to see one of our own have this kind of success, on such a huge stage," said Palm Coast city councilman Jason DeLorenzo. "To have his parents still be here and be pillars of the community, and see how well Reilly is doing, and knowing that he learned the game here, is such an inspiration."
The Opelkas have always embraced Palm Coast and credited many of Reilly's instructors along the way. Loscano still sounded thrilled recalling a recent podcast that George Opelka was on when he name-dropped Loscano and longtime Florida tennis coach Harry Gilbert for helping Reilly learn the game.
And of course, Reilly's primary coach for many of his formative years was Tom Gullikson, a former top player on the ATP pro tour and a Palm Coast resident from 1979-2009.
"He's a terrific success story, and the fact that he's so humble, and has great sportsmanship, is a great example to kids learning the game," Gullikson said. "I think Reilly doing well is a great reflection on the community, and what you can do if you work hard and put in the time like he has."
Opelka doesn't spend much time in Palm Coast anymore, of course. He moved to the USTA Training Center in Boca Raton in 2010 to train full-time with other top junior players, and travels the world playing tournaments.
But he speaks fondly of his childhood spent whacking forehands at places like Trails Racquet Club and Grand Haven (where his parents still live), and was thrilled to come back last January to play a minor-league (Futures) pro tournament in Palm Coast.
Loscano said that everyone at the tennis club where he currently works, the Hammock Beach Resort, has been talking about Opelka's Wimbledon run, and DeLorenzo said he may try to get a viewing party together at Palm Coast Tennis Center for Sunday morning's  Wimbledon championship match. That match is scheduled for 8 a.m. Palm Coast time. (When told about that in a phone interview Friday, Opelka laughed and called it "awesome.")
"We've had some conversations this week with our public relations and tourism departments about doing something to honor Reilly in the near future," DeLorenzo said. "He certainly deserves recognition." DeLorenzo was also quick to note that without taking anything away from Opelka's success, "there's lots of kids in less high-profile athletics and academics from Palm Coast who go on to do great things."
On Friday, the City announced that a congratulatory sign has been created for Opelka, and the public invited to come to the Palm Coast Tennis Center between noon and 7 p.m. on Monday to sign it. The sign will be presented to Opelka and his parents, George and Lynne Opelka, in  coming weeks or months. The Tennis Center is located at 1290 Belle Terre Pkwy.
"What he's doing for the image of tennis in Palm Coast is just wonderful," Loscano said. "Everyone who picks up a racket as a kid here can now point to Reilly as someone who was just like them once, and did great things."
–Michael J. Lewis for FlaglerLive