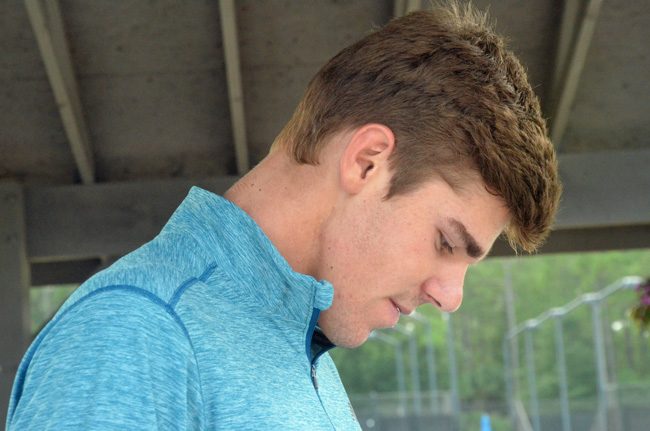 Former Palm Coast resident Reilly Opelka suffered some rotten luck after qualifying for his first-ever main draw men's' singles Grand Slam Tournament last week, getting slotted in the draw against the 11th-best player in the world, David Goffin.
But the 6-foot-11 (and growing) giant nearly pulled off the biggest upset of the first round on the men's side, battling for five sets with Goffin before finally falling, 4-6, 6-4, 2-6, 6-4, 4-6 at the Australian Open in Melbourne Monday night.
Opelka, serving huge (one was clocked at 141 miles per hour) and ripping winners for all five sets (he had 65, including 21 aces), was in great position to win the match deep in the fifth set. Leading 4-3 with Goffin serving, Opelka jumped out to a love-30 lead, then later had two break points for a chance to go up 5-3 and serve for the match.
But the crafty Goffin, a Belgian, worked his way out of trouble to hold to get 4-all. Opelka, in the first five-set match of his career, then finally cracked a little, losing serve at love before Goffin served out the match.
Still it was a heck of a result for the 19-year-old who has advanced quickly on the ATP Tour and now will be ranked inside the Top 200. He attended Indian Trails Middle School before moving to the USTA National Training Center in Boca Raton at age 13.
After turning pro in 2015, Opelka scored some big wins in 2016, including three victories over Top 50-ranked opponents and his first pro singles title in November in Charlottesville, Va.
In Australia last week he won three matches without dropping a set to advance out of the qualifying, then seemed to get some rough luck by drawing Goffin, the 11th-ranked player in the world, in the first round.