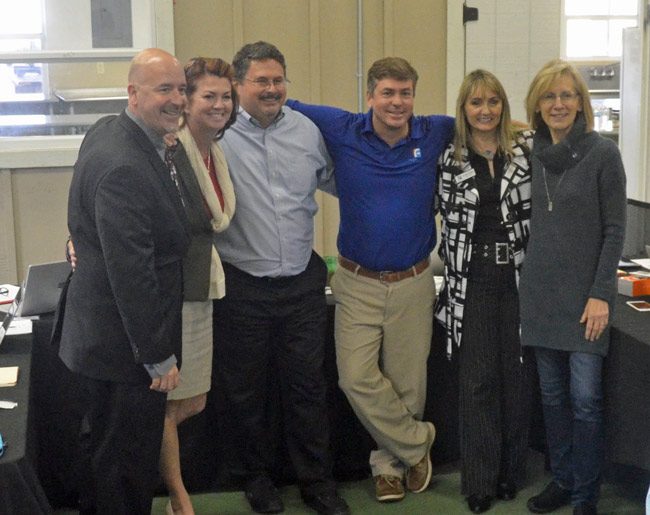 The Flagler County School Board on Tuesday took its first step in the process of replacing Superintendent Jacob Oliva by May. After three years as superintendent in Flagler, Oliva is taking a job as vice chancellor for K-12 education at the state Department of Education.
"I would recommend, having gone through this process before, that we be very aggressive with the timeline," School Board member Colleen Conklin told her colleagues in their first meeting since Oliva's announcement last week. He first announced it in a letter to board members a week ago, then to the district's 1,700 employees through a video, last Friday. "It may seem like we have a lot of time. We do not have a lot of time."
The board agreed to its first meeting on the matter on Feb. 1 at 6 p.m. in Room 3B, on the third floor of the Government Services Building in Bunnell, which means the meeting will be neither broadcast on the web nor available by audio, as are other workshops and meetings held in the building's board chambers. That decision, encouraged by Conklin, contrasted with Conklin stressing that all superintendent-search-related meetings should be held in the evening to encourage public participation.
At the Feb. 1 meeting, board members are expected to name the local search committee, as was the case for the Oliva pick, with each board member getting to nominate three names. The board is also expected to get a presentation from the Florida School Board Association, whose officials will make a pitch to be the agents who would steer the district toward a new superintendent: the association facilitates local boards' procedures, training them on how to look for a superintendent and what criteria to place I n advertising. It's not yet clear how, or whether, both a local search committee and the involvement of the school board association could be compatible. The association's involvement would also come at a cost.
By hearing a presentation from the association, School Board Chairman Trevor Tucker said, "we can find out if we wish to use them for a search or not."
Either way, the school board will set the parameters of the search–whether it should be internal, statewide or national, whether one approach or another should be favored, and what, specifically, board members are looking for. Three board members have gone through the process before: Conklin, Andy Dance and Trevor Tucker. Two have not: Janet McDonald and Maria Barbosa.
The board essentially has four months or less—if it intends to have the new superintendent's tenure overlap for a few weeks with that of Oliva—to get someone in place.
Unlike the appointment of Oliva and his predecessor, Janet Valentine, which seemed, to the chagrin of some community voices, like foregone conclusions, there is no anointed successor in place this time. Valentine had groomed Oliva for the job, and her illness—she had a stroke toward the end of her tenure—accelerated his appointment, just as Bill Delbrugge had positioned Valentine to take over for him in 2010.
Delbrugge became superintendent after serving a stint as interim superintendent, back in 2005, when he filled in after the disastrous tenure of Robert Corley as superintendent. Corley is the last superintendent to have been chosen through a national search. His four years on the board ended with more division within the board and bickering beyond it than accomplishments, and soured subsequent boards' taste for superintendents who were not known entities. Though only Conklin remains from the panel that had endured the Corley years, that explains the three Corley successors, all of them internal products of the district, and two of them reputed to have been charismatic change agents. Delbrugge and Oliva had both been rising stars at Flagler Palm Coast High School before landing the top job. Valentine had a long history with the district.
The most visible deputy to Oliva in the past couple of years has been Vernon Orndorff, the executive director of leadership development, though Oliva said last week he had four directors he's relied on as his deputies.
Oliva did not participate much in the initial discussion, though he remained in the room. Later in the meeting he summed up his 17 years in the district. "Each and everyone of you has helped me grow," he told board members and administrators. "I really believe that Flagler is a special team. I know that when I started this journey with you, I told the board that we're going to put Flagler on the map, and we're going to do that through innovation, and we're going to come up with ideas and initiatives that's going to lead this nation in pushing education forward. I can't take credit for these initiatives. It's the team of folks that are out there that said how do we tackle this challenge. It's the support the board has given me and this team to say, we're willing to try something crazy. Look at our school board agendas, for crying out loud. We'll do something different, right?"
Oliva was referring to the new format of school board meeting's agendas, which have veered from straightforward, relatively comprehensible—or conventional agendas—into indecipherable mazes of categories, subcategories and bureaucratic lingo. It was not Oliva's idea, but rather the outcome of a recent board "retreat" where board members discussed new approaches to meetings at Tucker's instigation.
"Congratulations," Conklin had told him earlier. "What an incredible opportunity and honor for you, and we are excited to see that you are going on to bigger and better things, and we hope that you will always stay connected with us."