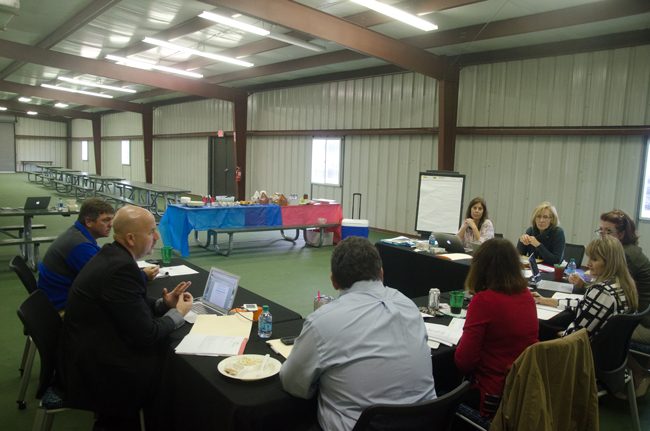 One of the first things Trevor Tucker wanted to do as chairman of the Flagler County School Board was to take a top-down look at the way the board does business, the way it conducts its meetings, the rules it follows, the number of meetings and workshops it holds, the way the public may address the board, even the number of good-news "spotlights" featured at every meeting.
Tucker's already gotten the board to agree to essentially cut in half the number of meetings and workshops it'll hold throughout the year. Just before noon Tuesday, the board met at the cavernous Cattleman's Hall on the grounds of the county fairgrounds for what it dubbed as a "retreat" to talk about various other board procedures.
"Right now we have no rules and procedures, which is really odd," Tucker said.
"Be careful Trevor, we do have rules and procedures that we have to follow that are called statutes," Board Member Colleen Conklin said.
It was a brief and passing exchange between the two board members, but only one of several such exchanges that reveals the tension between Conklin's more deliberative, discursive style and Tucker's seeming penchant for abbreviation and cursory discussions: he does not favor long discussions, debates or speeches.
That doesn't mean he doesn't favor analyzing every item before the board: in contrast with his habit of remaining mostly silent at board meetings, it's his request that at workshops from here on, the board discuss every item it will be voting on, no matter how minor. But his proposal to reduce meetings to two a month drew renewed cautions from at least two board members, especially Andy Dance.
"I'm not a fan," Dance said. "I know what goes on behind the scenes putting the agendas together. Again, consensus will rule. From staff's standpoint and getting things together it's enough of an issue twice a month as it is. We'll see. There's so many things it limits us to do in order to achieve other goals."
"I just don't know how realistic it is," Conklin said.
Dance had been under the impression that there would be one fewer business meeting, but that the board would keep having two workshops a month. Not so.
The public is not likely to detect too many changes, other than the obvious reduction in actual meetings. Many of those changes are minor and touch on what edition of Robert's Rules of Order, how agenda items are categorized, changing "unfinished business" to "old business," and so on.
With one exception: until now, the public-comment period at board meetings, on matters that are not on the agenda, has been held to the very end of the meeting, when the chamber has emptied and the meeting has usually dragged on for quite a while. Only the hardiest people stay that long to address the board. Today, board members agreed to move that portion of the agenda nearer to the top of the agenda, just after the "spotlight" portion, and to still preserve it at the end of the meeting.
Board members batted off suggestions to have an administrator speak with members of the public before they have a chance to address the board, as if to resolve the issue and diminish the number of people who speak publicly. That Conklin as potentially intimidating. "That would concern me a little bit," Conklin said, describing the nerve-wracking nature of addressing public bodies to start with. "I would hate for anyone to feel intimidated if we had staff speak to them and they walk a way feeling as though they didn't have an opportunity to share with board members."
School Board member Andy Dance was concerned about the reduction of the number of meetings overall, itself, he said, a reduction of the opportunities for public comment. And the board is still resistant to methods all other local governments have adopted: allowing members of the public to address the panel at workshops. Even Palm Coast has adopted that rule, as has the county commission. Board Attorney Kristy Gavin told members of the school board that they're not required to provide for public comment at workshops, and strictly speaking they're not. But other governments have recognized that much of the work, if not all but the vote behind decision-making, takes place in workshops, and have therefore opened those sessions to public comment.
When Gavin returned to the issue of public comment overall, pointing out Broward County's requirement that members of the public request in writing the opportunity to speak five days ahead of time in some cases, Tucker and Dance were not interested with additional strictures. "We're good, we're done, we're past that," Tucker told Gavin as Dance made the time-out sign in hopes of stopping her from going on.
The board also discussed participating in a more intensive training program, called Master Board Training—a 22-hour program broken down into four sessions, one of them not in the county. Some board members have gone through the training already. Conklin is suggesting they all do so again to foster a more cohesive board. Tucker was resistant, having done it. "To me," he said, "everyone is an adult here, we should feel like a cohesive unit without training."
But his colleagues finally convinced him: if Dance—who arrived late (he's been ill), and was not yet in the hall when they discussed training—were to agree to take the training again, then Tucker would join the board as well. "You're pinning your hopes on Andy not going?" Conklin said. "Trevor, that's not very good."
Tucker at one point sought to limit the input of Gavin when it comes to seeking the approval of certain items, seeing a conflict if Gavin, as the board attorney, were to seek item approvals. That left other board members–and Gavin–perplexed. The attorney, Conklin said, is required to advise the board on what's legal and what's not, and red-flag issues that may not be legal in, say, contract talks, or the writing of the superintendent's contract. Gavin plays a key role with board policies.
"She's our legal counsel, she shouldn't just interject," Tucker said, leaving it to board members to ask questions whenever they deem it necessary–or when the attorney sees a potential law violation.
Board members also agreed to have both their adjunct board members–student board members–present at all meetings. Until now, the two student board members have alternated their attendance, with the representative from Matanzas High School attending one meeting, and the one from Flagler Palm Coast High School attending the next. With a reduced meeting schedule, that would mean each would have barely three or four meetings to attend all year. It's still not clear whether the student board members would attend workshops. Student board members have no vote, and with rare exceptions over the years, they have generally contributed little to policy conversations, reserving their input to what amounts to announcements cheerleading one group or event or another at the end of the meeting.
The meeting at Cattleman's Hall was not broadly advertised. A notice was published in the Dec. 14 News-Journal, and it was posted on a bulletin board on the ground floor of the Government Services Building, which few people other than government staffers see, if that. The agenda of the meeting was posted on the school board's website—but not the location. Gavin and Superintendent Jacob Oliva defended the notice procedure, saying it complied with law. Only after questions by a reporter was the location of the meeting added to the school's web site notice—at 9:39 a.m., a little more than two hours before the meeting.
Other than one reporter and, for part of the meeting, the district's chief spokesman, the board meeting drew no audience.
None of those ideas were formally adopted: that will take place at a subsequent business meeting.