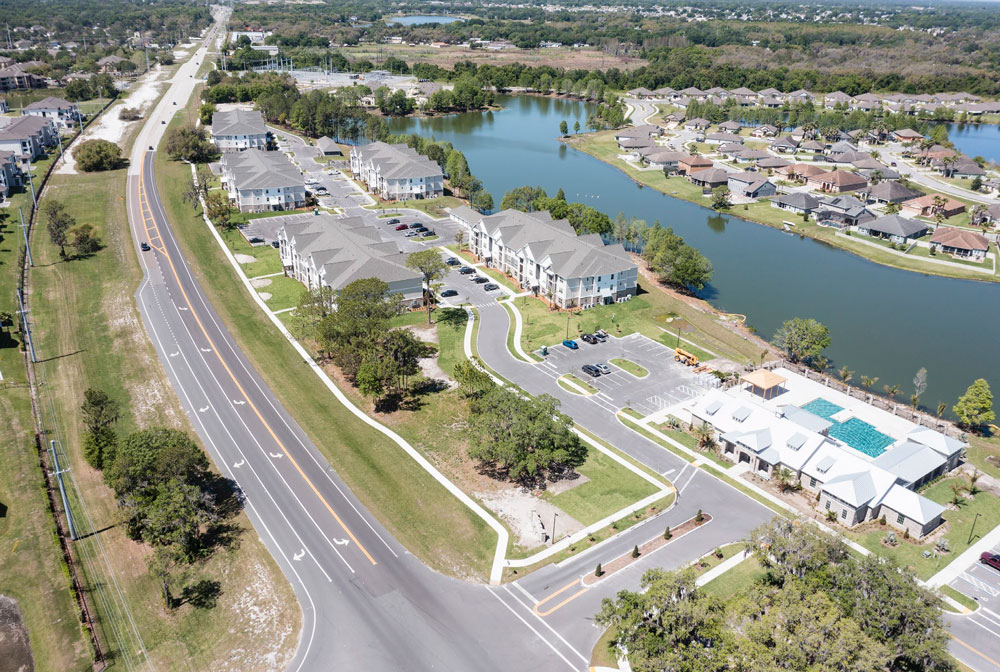 The Palm Coast Planning Board in a 5-2 vote that reflected some sharp resistance to the project recommended approval of a master plan for a nine-building, 216-apartment complex lined along Old Kings Road's two lanes, halfway between Palm Coast Parkway and Town center Boulevard.
It would be by far the largest development visible from the road south of Utility Drive, changing the complexion of what, but for a storage facility and an assisted living facility, had been one of Palm Coast's last remaining greenways. But the corridor has long been zoned for development, and more of it is ahead.




The Toscana and Hidden Lakes subdivision are building out just south of the planned apartment complex, but buffered by wide swaths of conservation land, so they remain invisible from Old Kings Road. Eight of the apartment complex's three-story buildings will replace the greenery along Old Kings Road, rising wall-like, in succession, along 2,400 feet of the road, buffered only by parking spaces and a sidewalk. Put another way: Old Kings Road South is on its way to looking more like Old Kings Road North.
Three Planning Board members raised concerns about the complex, but not on aesthetic grounds. The concerns are focused on its impact on traffic on Old Kings's two lanes, and one planning board members objected to the apartment complex being so close to two single-family home subdivisions–a recurrent objection to apartments in Palm Coast and elsewhere based far more on assumptions, if not prejudice, than evidence that apartment complexes hurt single family homes.
"I don't feel comfortable with this kind of project so close, you're really close to Tuscany," Board Member Larry Gross said. "If I lived in there, I wouldn't feel good about this kind of development coming that close to that kind of community. That's one of the things in Palm Coast that we need to start looking at. We get a developer that builds a beautiful community, and then we squeeze in apartments or something near it. And I just don't think that's fair." It wasn't clear, from Gross's comments, what, in that apartment complex, would be damaging to the Tuscany community–or any more or less damaging than, say, nearby I-95.




The developer notified the homeowner associations at Toscana and at the Hidden Lakes subdivisions of a neighborhood meeting with the developer. No one showed up. Planning Board member Sybil Dodson-Lucas found that hard to believe and wanted more outreach to them.
But Residents from the two subdivisions, who tend to be active and vocal in developments in their vicinity, had in fact been involved at a previous stage of the development, and were very concerned about the heights of the buildings, back when they were to be higher than they are planned to be now, Bob Million, a local developer involved in the project, said. The heights of the buildings was lowered in response to their concerns. That also lowered the total number of apartments that would be built.
Palm Cost is severely underserved by apartments, driving up rent costs and forcing those who can't afford them to live further away, creating commutes and larger impacts. This will not be an affordable-housing complex. The developer markets its brand as luxury apartments.
The planning board's 5-2 vote is only a recommendation. The application next goes before the Palm Coast City Council for approval. If it clears that hurdle, the developer will have to get Planning Board approval of its site plan, the more specific development blueprint for the complex. But by the time a project reaches that stage, site plans are more formalities–open to some conditions–than hurdles.




The apartment complex is on 29 acres on the east side of Old Kings Road (10 of those acres are conservation or wetlands), 2 miles south of Palm Coast Parkway and 2 miles north of Town Center Boulevard. The city has wastewater rapid infiltration basins east of the site. The distance between the building at the south end of the complex and the closest lot in the Toscana subdivision is 1,100 feet.
The complex would consist of 216 apartments split between nine three-story buildings, each numbering 24 apartments and rising 36 feet. The development was entitled to 255 apartments. The complex would have its own pool and clubhouse and walking trails, including a 12-foot wide sidewalk along Old Kings Road, which currently has no sidewalks along either side. Trails will circle two ponds behind the buildings.
There will be 24 one-bedroom apartments, 130 two-bedroom apartments, and 60 three-bedroom apartments. The one-bedroom apartments will be around 1,100 square feet.
"The project will provide housing for elderly residents and also younger residents that provide essential and key services for our residents," Senior Planner Bill Hoover said. "One advantage of rental homes is new people that might consider moving here or retiring here." The complex would also be "the opposite of urban sprawl as this is infill development, which all planners encourage," Hoover said. "It will be located in reasonable proximity to numerous retail and service opportunities for its future residents."
The buildings will have small balconies and gables. Score USA, the developer, has specialized in apartment complexes in Florida, Georgia, Alabama and Tennessee for the last 20 years, a representative for the developer, ScorUSA, said. "We want to work well with the community, we want to be here, we're a developer and owner, so we're not building it to sell it off and trade off somebody else. So we plan to be here a long time," Dan Nibblett said. (According to Florida Division of Corporations records, ScorUSA was incorporated in Florida last August and Alabama last May. A website for the company may exist, but a search of several minutes could not locate it.)




"I don't think I'm alone in hearing the concerns of Palm Coasters about the overcrowding or what they feel is the increase in traffic," Sybil Dodson-Lucas, a member of the planning board, said, asking about traffic projections. Ray Tyner, the city's planning director, said the project meets traffic requirements, since Old Kings Road will not "fail," or be beyond capacity, once the complex is in place.
Lucas was one of the two votes against recommending the project. Gross was the other. "How does it go that now we're almost ready to pass an approval for this, and we've got so many other things going on Old Kings Road," Gross said, "and in this in this presentation, they can sit here and honestly say that there's no impact on Old Kings Road, when if you build this, there's a definite impact on Old Kings Road. There's no way that that can sell to me in my mind that this won't impact one of our roads that's terrible now. That's my major concern with this."
Gross said the city had long gone with little to no development, and now that it's getting it, "we're saying yes to everything," and "adding too much, too fast," clogging roads. His complaint is increasingly echoed by existing residents not used to the heavier traffic. Gross had just timed the amount of time it took him to make the left turn, from Old Kings Road to Town center Boulevard, on his way to City Hall for Wednesday evening's Planning Board meeting. He was cued at the light for eight minutes. Old Kings Road's two lanes from just south of the Parkway to Town Center Boulevard is "a hit mess," he said, with only future plans to widen the road.
That would be dependent on the property owners along that segment of the road to generate enough money from a special taxing district–the city's only such taxing district–to widen the road. Improvements to the Town Center Boulevard-Old Kings Road intersection will be accomplished separately, with city funds.




Dave Ferguson, another member of the planning board, is also concerned about traffic. The development, Tyner said, will generate $424,000 in transportation impact fees alone, money that may be used for road improvements there or elsewhere. The traffic problems along Old Kings Road itself, Tyner said, are being overstated. "I don't know if I would call it a bottleneck," he said, using the word Gross had just used to describe congestion on the road. "We do have some issues at the intersection with the light there. And those are from an operation standpoint. That's something our traffic engineering or traffic engineers looking at." (That's the Town Center Boulevard intersection with Old Kings.)
"When it comes to this application, our planners and our technical review team that has reviewed this application–it meets the zoning and meets the future land use, it meets all of our standards of our land development code, and so thus we have a recommendation of approval," Tyner said.
Board Members Hung Hilton, Charles Lemon, Suzanne Nicholson, David Ferguson and Clint Smith voted to recommend approval of the application, with Gross and Lucas-Dodson opposed. Lucas-Dodson did something odd: when her name was called out for the roll call vote, she asked to be passed over temporarily, apparently to see how th rest of her colleagues were voting. Once everyone had voted, she voted No.

old-kings-apartments