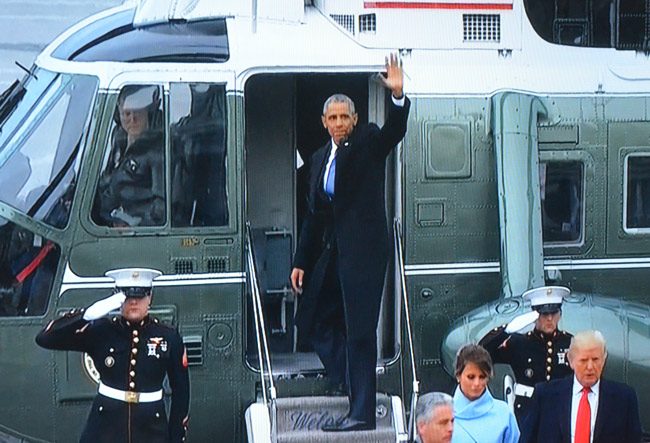 At noon today the world ended as the sound of seven trumpets was replaced by the words "I, Donald John Trump…" Until then it was a fairly good run. An excellent run, in retrospect, considering what we're losing. Since we're about to spend at least 1,461 days, or roughly the length of World War I, as conscripts in this ectopic afterlife, a closing look at last eight years couldn't hurt.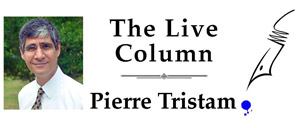 I realize that the words I'm about to speak will sound more apocalyptic than anything you'll find in Revelations, at least to most of my clearly hypnotized neighbors in Flagler County who are confusing today's inaugural with Handel's Alleluia (or at least Lee Greenwood's sugar-added remake of Handel's Alleluia). But I think history, if we live to hear its tale, will agree with me as surely as climate deniers on Florida's shore will be drowned by midcentury: The Obama presidency was the best we've had since Franklin Roosevelt.
That includes those of the overrated Kennedy, the underrated Johnson, the unratable Nixon, the pro-rated Ford, the X-rated Clinton and of course the ever-B-rated Reagan, who gave us the most corrupt and scandal-ridden administration of the 20th century while steering with Bircher vigor this country's taxes, courts, social contract and Republican Party back to the 1920s. The two Bushes are in a class by themselves. One of them is irrelevant in a James Buchanan sort of way. The other, for all the disastrous missions he accomplished, will remind us that even the Bush-Cheney root canals on American ideals may prove more bearable than the Trump-Pence buggery ahead: Bush and Cheney didn't have a one-party state endorsing them. This new duo does.
Put simply, eight years of scandal-free White House is unheard of in our lifetimes. Whether it's been Kennedy's weakness for hookers or Bush's inability to follow the law, the scandalous behavior of presidents has become pretty much a norm. We took the last eight years' break for granted. The next four haven't started yet and already we're drowning in sleaze and incompetence, as the transition and confirmation hearings confirmed day after day. But we knew that going into the confessional last November. It's the age-old American weakness for smut. The pendulum is swinging back with a vengeance. We'll regret the swing and the presidency Trump promises to overturn.
It already looks like a majority of Americans regrets it already. I'm not saying anything original here. New York Magazine's Jonathan Chait and New York Times columnist David Leonhardt, for starters, just made the case for Obama's presidency as uniquely successful, and Obama's popularity as he leaves suggests the estimate isn't an exaggeration. In Trumpland of course it's all been "tombstones" and "carnage," the words that defined his inaugural address as they had his campaign, though for different reasons. Listening to him speak today made all of America look like Walker Evans's Depression pictures. He might've had a point eight years ago. But his Polaroids seem to have skipped 3,000 frames.
So to get back to Obama's "carnage": Getting the nation out of a depression was no small thing. The last president to do it was FDR, and he ended up needing a world war to finish the job. Obama actually pulled us out of the two most idiotic wars we've fought since Vietnam, in Iraq and Afghanistan, where the job isn't entirely done, while also diminishing the juvenile war-on-terror rhetoric that accomplished little more than serve as recruitment for more terrorists. He proved that waging wars on terrorists doesn't work. Targeting them smartly–with more intelligence, police work and special operations than bombers—does. He ended torture, though just listening to Trump is enough to make us all feel like we're being waterboarded. He averted a nuclear arms race with Iran. He reduced nuclear weapons stockpiles and lifted America's dismal profile abroad. He ended the Ebola outbreak in West Africa. Oh, and he provided health insurance to 20 million more Americans, and with a timely kick from Joe Biden finally embraced gay marriage. The list goes on.
He made serious mistakes, among them the illegal bombing of Libya, Yemen, Pakistan and Somalia, much of it still ongoing. He's conducted a shameless war on journalists and whistleblowers and vaguely tried to make amends with his pardon of Chelsea Manning, though compared to Trump he'll prove to be a First Amendment hero. He never prosecuted the war criminals of the Bush years and didn't put a single banker in prison while bailing out the criminals of the housing bust. He invited some of them into his cabinet instead. And he didn't close Guantanamo. That list goes on, too. What he did accomplish, he did against a Congress intent on demolishing him, often for reasons that had nothing to do with his policies. It's a wonder he accomplished this much.
It all ended at noon today.
We've never known such a radical shift from decency, intelligence, public service, coolness and grace to the proud brutality and sleaze that swore allegiance to itself on a Bible before going all Debbie Downer on us with that dark, angry nationalism in clenched fists. But, kind of like those cocky loons in "Deliverance" who thought they could control what they don't know, we asked for it.

Pierre Tristam is FlaglerLive's editor. Reach him by email here or follow him @PierreTristam. A version of this piece aired on WNZF.