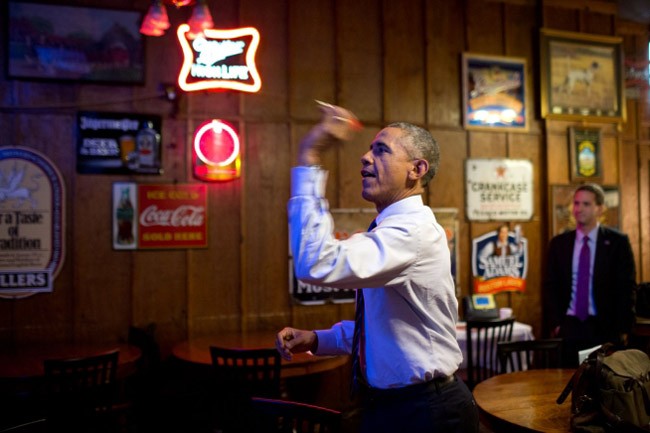 It wasn't that many years ago when we were reading headlines about the last American troops leaving Iraq. It happened in mid-August 2011, when a convoy carrying 500 troops crossed into Kuwait. All that was left in Iraq were about 150 American soldiers at the U.S embassy, though the embassy itself, with a staff of several thousands, has always remained an echo of American occupation: you don't need 5,000 people to stamp visas. President Obama then went on to win reelection partly on that fulfilled promise of ending American involvement in the stupidest American war since Vietnam.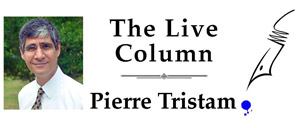 So it's probably a surprise to most people that even before Obama announced sending 500 soldiers back to Iraq this week, there were actually 3,000 already back there somehow, somewhere. Now it'll be 3,500, the size of a brigade. That appears to be only the start of a new escalation. General Martin Dempsey, the chairman of the joint chiefs of staff, said this week that the Pentagon may reestablish a series of new bases in Iraq. He's calling them "lily pads," as if the bases are to be just little bucolic stops of camouflaged Monets from Tikrit to Kirkuk to Mosul. ISIS must be licking its chops at getting so many new American targets to shoot at, since massacring Syrians and Iraqis doesn't seem to get them the marketing buzz they crave. (It's not just an ISIS thing: Americans, too, could care less about the mass-murdering of Arabs. Lop an Anglo's pinkie though and it might as well be Hiroshima on the Hudson.)
What shouldn't be a surprise to most is that Obama is once again throwing American troops in a war zone without Congressional authorization. He did it in Libya, he did it in Pakistan. Why bother follow the law now. Congress isn't eager to stand in his way, with half its members delirious for more bombings. But the War Powers Act isn't window dressing, and it's not just a Congressional check on presidential power. It's the most direct invocation of public will in the face of a war. There's nothing vague about it. Forty-eight hours after sending troops into a war zone, the president is required to notify Congress, starting a 60-day clock. By the end of those 60 days, either the president secures a formal authorization to keep those troops at war, restarts the clock for an additional 30 days, he must withdraw the troops.
We may disagree about whether we should be back in Iraq or not. But there should be no disagreement about the law. It reminds us that only Congress, not the president, gets to declare war. And it gives Congress the responsibility to clearly justify to the public whatever decision it makes, answering essential questions along the way.
In this case, neither Obama nor Congress has explained what the aim is in Iraq. If it's to defeat ISIS, then 3,000 won't do it. But ask Americans if they have the stomach for another war in Iraq, and they'll tell you no. If it's to retake Ramadi and a few other cities, the president is not telling us what it'll take to keep these cities in the right hands, absent a permanent American presence. Again, if you ask most Americans if they're willing to foot the bill of a new occupation, they'll tell you no, especially if those troops are propping up a corrupt and authoritarian Shiite Iraqi regime that refuses to govern inclusively, ignoring Sunnis and giving ISIS a rich recruiting ground.
To be sure, ISIS is a creation of America. It didn't rise in the wake of American withdrawal, as stateside warmongers like to simplify it to absolve themselves of their recent crime. It rose as the nearly decade-long American occupation wrecked Iraqi society and launched the mass recruitment of militants the same way that the Soviet occupation of Afghanistan led to al-Qaeda's creation (with generous funding from American taxpayers). For years, enormous proportions of American arms and aid made its way into insurgent hands. For a time the American occupation bought off Sunni tribesmen. But the money was running out while Americans were still there. So was Sunni patience in the face of a Shiite government that had no interest in conciliation. Had American troops remained past 2011, they'd merely have become the target of the same insurgency under ISIS's new, deadlier guise. The American occupation enabled a civil war, tried to fight it, then retreated. It was no "withdrawal." it was a lost war.
And now Obama is doing what no American president or general has ever done before: re-start a war long lost. Nothing is about to change. Iraq is increasingly looking like Afghanistan, with a different version of the Taliban in ISIS, and American troops sucked back into fighting a civil war in which they don't belong.
If they do, then let's hear that case be made. Sending more troops and ignoring the law doesn't cut it. And getting more Americans killed once again in an unwinnable war turns the clock back 12 years to a time when Barack Obama himself was saying this: "What I am opposed to is a dumb war. What I'm opposed to is a rash war."
Well, he's got his dumb war now. And he's fighting it just as his predecessor did: rashly and illegally.

Pierre Tristam is FlaglerLive's editor. Reach him by email here or follow him on Twitter @PierreTristam.