One might be tempted to see in Barack Obama's belated embrace of gay marriage a retraction of the cautious, half-baking, infuriatingly compromising president we've come to know and endure and a return to the audacious president we thought we were electing almost four years ago. But that would be projecting a fantasy on a cave wall.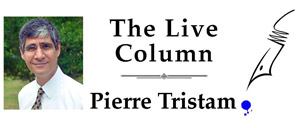 There isn't much audacity in finally doing something only because Joe Biden made you do it. There is even less audacity, and a revealing streak of spinelessness, in holding a civil right hostage for so many years to what Obama called his "evolving" position on gay marriage. That sort of evolution has seldom seemed so obedient to creationist calculations.  And there is outright chicanery in finally declaring himself only "personally" for gay marriage a day after North Carolina went to the polls to become the 31st state to pass the modern equivalent of Jim Crow amendments to state constitutions: outright bans on gay marriage. North Carolina also banned civil unions.
In other words, Obama is all for gay marriage but doesn't "personally" oppose states' bans left and right that deny such rights as health coverage for the children of gay parents. Some audacious leadership. It would have been quite an Emancipation Proclamation if Lincoln, an Obama idol, would have declared himself "personally" opposed to slavery but not at all opposed to its continuation in every Southern state, with god's blessing. Wasn't that the James Buchanan line?
Bringing slavery and god into this isn't hyperbole. It's a sad case of historical copycatting. Slave-holders held whips and chains in one hand and the Bible in the other to justify four centuries of servitude. Opponents of gay marriage are doing no less today, minus the chains. Their argument flies in the face of the 14th Amendment's guarantee of equal protection. But it sticks with considerable majorities because the constitutional rogue can always appeal to the Bible or the Koran and that other legal irrelevance that still has currency among those willing to hide bigotry behind piety: religious tradition. That, in the end, is what the entire defense of marriage discrimination relies on, as if a fundamental wrong somehow gains legitimacy for having been perpetuated over centuries. And so gay marriage bans endure, not only flouting constitutional protections but turning government into a lackey of religious dogma.
Florida passed its own amendment in 2008 with a homophobically creepy 62 percent of the vote.
Give Obama some credit. He repealed two monstrosities of the Clinton years: the don't-ask-don't-tell rule closeting gays in the military, and the federal misnomer known as the Defense of Marriage Act, which allowed states to deny recognition of same-sex marriages from other states while ignoring the Constitution's Full Faith and Credit Clause (which requires states to fully credit "the public acts, records, and judicial proceedings of every other state.")
But the president's come-to-Jesus moment on gay marriage has none of the sincerity of a man willing to use his bully pulpit to make good on his conviction. He's willing to punt the whole thing to the Supreme Court, if and when that institution of marital disaster zones decides to play constitutional matchmaker. Obama is not, for instance, saying a word about those amendments in 31 states that legally demean human beings under the cleats of religion. Nor is he proposing a true defense of marriage act, one that would require any gay or transgender marriage anywhere to be fully recognized in every state.
That would be a sign of uncompromising leadership where compromise is unacceptable. That would be audacious. But it wouldn't be Obama.

Pierre Tristam is FlaglerLive's editor. Reach him by email here.