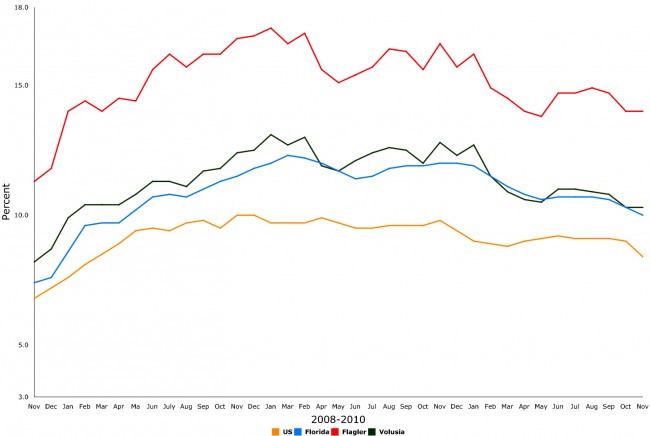 Florida's unemployment rate, at 10 percent, fell in November to its lowest level since early 2009. The ranks of the officially unemployed was reduced to 926,000, helped in part by a push by the state to make thousands of jobless workers no longer eligible for unemployment compensation (thereby removing them from the unemployment numbers) and by a fractional decline in the state's labor force. Florida added just 8,500 new jobs in November, for a net gain over the year of 98,100, a 1.4 percent increase in the last 12 months, or close to the anemic job-creation ratio nationally.
In Flagler County, the unemployment rate remains stubbornly high, at 14 percent, where it was in October, keeping the county's rate the second-worst in the state after Hendry's 15.1 percent. The third-worst county is Hernando, at 13.1 percent.
The number of employed people in Flagler actually declined over the month, to 28,198, from 28,353 the previous month–which means that less than 30 percent of the county's population holds a job. The labor force of 32,793 declined by 181 people, adding to almost monthly declines over the year. In the last 12 months, the labor force has declined by 722 people, or 2.2 percent. There were 4,595 people on the official unemployment rolls in Flagler County in November.
In the plus column, construction in the state added 2,900 jobs in November, retail trade added 8,100 jobs, a reflection of the uptick for the Christmas season, transportation and warehousing added 2,700 jobs, and financial activities added 6,500, including 2,300 jobs in real estate. Education and health services added 7,600 jobs (evenly split between the two industries), and administrative and waste services added 2,700.
Looking closer at the numbers, retail's gains were led by electronics and appliance stores, which added 2,600 jobs, food and beverage stores, which added 3,200, and
In the loss column, government continued to shed jobs, with a loss of 3,600, including 2,700 at the state level. Leisure and hospitality–a barometer of tourism–lost 13,200 jobs, including 10,400 in restaurants and hotels and motels. The information industry lost 1,600 jobs, and professional and technical services lost 3,300.
Gov. Rick Scott took credit for the job creation. "An increase of 8,500 jobs this month continues to show that Florida is moving in the right direction, and helps reinforce my mission of streamlining government, eliminating burdensome regulations and identifying economic development opportunities statewide," Scott said in a statement.
Here are the state's unemployment rates by so-called metropolitan statistical areas:
1. Palm Coast MSA 14.0 %
2. Sebastian-Vero Beach MSA 11.9
3. Ocala MSA 11.8
4. Port St. Lucie MSA 11.6
5. Palm Bay-Melbourne-Titusville MSA 11.1
6. Lakeland-Winter Haven MSA 11.0
7. Cape Coral-Ft. Myers MSA 10.5
8. Deltona-Daytona Beach-Ormond Beach MSA 10.3
9. Punta Gorda MSA 10.3
10. Tampa-St. Petersburg-Clearwater MSA 10.3
11. North Port-Bradenton-Sarasota MSA 10.1
12. West Palm Beach-Boca Raton-Boynton Beach MD 10.1
13. Naples-Marco Island MSA 10.0
14. Panama City-Lynn Haven-Panama City Beach MSA 9.9
15. Pensacola-Ferry Pass-Brent MSA 9.8
Florida 9.8
16. Orlando-Kissimmee-Sanford MSA 9.7
17. Jacksonville MSA 9.5
18. Miami-Miami Beach-Kendall MD 9.4
19. Miami-Ft. Lauderdale-Pompano Beach MSA 9.4
20. Ft. Lauderdale-Pompano Beach-Deerfield Beach MD 8.9
21. Tallahassee MSA 8.2
United States 8.2
22. Gainesville MSA 8.0
23. Crestview-Ft. Walton Beach-Destin MSA 7.2