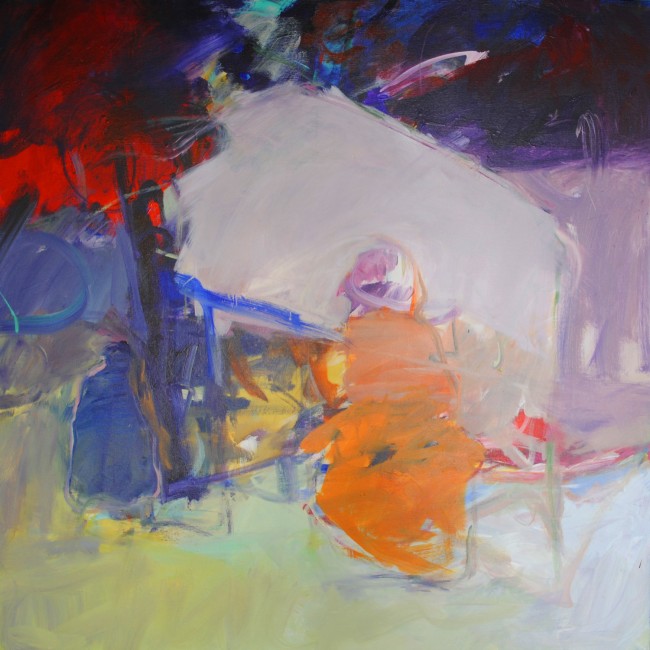 As usual, this second Saturday of the month (April 14), the Flagler County Art League and Hollingsworth Gallery bring their double-headed renaissance to City Marketplace in Palm Coast.
For the art league, it's one of the two times a year that the purple and gold banners adorn Palm Coast Parkway, heralding their big annual Spring Show.
Similarly (but not intentionally), Hollingsworth's show, titled "A Novel Idea," presented by the Beaux Arts Group, in its own way emphasizes rebirth, which is what the season is all about. In simpler terms the show represents "art inspired by books," says, J.J. Graham, Hollingsworth's owner and curator: artists have re-imagined scenes or let themselves be inspired by particular books, many of them classics, and rendered the result in various media. Some titles represented in the show have likely accrued more dust than others on the book shelf.
The show is different than most in that Graham had no input on the theme. The Beaux Artists, who are juried into the group by the Atlantic Center of the Arts in New Smyrna Beach, consist of many recognized Florida artists from Daytona Beach, Orlando, New Smyrna Beach,  and elsewhere.  Many of them have shown their work in Palm Coast before.
"I trust these guys to do good work which gives me a break," Graham says. "It's nice to be able to come and hang a show, and then be able to go back to the studio and paint. It takes the pressure off." It's never easy to jury and curate—"especially when you're dealing with older artists who don't wire their paintings. There's usually much more grunt work." Typically at this stage before a show, it's not uncharacteristic for Graham to look a little mad artist-ish, sleep deprived, a cigarette in one hand, coffee in the other.
A wide range of books is being interpreted here—including William Faulkner's "Absalom Absalom," Ernest Hemingway's "The Old Man and the Sea" and "A Farewell to Arms," Margaret Mitchell's "Gone with the Wind," Stephen King's "The Dark Half," and Erskine Caldwell's "Tobacco Road."
Likewise, a great variety of styles are on display, from very abstract to traditional. "Absalom Absalom," by Glenda Taylor, looks almost collaged and tempestuous. It's a colorful Rubik's cube of mixed media, and can be described as unfigurative, with little bits of text strewn throughout from Faulkner's prose patched in, while Susan Bottaro depicts two blue-collar men, one sitting by a grave and the other stepping out of a shroud of mist, raising a bloody razor to an electric line of sitting birds.
Peter Cerreta's cubic tailoring of "Dante's Inferno" and "Aladdin" hardly needs an introduction. "It's a little disturbing," Graham says, referring to Cerreta's "Inferno," "but it's Peter, so what do you expect."
The theme of the books was close to home for Graham. Growing up, Graham used books to escape. His father, a Pentecostal minister, forbade him and his siblings from watching T.V. until he was 12, because it was too influential, which translates to "sinful," he says. So Graham sought refuge in his grandmother's book collection. She worked for the National Aeronautic and Space Administration and was, according to Graham, one of the most educated people in his small Southern town. "My Dad would've been better off letting me watch T.V," he says. What did he get, all these years later? A painter with his own gallery, a self-proclaimed house of worship.
Books, particularly "The Sound and the Fury," by Faulkner, gave Graham "a tremendous insight into human character—how some people can be completely degenerate and evil, and how you can start to recognize them, this certain genre of person, people who manipulate with their sense of religion and other stuff like that, when you run into them."
The last time the Beaux Arts Group showed at Hollingsworth, the theme was a tribute to Marc Chagall. That was at this same time of year, in 2011. "Every year Beaux Arts does one themed show, chosen two years in advance," says Amelie Rogers, the group's president.
What the group finds attractive about Graham's gallery is all the support they get here from people completely unconnected to them. It's that type of local interest that explains the enthusiasm for the arts by the local Tourist Development Council and others who want to work towards tapping into that market.
In addition, like Graham's own mantra about his gallery, Rogers says the mission of Beaux Arts is to get artists "thinking outside the box." Or, "making you aware of other things outside the comfort zone."
To get their artists thinking  like a writer Rogers actually brought a published author  to talk about everything that goes into making a book. "It gave people an idea how a book comes together, the groundwork that allows the ideas to flow, how plots and subplots flow together—what's going on in the everyday thinking of the author," he says. So it's fitting and useful that next to each painting is a manifesto that says why the artist chose this particular book and why it spoke to him or her personally.
The show will be accompanied by a musical performance by a Nashville-based group called "More Hazards More Heroes."
This whole experience and fastidious approach was very different than that of the art league, especially for this show, where the league got almost all the work at once on Wednesday morning, in the span of about three hours, making its own curating process a near Jackson Pollock-like exercise in finger painting.
These circumstances necessitated placing two extra hanging doors into the gallery, on which to hang work that couldn't otherwise fit, to get in all 107 pieces. No jurying here. "The challenge is seeing what's going to go with what, finding a harmony," says Ann DeLucia, art league president. This is even tougher when you're working with both professional artists and amateurs, as the art league does.
One reason for this explosion of art for the Spring Show, which many of the league artists save their best work for, DeLucia says, is that there's no theme. "No one is limited by anything," DeLucia says. (Don't get ideas: this isn't the Paris Salon of 1865, either.)
"Plus, most of the pieces are enormous," she says,  with many reaching the maximum dimensions that the art league allows. This is particularly true for many of the mixed media pieces which in this show seem to shine brightest, DeLucia says.
To judge the Spring Show, the art league recruited Hollingsworth artist Kate Miller, who teaches figure drawing there and has a resume that DeLucia says is "to die for."  Outside of Florida, Miller has shown her work in New York, San Francisco, and South Carolina.

The Beaux Arts Group's "A Novel Idea," opening and free reception is Saturday, April 13, at 6 p.m., at the Hollingsworth Gallery, at City Marketplace, with special musical guest "More Hazards More Heroes." Reach the Gallery at 386/871-9146 or visit its website.  The Flagler County Art League's Annual Spring Show opening is also April 13, at 6 p.m. at its City Marketplace gallery. Call the art league at 386/986-4668, or visit its website.