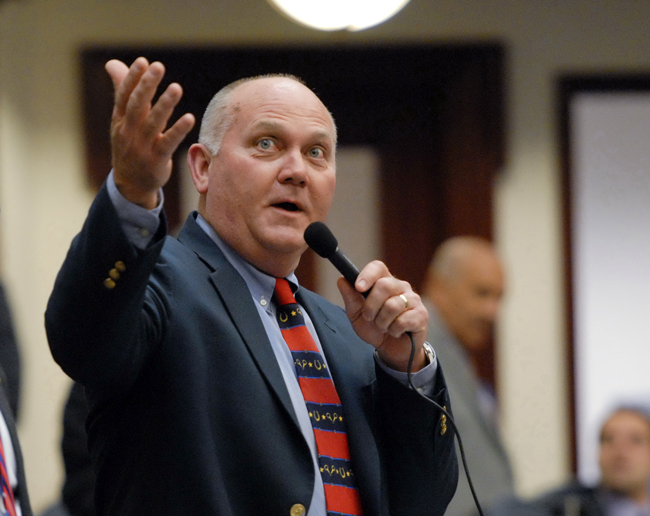 A measure that would grant immunity to people who show guns or fire warning shots in self-defense is moving in the Florida House after an overhaul that could make it more palatable to potential foes.
The so-called "warning-shot" bill, HB 89 by Rep. Neil Combee, R-Polk City, has a new name and would amend a different law if passed — and has already has gotten further during this legislative season than in the last.
Combee sponsored the bill last year after learning about the case of Marissa Alexander, a Jacksonville woman who was sentenced to 20 years under the 10-20-Life sentencing law for firing a gun into a wall during a dispute with her husband. Combee said Alexander's sentence was an example of the "negative unintended consequences" of the sentencing law.
Last year's bill would have amended 10-20-Life, which requires mandatory-minimum prison terms for gun-related crimes. Formerly known as the Defense of Life, Home, and Property Act, Combee's measure died in its first committee last March — the House Criminal Justice Subcommittee. It drew opposition from many prosecutors and law enforcement officers, including Polk County Sheriff Grady Judd, now president of the Florida Sheriffs Association.
"There's no such thing as a warning shot," Angela Corey, the state attorney in Duval, Baker, Clay and Nassau counties, said Wednesday. "That bill is dangerous and shouldn't be implemented. Prosecutors have a ton of discretion and case law and jury instruction to guide us on the filing of charges."
But on Thursday, the House Criminal Justice Subcommittee passed the revamped measure, now the Threatened Use of Force Act, by a vote of 12-1. Rep. Katie Edwards, D-Plantation, was the prime co-sponsor, with 29 other co-sponsors from both parties.
The phrase "warning shot" never came up.
And the measure no longer would amend 10-20-Life — it would amend the "stand your ground" self-defense law. It would permit people to display guns, threaten to use them or fire warning shots if they were being attacked and feared for their lives.
Under the 10-20-Life law, possessing a gun while committing certain crimes is punishable by at least 10 years in prison, discharging a gun while committing those crimes is punishable by at least 20 years in prison, and hurting or killing someone during those crimes is punishable by 25 years to life in prison.
As cases like Alexander's have surfaced, so has the will to add the threat of deadly force to the use of deadly force in Florida law. Combee can reel the cases off. So can Greg Newburn, Florida project director for Families Against Mandatory Minimums.
"10-20-Life was never intended to be used against citizens who, in an act of self-defense, threatened the use of force to stop an attacker," said National Rifle Association lobbyist Marion Hammer, who has worked with Combee since last year. "It was never intended to be used on citizens who in fear for their own safety threatened to use force to stop an attack. Yet that's how certain prosecutors are using it — certainly not all, but one is too many."
Yet many criminal justice professionals credit 10-20-Life with lowering the crime rate, and many are wary of allowing citizens to do what law enforcement cannot.
"Where's the warning shot going to go?" Judd demanded. "Law enforcement officers aren't permitted to fire warning shots — why do we want citizens to rip off a few rounds in the community?"
The lone lawmakers to vote against the committee substitute, Rep. Kionne McGhee, D-Miami, said it sounded good at first "but further research indicates differently."
"We can begin by giving judges more discretion," McGhee said. "Speaking as a former prosecutor, this (bill) is not the answer. The answer is downward departure."
"Downward departure" means departing from the applicable sentencing guideline range to arrive at a lower sentence.
In a statement, Florida Sheriffs Association spokeswoman Nanette Schimpf said the sheriffs believe people should have to protect themselves when in imminent danger, but they haven't decided where they stand on Combee's revised bill, which is known in Tallahassee as a committee substitute.
"The sheriffs have not taken an official position on the committee substitute and are continuing to review the language to ensure that it does not cast too wide a net and create unintended consequences or public safety concerns," Schimpf said. "We are pleased to see that the specific authorization of warning shots and downward departure from 10-20-Life are no longer in the language."
Meanwhile, Marissa Alexander will get a new trial in the spring, after an appeals court found that the judge had given incorrect instructions to the jury. Her bond hearing is next Wednesday, and Corey opposes her release.
–Margie Menzel, News Service of Florida