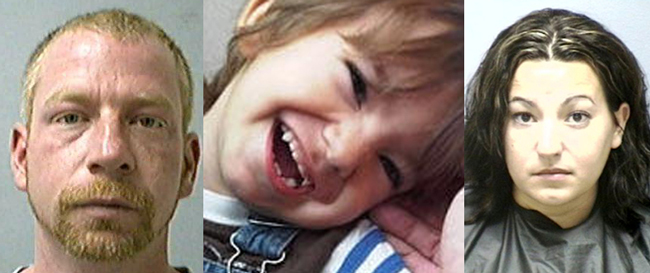 Nathaniel Fons is the 3-year-old child who briefly went missing earlier this month when his mother was arrested and jailed on counterfeiting charges in Flagler County. Fons was abandoned in Manhattan's St. Patrick's Cathedral on April 20 by the couple he was traveling with. Fons had a note alerting Flagler officials of his whereabouts. New York child services took custody.
Nathaniel's whirl of conflicts were just beginning. His mother, Erin Comeau, wants her mother, Julie Singleton of Port Deposit, Md., to have temporary custody of Nathaniel. Don and Frieda Fons disagree. They're Nathaniel's paternal grandparents. They want the boy to live with them in Land O Lakes near Tampa, where Nathaniel and his mother lived until last summer. Don and Frieda Fons haven't seen their grandson in almost a year. They flew to New York last week in hopes of claiming the child.
On Tuesday, a family court judge in Manhattan denied the Fons' request and ordered Nathaniel back to Flagler County, where the Florida Department of Children and Families will have custody while parental jail time and grandparental rights are sorted out.
"This child belongs in Florida," Judge Jody Adams said. "His parents are in Florida. He's lived in Florida."
Nathaniel's father, William C. Fons, is also in jail in Florida on a parole violation when he didn't register with authorities after leaving Florida last June to work on a fishing boat in Washington State. William Fons, who has six aliases, is a registered sexual offender in Paco County based on a conviction for statutory rape in Pennsylvania in 2001.
Nathaniel will be in Flagler by Monday.
Nathaniel's mother was arrested on Palm Coast Parkway on April 18 on counterfeiting and auto theft charges. She was traveling with her child, her boyfriend, Christopher Michael Brandstter-Howell (also in Flagler County Jail on counterfeiting charges), and another couple, Eleanor Black, 29, and William S. Scott, 32, who were with their two daughters. Black and Scott took Nathaniel the evening his mother was arrested and disappeared shortly thereafter, causing Nathaniel's mother to request that a missing-child alert be sent out.
According to the Washington Post, Black and Scott have contacted authorities, with Black meeting with officials at the Manhattan district attorney's office. They have not been charged with crimes related to Nathaniel's disappearance. When the boy first went missing, Flagler County Sheriff Don Fleming said the couple would face no kidnapping charges if they returned the child harmed, though he left open the possibility that the couple could face counterfeiting charges, depending on the local investigation's direction.
"Caseworkers with the Administration for Children's Services in New York," the Post reported, "said Nathaniel didn't have any memories of the couple and didn't seem particularly desperate to be with them."