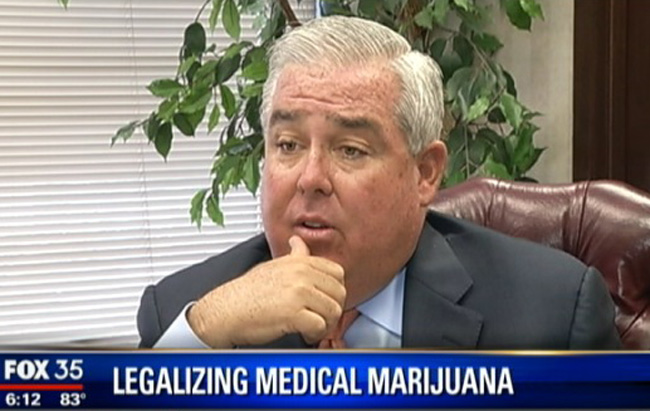 Orlando trial lawyer John Morgan said he has pledges of up to $6 million — not including his own substantial checkbook — to back a proposed constitutional amendment going before voters in November that would allow doctors to order marijuana for patients with debilitating illnesses.
Morgan, who largely bankrolled the petition effort that put Amendment 2 on the ballot, said Monday he is prepared to again unfold his own wallet to convince voters to support the proposal which, like all constitutional questions, requires 60 percent approval for passage.
"We've got people coming from all over America to help us," Morgan said in a telephone interview from New Hampshire. "I've got at least $6 million committed as of today, without more money from me. I believe we're going to be able to do it."
Renewed support from Morgan — Democratic gubernatorial candidate Charlie Crist's boss and close friend — comes as opponents of the measure, aided by Sheldon Adelson, a Las Vegas casino magnate and supporter of Republican Gov. Rick Scott, double down on efforts to kill it.
Adelson, whose son Mitchell reportedly died of a drug overdose in 2005 and whose wife Miriam is a physician specializing in substance-abuse treatment, contributed $2.5 million to the "Drug Free Florida Committee," one of two organizations lining up against the proposal.
Morgan has contributed at least $3.75 million to People United for Medical Marijuana, a political committee supporting the amendment that has spent more than $5 million so far. Supporters of the amendment recently set up a new federal 501(c)4 committee that can keep its donors secret. But "Florida for Care" organizers say the group is focused on creating a regulatory framework for the amendment if it is approved.
Debate is heating up over Amendment 2, which would allow physicians to order medical marijuana for patients they decide are suitable for the treatment. The debate comes as the state grapples with creating an infrastructure for a type of cannabis that purportedly does not get users high but can eliminate or dramatically reduce life-threatening seizures in children with a severe form of epilepsy. Lawmakers approved that type of cannabis this spring.
Scott, who has said he opposes the constitutional amendment, signed into law the measure authorizing strains of marijuana that are low in euphoria-inducing tetrahydrocannabinol, or THC, and high in cannabadiol, or CBD. The law also allows patients who suffer from severe muscle spasms or cancer to be put on a "compassionate use registry" for the low-THC product as long as their doctors approve. Under the law, five growers who meet certain criteria, including having been in business as nurseries in Florida for at least 30 years, will be authorized by the state to manufacture, process and distribute the product — usually sold in paste or oil form — to patients put on the "compassionate use registry."
"Ganjapreneurs" from around the world are flocking to Florida — the first state to implement a law in which growers will also process and distribute the low-THC, high-CBD product — in hopes of getting in on the ground floor of the cannabis industry.
"There is going to be money made and whether you're selling beer in a convenience store or topless dances in Ybor City, you're going to have people who want to make money. That's just who we are," Morgan said.
The state's newest regulated industry has attracted "charlatans" who are likely interested in the more lucrative possibilities traditional medical marijuana holds should Amendment 2 pass, Morgan said.
"It looks like a bunch of cockroaches that just got sprayed with Raid. They're spinning around going nowhere fast," he said. "There's a lot of people who think this is their way to get out of their coat and tie and walk around in their Jimmy Buffet outfit all day long. I believe that right now I could make millions of dollars if I could set up a lemonade stand saying I'm the marijuana guru, call me for information. You can't imagine how many people are calling me thinking I'm going to be the way and the light."
Polls have consistently showed widespread support for the medical marijuana amendment but that was before what is developing into an all-out attack on the measure, including opposition from law enforcement groups like the Florida Sheriffs Association.
Critics have accused Morgan of putting the medical marijuana amendment on the ballot to increase turnout among left-leaning voters who typically stay home during mid-term elections and who may be more likely to support Crist.
But Morgan predicted fighting the amendment could backfire against Republican candidates like Attorney General Pam Bondi and Scott, who both oppose the measure.
"It's like if you told African Americans we're going to shut down voting times or voting days, they said, 'The hell you are,' and came out and voted in record numbers," Morgan said.
But Sarah Bascom, a spokeswoman for what is known as the "Vote No on 2" campaign, accused Morgan of using the amendment to gin up support for Crist.
"Mr. Morgan's comments are further proof that he's not doing this 'for the people,' but as part of his own political agenda. This preoccupation with politics probably explains why the loophole ridden amendment was written so poorly," she said.
–Dara Kam, News Service of Florida