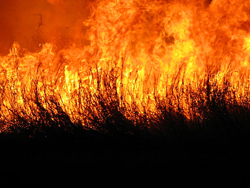 An afternoon fire that started in a single-wide trailer at the southwest end of Daytona North Thursday destroyed that trailer and went on to burn 8.8 acres of brush before it was suppressed by sundown. No one was hurt.
The electrical fire started in a small trailer at the intersection of Hibiscus and Sabal Palm Streets around 3:30 p.m., Flagler County Fire Chief Don Petito said. It burned quickly, then ran west into the woods, which have been particularly dry.
Flagler County Fire Department, Palm Coast Fire Department and Bunnell Fire Department unites, along with units from the state Division of Forestry and Flagler County Fireflight (the county's helicopter), responded–some 15 units in all. "There were probably five houses that were in danger of being burned. We surrounded those houses," Petito said. The occupants were evacuated briefly (but didn't go far) until the houses were secured, which they were.
The fire traveled to Tangerine Avenue, where lines dug through the brush stopped it. "It's smoldering," Petito said a little before 6 p.m. Thursday. "We'll be out here a while monitoring it, I'm sure we'll be back tomorrow doing some mop up."
The burned trailer was small and old. Damage was estimated at $2,000. The trailer was one of three on a single property. The other two trailers were not damaged, and were reoccupied by residents of the property.
---
Flagler County Fire Chief Don Petito on the Mondex Fire (Courtesy of WNZF)[media id=129 width=250 height=100]