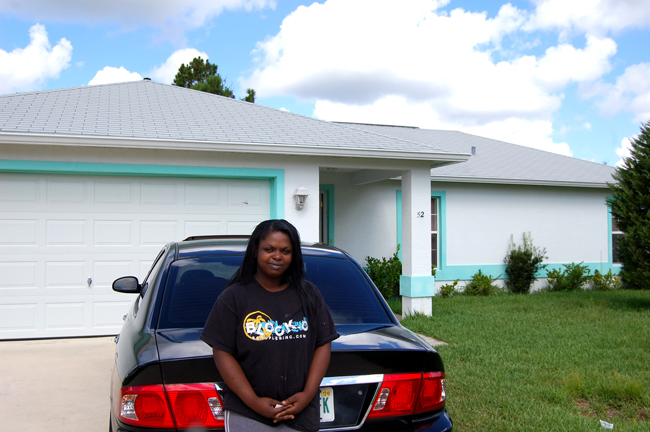 Note: The State Attorney's office dropped the charges against Salaam in the spring of 2011.

Coincidental alliterations aside, local Realtors don't want their trademark R to be confused with what appears to be a rogue Realtor's rental scam in Palm Coast's R Section. And the accused Realtor says police is mis-characterizing the issue.
Margaret Watkins is a young mother with a 4 year old and a 7 month old. In May she was thrown out of the third house she'd rented in a year, for the same reason: house after house was foreclosed. To search for yet another house for her family, she looked up Mohamed Salaam, a Palm Coast Realtor since 2001 who goes by "Buddy." "He seemed like a very nice, honest guy. I really liked him," Watkins said. "I trusted him."
Salaam showed her three houses. Watkins settled on a 1,000-square-foot house at 52 Russo Drive, not far from Rymfire Drive off of Belle Terre Boulevard. "I gave him first, last and security, and then signed my lease on June 1st," Watkins recalled today. "Three months later, the real owner came by the house and asked me what am I doing in her house." Elizabeth Giddens, the owner of the house since 2003, told Watkins she'd have to leave. Watkins showed her the lease she'd signed with Mohamed. Giddens didn't know anything about it. Watkins showed the one-year lease to the Flagler County Sheriff's Office. She was told her lease was a fraud, and that she could face an eviction notice at any time.
On Aug. 2, Salaam was arrested, charged with burglary, grand theft, and obtaining $3,750 by fraud. The 56-year-old father of eight grown children was booked into the Flagler County Jail on $15,000 bond, which he posted shortly.
Realtor associations have been warning of rental scams for years, more so as the housing bust left innumerable properties empty and easy to misuse, especially by savvy fraudsters. The type of scam Mohamed allegedly ran on Watkins is usually the work of fly-by-night cons who, advertising on the Internet or through equally difficult-to-trace means, illegally acquire entry to a property, offer it up at an attractive rental price, secure the first and last month's rent and a security deposit—then disappear.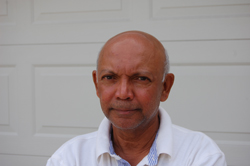 What's different in this case is that Watkins paid first and last and the security deposit, but Salaam didn't disappear even as Watkins paid three more months' rent. He is licensed by the state Realtors association. He's well known within the local association, though he also has a reputation for doing business on terms somewhat less legible than fine print. He lives down the street from Watkins—literally, a mile away. At least for now. He's living in at 22 Ryken Lane, a 3,900 square foot, two-story house with a Mark Dwyer election sign planted in the front yard and three cars, later four, parked in the driveway. The house doesn't belong to Mohamed. The $168,000 house was deeded on July 7 to Fannie Mae. Fannie Mae doesn't rent houses.
"We have a deal to buy it," Mohamed said. "Part of the deal is that, you know, we can be there." He's been in the house with three of his children and his wife since January.
Speaking in front of the Ryken Lane house this morning, Salaam said there never was any intent to defraud because he said he had an agreement with the house owner to execute a short sale on the house.
"She said listen," Mohamed said in reference to the house owner, "the house is going to go into foreclosure, can you do a short sale? I said OK, can we rent it, and she said fine. I don't know what happened between her and the tenant. They got into a huff and she wanted the tenant to go, so the tenant called the sheriff and said I have a lease."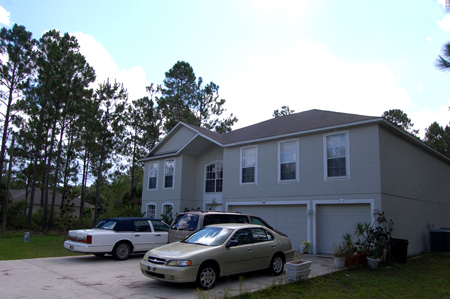 Asked specifically if the owner had, in fact, agreed to a renter, Mohamed said: "Well, I have to go back to my files. This thing really upset me and caused me a lot of embarrassment. I have to go back to my file but I'm sure the listing agreement says we can rent the property. I'm just going through all my paperwork now." Giddens did not return calls placed to her home.
Watkins said she made clear to Mohamed that she was looking for stability—and that Watkins would accommodate her. "Three days after I moved in here, I got served foreclosure papers," Watkins said. "He told me oh, don't worry about it, I'm working with her and her bank"—meaning with Giddens. "Before he said he was working with her to do a loan modification." Either way, Giddens told Watkins that there was no such deal in the works. She just wanted Watkins out of the house. Watkins has since tried to speak with the Legal Aid office in Flagler without success. She hasn't yet found another place.
It's not the first fraud allegation against Mohamed. "They came to me once and there was a house on Parkview that they said I rented," he said, "the leased was signed by somebody and everything else, but they mentioned my name, because I showed the house originally. I mean there's no grounds for them to even talk about it. It's nothing."
There may also be an immigration issue muddying Mohamed's circumstances. Mohamed is originally from Guyana. He has Canadian citizenship. His wife has American citizenship. He doesn't have permanent residency status in the United States. He couldn't recall what type of visa he has, but he said he has a work permit—and that a former colleague is attempting to get him in trouble with immigration authorities, though he has applied for a Green Card, the status that grants immigrants virtually the same rights in the United States as citizens, except the right to vote.

When it comes to scamming, Realtors warn: Any deal that's too good to be true usually is. It's best to deal with an established company with a physical address, one that conducts business traditionally—running credit checks, going through all the usual hoops of verifying the renter's credit-worthiness, and so on.