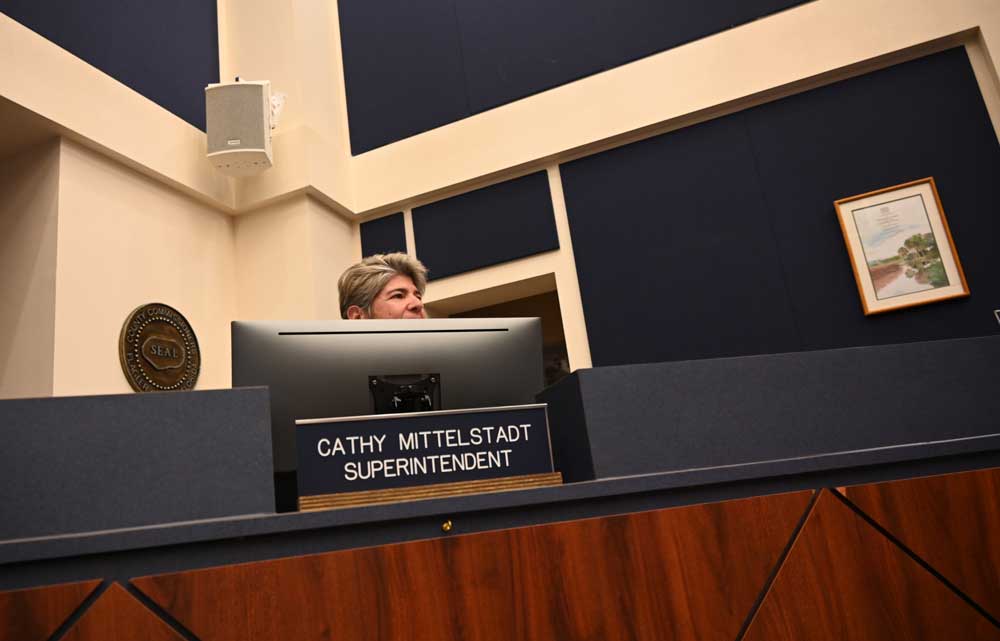 Different top government executives self-evaluate differently.
When he was Palm Coast's city manager for over a decade until 2018, Jim Landon was required by contract to be evaluated annually by the council. He never was–not until late in his tenure. Until then, the annual report the city's marketing department produced (and still produces) stood in as evaluations. They were lush, glossy booklets summarizing the year's achievements in glowing terms.




School Superintendent Cathy Mittelstadt is more circumspect. She's not much for gloss or back-patting, let alone patting her own back. She prefers to let data do the talking. She doesn't sugar-coat, even when it's to her detriment. She's required by contract not only to be evaluated by each of the five school board members once a year, but to turn in a self-evaluation by April 1.
Both of these processes are in progress. Mittelstadt turned in her self-evaluation, or "self-appraisal,"  on March 16. The board members are preparing their own, individual evaluations, which will be discussed at their April 4 workshop. As of Wednesday, three of the five school board members had scheduled one-on-one interviews with Mittelstadt to go over evaluations, the exception being Colleen Conklin, who was in the middle of a family health emergency (she posted on Facebook that her father, long ailing, was hospitalized), and Sally Hunt, who was on vacation.
If it's not a done deal–which it may well be–the evaluations may be key to Mittelstadt's future, which can now fairly be called embattled: only two board members have spoke  openly of supporting a contract renewal: Conklin, who has worked with Mittelstadt since her hiring, and Cheryl Massaro, the board's chair, who's worked with the superintendent for over two years. (An earlier version of this article incorrectly reported that Conklin had voted in the majority to hire Mittelstadt. The 3-1 vote was without Conklin, who had recused herself from the process since she had been a candidate for the ob. But she said that she would have voted for Mittelstadt.)




Board members Will Furry and Christy Chong have stayed mum on the subject, wanting to work through the evaluation process. Hunt's antagonism toward the superintendent has become clear over the last few weeks.
The superintendent's 10-page self-evaluation combines numbers–goals met or not met–with a two-page, single-spaced list of accomplishments, challenges overcome or "Factors and Conditions that have impacted Flagler Schools." But it's an incomplete self-evaluations, if only because about a third of the metrics are not yet in. Those are provided by the state Department of Education usually in June, though there's been times when the department delays the releases. Mittelstadt's contract ends June 30.
"As I have previously stated at a recent workshop, if this board recognizes the scope of work that I have led merits a contract extension, I welcome consideration of a 6-month to one-year option should the board need more time before deciding on a multi-year contract," Mittelstadt wrote the board members in her cover memo.
The self-evaluation does not have a "final rating," because of that lack of complete data. Taking just the number of metrics for which data was available, Mittelstadt said she met seven out of nine (with 11 metrics still to be tabulated later this year), giving her a preliminary 78 percent rating. That places her in the high end of the "effective" category, two points short of "highly effective."




Some of the data in the "student academics" category are alarming: one metric is to "Increase the percentage of students who are on grade level as measured by state English Language Arts assessments." The prior year's result was 60 percent. The target was 60 percent. The year-to-date result: 40 percent.
Increasing the percentage of students on grade level in math is another metric. The previous year's result was 59 percent. The target was 61 percent. Year to date: 31 percent.
Mittlestadt notes that "many figures in this document are Year to Date (YTD), as the data is pulled from the Progress Monitoring 2 session, which is completed at the mid-way point of the school year. Historically the growth in the second half of the school year is substantially greater than that of the first half of the year. Additionally, this is a new state-wide tool being used this year."
The graduation rate goal is holding up better, exceeding the target by a percentage point (91 percent). So is the maintenance or increase in the rate of students on the acceleration track, exceeding the target by a percentage point in one category, but falling short in another ("The decline represents seniors impacted by the pandemic, which offered eligible waivers for graduating," the superintendent explains in a footnote.)
The results are consistently better in the "Education Equity" set of goals. The student achievement gap between students with and without disabilities was reduced in math and English, as it was between poorer and richer students (it was reduced, but not to the point of meeting the targeted reduction, in English). It was also reduced between Black and white students in English and math. While the percentage of students enrolled in the district's more rigorous programs, such as IB, Cambridge, AP courses and dual enrollment, increased by a percentage points, it is falling short of the target by two percentage points.
Goals were also far exceeded in all "social and emotional well-being" categories, from the increase in school staffers trained in mental health first aid to lowering student absenteeism  to improving connections between students and social work referrals.




Notably, more conservative school board members, along with the State Board of Education's current ideological make up, have openly derided "social and emotional well-being" and "equity." So improvements in those areas may not carry as much weight in the eyes of Flagler's more conservative school board members, especially when contrasted with academic achievement.
Operational efficiency goals also were exceeded in three of four categories (that's the back-lot of the operation: plant and custodial services, on-time arrivals of school buses, reduction in school-bus breakdowns). Increasing participation in the school lunch program was the one target not met.
Communication was listed as the sixth and final goal, one of which was to improve the "positive perception" of the district. That metric was rated as "not available." The district's "social media reach" is also considerably down, though it may not account for elements out of the district's control, such as changing algorithms in the way Meta's Facebook disseminates its pages.
The list of accomplishments is in parts heavy on the sort of jargon on education professionals and insiders, or diehard devotees of school board meetings, might recognize–"Benchmarks for Excellent Student Thinking (BEST)," "Multi-Tiered Systems of Support (MTSS)," "Unified Data Protocol – Decision Making," and so on. Others are more easily understood, such as accomplishments with exceptional student education, moving sixth graders to middle schools, exploring or implementing new security protocols, and so on.




In a normal climate, the superintendent's suggestion for a six-month extension would have likely been accepted, just as the attention on her contract renewal would have been more muted. Instead, it's drawn unusual attention for having become a defining moment for a board with three new members, in a climate overheated by some of the members' own politicking, along with that of special interests in the community–business interests, a former school board member, and Mittelstadt's own detractors within the district among them. Mittelstadt's fate, in other words, may have already been sealed a while ago.
In maneuvers unknown to her colleagues or the public until press reports disclosed them, Hunt met with Dusty Sims, the former Flagler Palm Coast High School principal, to talk about his possibly replacing Mittelstadt, and she has since made no secret of her dislike of the superintendent. She has also been meeting with Paul Peacock, the principal at Wadsworth Elementary, and Marcus Sanfilippo, the principal at Bunnell Elementary, neither of whom is a fan of Mittelstadt.
Mittelstadt Self-appraisal 2023-02-24 (1) (1)