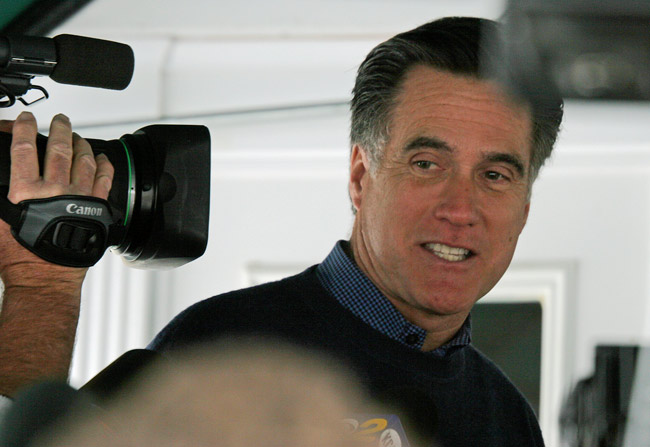 Mitt Romney got a Pants on Fire slap from Politifact for his claim on Sept. 19 that "redistribution" has "never been a characteristic of America." It very much has: it's been built into the nation's progressive tax code since the beginning of the 20th century.

First, Romney's full quote in its proper context: "I know there are some who believe that if you simply take from some and give to others then we'll all be better off. It's known as redistribution. It's never been a characteristic of America. There's a tape that came out just a couple of days ago where the president said yes he believes in redistribution. I don't. I believe the way to lift people and help people have higher incomes is not to take from some and give to others but to create wealth for all."
After checking with historians and economists, Politifact found that "Most agreed that Romney was ignoring the fundamental structure of the nation's progressive tax system, which has been redistributing wealth for a century, as well as a host of other policies, some of which predate the nation's founding."
Politifact continues: "A progressive tax system is one that takes a larger share of the income of high-income earners than it does from low-income individuals. Since this revenue is spent on government programs — which benefit people other than just the taxpayer whose income is taken — a progressive tax system is essentially by definition redistributive. Indeed, the U.S. system, at least if you look at the official rates, has been far more redistributive in the past than it is now, with a top federal income tax rate of 35 percent."
The top tax rate through the two terms of the Eisenhower administration was 90 percent. Kennedy cut ti to 70, where it stayed through Nixon's terms, Ford's two years, and Carter's four, before Reagan cut it to 28 percent, but that rate didn't kick in until 1988, conveniently the last of Reagan's eight years. It was 50 percent for most of his presidency. "And once this money comes into the federal treasury, it's quickly redistributed," Politifact writes. "As we have noted previously, some states send more money to the federal treasury than they get back, while some states receive more money than they put in."
Conclusion: "Romney said that 'redistribution" has "never been a characteristic of America.' Reasonable people can disagree about the wisdom of it, but redistribution has been a basic principle of the U.S. tax system and many federal programs, including some such as veterans benefits that have long attracted support from Republicans. Pants on Fire!" The full analysis here.