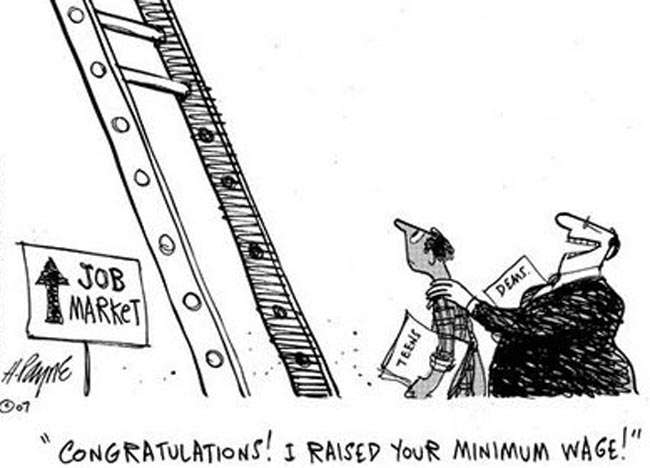 The state's constitutionally-mandated minimum wage would grow at a slower rate under a measure that narrowly passed a House committee Tuesday allowing the state to take into account years in which the cost of living goes down.
By a 13-11 vote, the House Finance and Tax Committee approved a bill (HB 1425) that changes the way the state calculates increases in the state's minimum wage, part of an index that was added to the Florida Constitution in 2004 after being approved by 72 percent of voters.
Sponsored by Rep. John Tobia, R-Melbourne, the measure would require the Agency for Workforce Innovation to factor in decreases in the Consumer Price Index that occasionally occur when the country enters a recession.
The bill would not allow any year's minimum wage to be less than the previous year. But it would require state officials to calculate future minimum wage increases taking into account the lower adjusted figure.
Over the long haul, the bill would slow the increase in the minimum wage by occasionally reducing the base by which subsequent increases were calculated.
"I'm not here to lower the minimum wage," Tobia said. "I'm here to put in common sense. There is nothing that is common sense adding to someone's wage when the CPI is going down."
Florida is one of seven states with similar laws that increase minimum wage every year to keep up with inflation. The other states — Arizona, Colorado, Ohio, Montana, Oregon, Vermont and Washington – increased their state rates Jan. 1. Florida did not.
Florida is facing a lawsuit filed in January by Florida Legal Service on behalf of 188,000 workers after AWI did not increase the state minimum wage to $7.31 per hour from $7.21 an hour, the minimum wage in 2010. State officials justified the difference because they had reduced the Florida's minimum wage in 2010 to reflect a reduction in the CPI, a commonly used inflation barometer, during the 2008-09 fiscal year.
Instead, minimum wage workers saw their hourly rate increase to $7.25, the federal minimum wage. The lawsuit contends the state shortchanged workers the six cents per hour difference between the federal rate and what the state rate would otherwise have been. "This is just an attempt to get the state out from under a lawsuit," said Rep. Michelle Rehwinkel Vasilinda, D-Tallahassee.
A Senate version of the legislation (SB 1610) was discussed in the Senate Commerce and Tourism Committee on Tuesday but no vote was taken. The House bill now travels to the floor.
"We're talking here about $2.40 a week," said Rep. Scott Randolph, D-Orlando, "I urge you to have a conscience and vote against this bill."
–-Michael Peltier, News Service of Florida

Reader Interactions