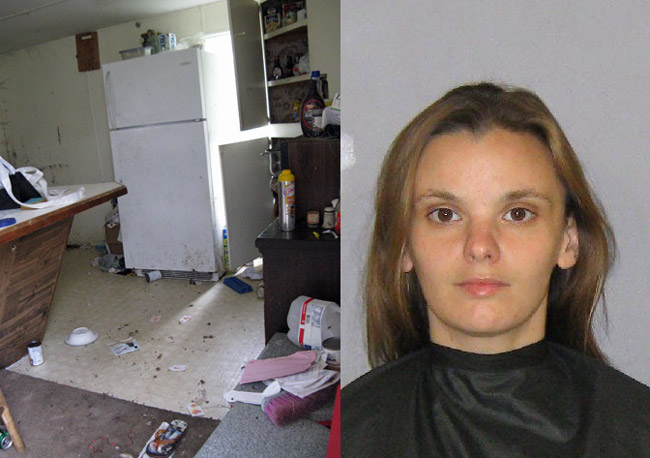 Jamie Miller had already been warned back in late July.
On July 23, a Flagler County Sheriff's Office deputy had responded to the house at 4523 Clove Avenue in the Mondex, or Daytona North, after the landlord had complained about animals at the house. The landlord had rented the property about two years earlier to Miller, 31, and her four young children.
After examining the house, a deputy concluded that several dogs there, which had been cooped up inside, had been there roughly three days, judging from the animal waste on the floors. There was no food or water visible anywhere for the dogs. The deputy and an animal control officers described the scene as "deplorable and unlivable for humans or animals," according to a police report. "They described filthy living conditions and an infestation of roaches too numerous to estimate."
Three days later another deputy went to the house with the landlord and saw the residence in the same conditions. The deputy took pictures that show innumerable roaches in living areas and the bathroom, mucky, brown water in the commode, dilapidated walls and floors and furniture strewn with empty food cans, utensils, empty milk jugs and various objects, and a fish tank half-filled with greenish-gray water.
The deputy, after interviewing neighbors, concluded that Miller had been living at the house in those conditions with her children/ But it was early August when the deputy was able to make contact with Miller. She confirmed that she had been living at that address, and had left it on July 21. She conceded that there was a roach problem but attributed the waste on the floor to the fact that her dog had had puppies. She told the deputy that even though her children slept at the house, they spent most of their time at her mother's place. Miller's boyfriend confirmed that the children lived at the house.
Miller also told police that she couldn't afford to care for the animals and didn;t know how to turn them over to someone who could.
Neighbors and witnesses subsequently provided police with additional images. "The images," the police report states, "depict Jamie Miller's youngest child, now 2 years old, walking down the road with no supervision. The child is also photographed while climbing a neighbor's fence completely nude with also no one else observed supervising him."
That police report, signed on Sept. 27, listed four charges of child neglect against Miller "for failing to provide the aforementioned children with the care, supervision, and services necessary to maintain the [children's] physical and mental health."
But it was only on Dec. 5 that Circuit Judge Raul Zambrano signed warrants for the child neglect charges and additional warrants for animal cruelty charges. Miller was physically arrested and booked into the Flagler County jail on Dec. 13. It's not clear, based on the police report and other information provided by the sheriff's office, including a news release this afternoon, why Miller had not been arrested sooner, or where she or her children had been since a deputy's visit to the house in September. Deputies did contact the Florida Department of Children and Families.
"This was an avoidable situation," Flagler County Sheriff Don Fleming said in a release. "There are services out there for families who are struggling, just like this single mother. I would encourage anyone who is in this situation or knows anyone in this situation, to call us before things get to this point." He added: "No child should have to live like this."
Miller, a native of Baltimore listed as unemployed in her booking sheet, posted $1,000 bond Wednesday and was released.