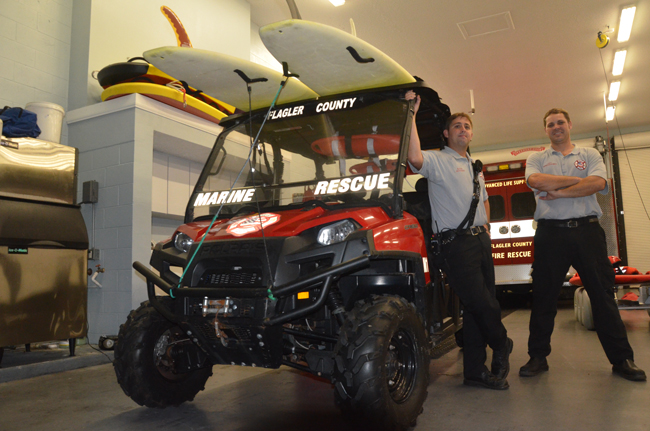 Fifteen months ago Mike Pius, a lieutenant with Flagler County Fire Rescue, was at death's door: he was unconscious and choking on his own blood as paramedics arrived immediately after a truck had cut off Pius's right of way as he was riding home from a concert in St. Augustine, on a scooter. He was flown to a hospital in critical condition, spent several days in intensive care, had four surgeries and needed seven months to recover.
Sat noon Monday, Pius, who'd gone back to work in February, led the water rescue of a 60-ish man, a tourist from Indianapolis who was caught in the rip currents at Cinnamon Beach, dragged out to sea and drifted down a mile from his original point, unable to make it back in from exhaustion.
Pius and his team from Flagler County Fire Rescue Station 41 in the Hammock—John-Edward Raffo, Mike Dolce, Dennis Moore and Aaron Price—got the call at a few minutes before noon from the area between the Hamock Beach Resort and Cinnamon Beach, where there are no lifeguards. The team, four of whom are marine-rescue certified, took out Engine 41 and its Marine Rescue Unit, acquired two years ago in the fire department's effort to buttress its water-rescue abilities.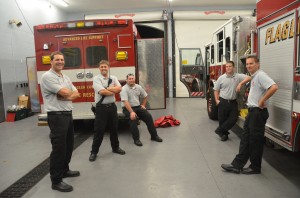 For Pius and the crew, it was a routine life-saving call: firefighters pull those off every day in an endless variety of situations, though draw attention only rarely—as, say, when they pull someone out of the water or out of flames. Monday's rescue, aside from its inherent significance to the man who was rescued (he did not have to go to the hospital, and so didn't leave his identity), illustrates the values of the department's marine-rescue capabilities beyond annual budget hearings, when the particulars of the department, whether it's its helicopter or its specialized units, are critically examined. It also completes the arc of Pius's ordeal and recovery, though he's been at it quite a few months: he was first on scene in the county's last major wildfire, the March 28 blaze that threatened homes in Beverly Beach and that involved every firefighting agency in the county and the Division of Forestry.
On Monday, he and Raffo were the swimmers who went to the victim's rescue and brought him to shore.
"So we got a call for a swimmer in distress at the 700 block of Cinnamon Beach," Pius said. "When we do that a lot of the times with the condos there, it's a bird in the water. But also a lot of times it's somebody calling from their apartment. So what you want to do is, you've got to get someone on land to triangulate a missing person."
It was not a bird. The Indiana visitor, Raffo said, "got pulled by the current south about a mile where the rip pulled him out. Once the rip pulled him out past the breakers, he wasn't able to get back in."
"That's my first concern, is we're going to lose this guy, because we had north and south winds that were ripping and the current was going very, very fast," Pius said.  So we had a land-based crew which both had water-rescue members on it, and paramedics-firefighter, all in one. We sent the land-based crew over to where the dispatch call came from just in case the person was called from an apartment. We can get eyes there. We put a helicopter on standby just in case we had to do a search. We brought the engine to the beach because we had medicine in the engine. Then I followed with the marine unit, which includes a jet-ski."
The crew saw people on the beach waving them in a long distance away, then they saw the man in the water, "an elderly man with his head out of the water, he was in between the inside and outside breaks, so it wasn't like he was taking waves on the head," Pius said. "He was in a relatively safe location. So we just effected a non-equipment rescue because he had a floatation device with him. I didn't see the need of a paddle board and the waves were a bit big, sometimes that can be cumbersome and it's a little harder to paddle a guy in on that. So with the two man, simple surf entry, we approached the victim in the defensive position, which is basically, you're swimming real fast to the guy, but once you start getting close to the victim you want to stop and put your feet first, in case they start coming at you, you can defend yourself. So go defensive, explain to him who we are, what we're doing, how we're going to get him in, and he was more than compliant with everything. A lot of the times they're very anxious and do what we call climbing the ladder, just try to grab whatever they can to get above the water,. But he didn't do any of that, he was very calm, he was just completely spent. He got pulled into a run-out, and wasted all of his energy trying to get back in."
The man had done what swimmers must never do when they're caught in a rip current: he'd fought it, instead of letting himself be drifted out until the current dissipates, at which time, his energy still relatively intact, he could use his strength to get back into shore from an area unaffected by the rip.
The man had drifted to the 530 block of Cinnamon Beach, about 100 yards offshore, in 15 of water and swells 2 to 4 feet high.
"He was very, very tired," Raffo said. "He did not have energy to try to come back himself. He had a floatation device, like a little boogie board that was kind of broken a little bit, and he wasn't in good enough shape to come in by himself, that's why he needed our assistance." But he also never panicked. "The man was very ecstatic to see us, we let him know that we were here to help, we didn't want him to freak out and try to grab us and turn us into patients."
It was about 60 to 90 seconds from the time Pius and Raffo jumped in the water to the time they reached him. He was brought back to shore and showed no medical issues.
"We do train all the time for this kind of thing because there's so many disciplines to surf rescue," Pius said, "whether we're jumping out of helicopters and hooking people to long lines or we're doing different search patterns with the jet-ski, incorporating the helicopter with assisting our search, different types of swimming techniques, and also with command. Our incident commander of this call is usually me because I'm the lieutenant but now I'm  in the water, I don't have a radio. My back-seat firefighter was incident commander," that was Mike Dolce, "so he has to organize units. If the man went under water, now it's a search, so now I get more people, more things, the incident becomes larger, more people have to do more things. We train on it vigorously all year long."
In contrast with Monday's rescue, it would be difficult for anyone to imagine that a year ago Pius, who spent weeks in a wheelchair, was just coming off crutches. It's not all back to normal. His range has decreased somewhat. He may yet face another surgery. The weather can affect his pain levels. He wakes up in the middle of the night with pain, thinks twice before he does certain things. And he's discovered the limits of invulnerability.
"Life is different now, it's a significant event that happened, I'm trying to change with it," Pius said. "You're on top of the world one day and then the next day you're having to live at your parents' house because you can't even climb the stairs to get to your own home. That does something to you, you know. When you're a younger man you think you're kind of untouchable."
He is often reminded of his new reality in the routines of the job. "You're in a trailer at two in the morning, you've got to lift someone to take them down," Pius says. "That's not going to be in the news, but that's the stuff that really is hard, you know what I mean? That's your normal day-to-day stuff that we just normally do, there's nothing really glamorous or blitz and glamor about it. You're not going to hear about it. But that's where you get the achy painy stuff. You put me on a fire my adrenaline is going, or there's a gentleman about to get taken by the Atlantic, my adrenaline is going, I don't really worry about it. But the other stuff is what gets you."