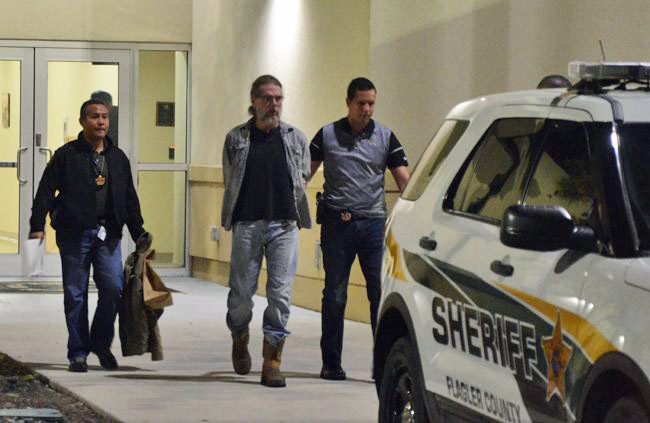 Last Updated: 8:04 p.m.
Michael Cummings this evening was placed under arrest on a second-degree murder charge in the death of his wife Faith Cummings at their Point Pleasant home in Palm Coast last Thursday.
"The cause of death was blunt force trauma to the head with asphyxiation," according to Michael Cumming's arrest report, which relates the findings of a medical examiner following a Friday autopsy. The medical examiner ruled the death a homicide.
"This is a case where a former husband who is now living again with his ex-wife," Sheriff Rick Staly said this evening, "in an angry rage brutally beats and stomps his ex-wife to death, realizes what he has done, and then tries to hide his crime."
Cummings was transferred from the sheriff's operation center to the Flagler County jail at 6:30 p.m.
Michael Cummings and Faith Cummings were divorced in 2013, then–after Faith received a large insurance settlement– rekindled their relationship and started living together again, according to Sheriff Rick Staly, who gave a brief overview of the couple's history during a news conference this evening. An ex-wife of Michael Cummings's reported that he had had a history of domestic violence, though none officially documented.
"This case shows just how fast a domestic argument can spiral out of control and into a murder," Staly said in the news conference arranged immediately following Cummings's arrest.
"There'd been an obvious attempt to clean up the crime scene and reposition the body," Staly said about the evidence deputies and detectives uncovered at the house Thursday morning.
The times of the injury were consistent with a homicide, the medical examiner concluded after an autopsy. Faith had been dead "a few hours" by the time deputies saw her.
An argument started in the garage over infidelity, Faith Cummings fled into the bathroom to protect herself, Michael followed her and "brutally attacked her." Faith had numerous bone fractures, including all her ribs, "and other injuries consistent with a severe beating." There were injuries on Michael as well.
---
The Sheriff's News Conference
The sheriff explained why it's a second degree charge: "For first degree you have to have premeditation, we think this started as a domestic, it spiraled out of control," Staly said.
There are children–one between them, "and then some others," the sheriff said.
"He didn't own up to much of anything," Staly said. Cummings instead tried to piece together what sort of answers he'd provide based on what questions he was asked.
Oddly, Cummings came to the sheriff's office's operations center on his own after reading an update on this story earlier today, on this site. He was seeking to know what detectives knew. He was questioned in turn, and the arrest evolved from that, though by then it appears his arrest had only been a matter of time: his arrest report is somewhat detailed, and a local judge had signed his arrest warrant. Still, the report only circumstantially ties Cummings to his wife's death, and it's not at all certain that the afternoon and evening's succession of events developed as the Sheriff's Office intended them–including the transfer of Cummings, visible to more than a half dozen reporters and television crews, out of the Operations Center. Rather, that may have been prompted by Cummings himself turning up at the Sheriff's Office.
The arrest report adds further details to a case rich in disturbing twists and unsettling scenes. When paramedics arrived at the scene along with deputies on Jan. 11, they had to ask Cummings to unlock the door to let them in. He then directed them to a front bedroom, where Faith was lying naked, bleeding from the bridge of her nose, with bruises "apparent all over her body." Her right eye was swollen shut, and blue. She had lacerations on her face and on her neck. She was pronounced dead at 7:54 that morning.
Michael told deputies that when Faith had returned from work–it's not clear when: if he was referring to the previous Wednesday evening or Thursday morning–the two got into an argument because he allegedly found she had been unfaithful to him. They argued, but he said he went to sleep in the master bedroom. Sometime later he heard a thump in the house, and found Faith lying in the bathtub. He says he put her on the bathroom floor, administered CPR, then dragged her to a bedroom, administered CPR, and in between it all, looked around the house for his cell phone. (6 Point Pleasant Drive is a house along a residential street with houses every few feet, and relatively brisk traffic within two blocks of Belle Terre Parkway: any resident is likely to quickly flag down someone's attention within moments, in case of an emergency.)
Michael told Jorge Fuentes, one of the two lead detectives on the case, that he noticed the right eye begin to swell as he was administering CPR.
But a blood-pattern analyst who walked through the house on Jan. 12 told detectives she located blood spatter in the guest bathroom, according to the arrest report, and "multiple castoff stains located on the walls and ceiling." It appeared, the analyst continued, that the victim "was being hit with a weapon." The analyst's conclusion was that the blood stains were not consistent with a mere fall.
The medical examiner's office in St. Augustine conducted the autopsy Friday morning, documenting "multiple injuries," the arrest report states.
The Sheriff's investigation of 44-year-old Faith Cummings last week initially considered the death suspicious. The sheriff later deemed it more of a "death investigation. But the autopsy and further investigation resulted in today's charge.
"It's going from an unintended death investigation to a suspicious death investigation, with direction pointing to people of interest," a sheriff's spokesman said this afternoon, before the charge was announced.
Last Thursday Michael Cummings, Faith's 46-year-old ex-husband, called authorities after reporting that he'd been giving his wife CPR for hours, in his words, after she may have fallen in the shower. But when authorities arrived at the house they found Michael with blood on his clothes and used syringes strewn on the ground in the house, and Faith Cummings dead on a bed in a room. It was unclear why, if she had been facing a medical emergency for hours, her husband had not contacted authorities earlier.
Today as he was being walked out to a patrol car, Cummings told reporters that the syringes were related to a diabetic condition, and that his ex-wife had had a "temper fit." He denied having a hand in her death, and said: "I love my family."
The case would take an additional strange twist last week when Michael refused to leave the house and was arrested on an obstruction of justice charge, though he posted bail within hours and was released.
The autopsy, the Sheriff's Mark Strobridge said, confirmed a cause of death. He was not prepared to provide those details just yet earlier this afternoon, but said "we do have a direction the investigation is going in at this point," a strong suggestion that an arrest, if not arrests, are likely, with additional twists. "There's a lot of interesting things in the case." Asked if there would be more than one person of interest, the spokesman said: "There's extenuating circumstances in the particular case."
There were five murders in Flagler County last year, four of them attributed to domestic violence. This would make it the fifth murder of the last six so attributed. Staly, who has been making a push to more sternly and effectively address domestic violence, framed his remarks this evening in that context. ""This case underscores a problem with reducing and domestic violence and domestic violence homicides," he said. "Often domestic violence is hidden from other family members and neighbors, and is the dark family secret. And like in most cases of domestic violence, the victim knows and is living with her attacker. This case shows just how fast a domestic argument can spiral out of control and into murder. It also exemplifies how much more work we as a community have to do to reduce and prevent domestic violence."

Watch Michael Cummings's Arrest (FCSO Video):