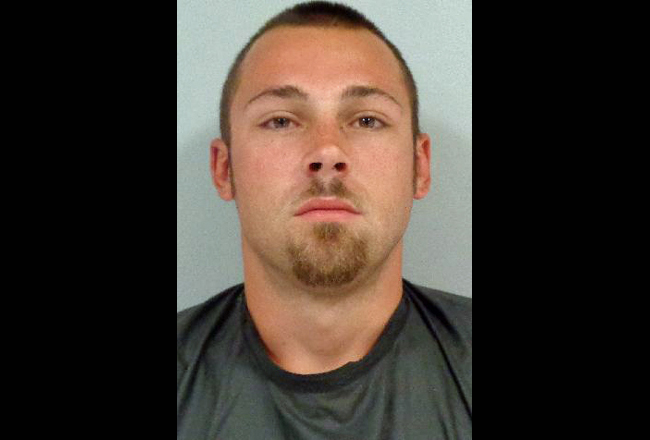 "Look at me," Michael P. Chancery, a 25-year-old resident of 92 Fort Caroline Lane in Palm Coast was telling Flagler County Sheriff's deputy Robert Finn, "you, you'll see me one day, punk bitch."
It wasn't the first time Chancery had threatened Finn. An hour and a half earlier—just after midnight this morning, May 13—Chancery was being helped onto a stretcher so he could be taken to Florida Hospital Flagler to get some medical care when he told Finn that he knew where he lives, and that when he gets out, he was going to kill him.
Not the wisest words spoken by a suspect already in custody on other charges, as threatening a law enforcement officer added one more charge—a felony—to Chancery's by then lengthy booking sheet: battery, domestic violence battery, aggravated assault, burglary, resisting arrest with violence.
Chancery, according to his arrest report, had been visiting his father's house on White Feather Lane Sunday. When his father realized that Chancery had gotten drunk, he asked him to leave. Chancery called his girlfriend. She picked him up. As they were leaving, Chancery and his girlfriend argued in the car. Chancery asked his girlfriend to bring him back to his father's house. So she did.
Chancery hung out in the garage with a neighbor called Dennis. Chancery's father was not aware that his son had returned, however. Once he discovered that his son was back, he again asked him to leave. Chancery left, deciding to go to Dennis's house, and entering it—without permission, according to the arrest report.
Once in the house, Chancery got in an argument with Dennis's wife, who yelled at him to get out. Chancery instead allegedly pushed the woman and "engaged in an altercation with her," the report states. Dennis and Chancery's father then walked in to get Chancery out of the house. Chancery tried fighting Dennis but was unsuccessful as his father grabbed him in a bear hug to try to calm him down. When Chancery was released, he pushed his father and lunged at Dennis only to have Dennis's wife intervene, according to the report and wrestle Chancery to the ground.
Again Chancery was held down until he calmed down, this time in a choke hold (Dennis's wife has had some military training). Again he was let go once he appeared calm. And again, according to the report, he turned belligerent, this time allegedly pulling a knife, turning toward his father, and threatening to cut him. Frightened children witnessed part of that scene.
By then police had been called, including a K-9 unit of the sheriff's office. As soon as Chancery saw deputies arrive at the scene, he fled on foot through the back yard. A search was on. Deputies established a search perimeter and launched Flagler County Fire Flight, the county's emergency helicopter that routinely assists the sheriff's office in search operations.
Chancery was soon located, but he resisted cops' orders and, according to the report, became violent. He fought K-9 unit Kaos as Kaos engaged him. Once in custody, Chancery allegedly continued to be combative with deputies and with medical staff. It was then that he leveled his threats at Finn, the deputy.
Chancery, a native of Daytona Beach, was arrested last November on charges of domestic violence, false imprisonment and resisting arrest, and a month before that, on charges of battery and aggravated assault with a deadly weapon. He remains at the Flagler County jail on $29,500 bond.