It's quiet in the Mia Bella Dance Studio, above Carmelo's New York style pizza restaurant in Palm Coast's City Market Place. No dancers, no music. Just the loud pink walls and zebra prints. Owner Brie Valenti and fiancé Miles are getting the place in order for intensive summer training, following a whirlwind of competitive dancing out of town, and what's now becoming a routine of harvesting trophies around this time of year.
Valenti has just returned from Gatlinburg, Tenn., where for the third consecutive year she and her Mia Bella girls swept the National Celebration Talent Competition. They beat out 30 other studios and over 1,000 other acts. "I haven't checked the mail in, like, two weeks," Miles says, sifting through envelopes.
Winning hasn't gotten old yet. Valenti can't help but smile when probed about her accomplishments achieved in such a short time; she's had the studio for only three years. Her delight is amplified by the massive trophies standing in the entrance. How did her competing students get so good so quickly?
"For these kids, dancing is their life," Valenti says. In choosing her competition team, she says, "I'm a believer in ability over age," meaning she assigns different people different roles in the performance, based on ability and commitment. "The most competitive kids are here four or five days a week."
These dedicated students are in command of their routines and practices. They meet with the National Celebration Talent Competition judges beforehand, taking classes and getting comfortable with the process over four days.
Mia Bella landed two overall first place soloists in their respective age division: Caroline Rizzo and Russell Tanenbaum. Mia Bella also won two group 1st place awards in both the 12- and-under Rising Star Category, with their contemporary dance routine of "The Wounded." In a trio contemporary dance performance, "Don't you remember?" Valenti students won first place in the 13-and- over Shining Star Category.
Valenti's award-winning choreography is another key to her students' success. Their routines are representative of true life, she says. "The Wounded" is about absent parents. "Do You Remember" was about Alzheimer's disease. The dancers in that group had to improvise when their fourth dropped out unexpectedly.
"The Wounded" was conceived from the personal experience of someone close to Valenti. "Do You Remember" was about her grandmother, once a professional dancer herself who "would attended all of my dancing events while I was growing up. She died of Alzheimer's." Two of the dancers who performed that routine also had grandparents who had died at the beginning of the year (not from Alzheimer's). The performance began with those two dancers opening an old photo album that actually contained photographs of their recently deceased relatives, perhaps inspiring their act. "It's important to give them something they can conceptualize," Valenti said.
They won their age division then came back and won the Best of the Best, that is, the showdown of the most esteemed performances of the competition. Their production, a dance routine that involved the entire 20-member team, "Gaga for Gaga"—an emulation of what you'd imagine as an inimitable Lady Gaga performance—took second place in the 13-and-over Rising Star division, losing only to Mia Bella's own "The Wounded."
In addition, Valenti's daughter, Jazmyne, 12, along with Emmary Wolff, 14 won the competition's scholarship competition.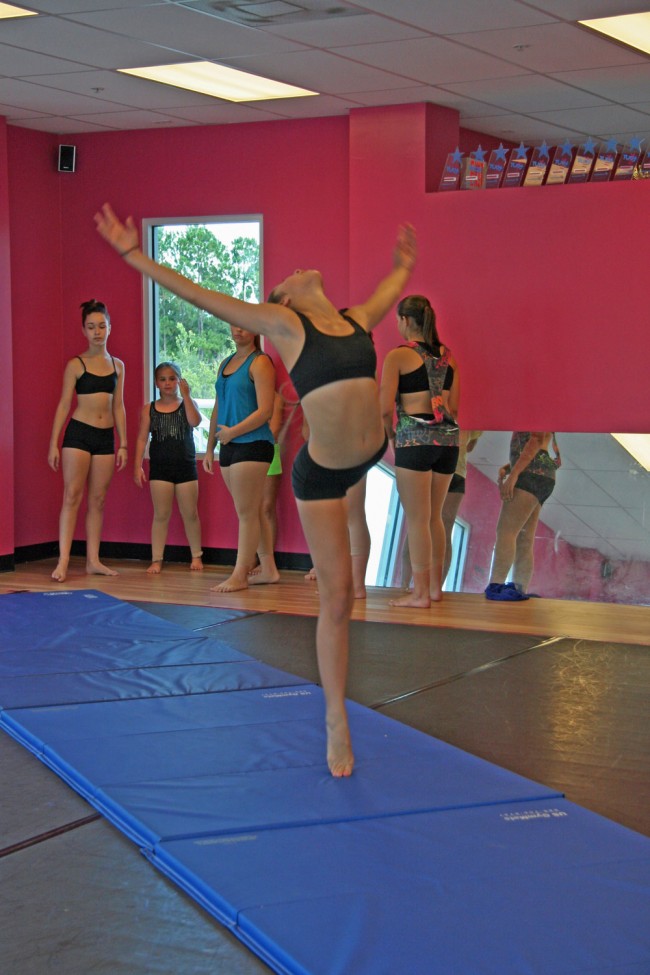 Not surprisingly, given her success, there's a connection between Valenti's success and her strong dancing background. She's been at it since she was 7. She's now 30. She even has the Backstreet Boys on her resume. "I've danced in Paris, Las Vegas, New York," she says. She also does choreography for other dance studios, laughing at the the prospect that she may one day accidentally give someone a routine that will rival a Mia Bella production.
Opening the studio was the fulfillment of a life-long dream, which makes you wonder, with all her achievements and laurel-covered walls, what goals are next when she's merely 30.
"Well, the goal is to keep expanding and growing," she says, though that too is in progress. Mia Bella's ranks of dancers grew from a handful to 70 in the first year. Two years later, it's 150, with 30 on the competitive team. "I've watched kids start dancing at age 4. I want to watch these kids succeed. I want to see them go on to get dance jobs, always work to become better dancers. But it's more than that," Valenti says. "This place is about working to be a better a mother, a better teacher, a better person. Keep plugging forward. Our motto is 'change the world one dancer at a time.'"
"We capitalize on 'unorthodox' here! Look at the pink walls, look at my red hair," she says pointing to her flaming tresses. A yellow flower sits atop her head for decoration.
"You go into a lot of other dance buildings and you find neutral-colored walls. It looks like a doctor's office. I want my students to feel like they're on fire when they walk in here," she laughs.
Walking from the lobby into the actual studio, she points out a giant zebra mural on the wall. "Do you know what the zebra stripes represent in African culture?" she asks. "It represents leadership." The students have embraced the notion of a very un-Palm Coast-like mascot, with new zebra lingo improvised as quickly as she can choreograph new contemporary dance steps. "It works for us."
Still it hasn't been all zebras and trophies at the studio. "People in this county love to tear us up. They love to hate us—you just have to look in the comment sections in our articles about us to see that," she says, though since the very first cave paintings of the neolithic, wherever two or more performing arts organizations have gathered within sight of each other, the competitive sniping hasn't been far behind, particularly when one group gets the choice hardware and the other doesn't. "Dance is a cut- throat recreational activity," Valenti acknowledges. "Everyone's daughter is the prettiest and everyone's daughter is the best dancer."
"We just do our thing," she continues. "We don't worry about taking anybody down. We just wish people would support one another. The arts are dying—they're being taken out of school, but dance is on the rise. We should all embrace that. This is about the love of dance."