Strings, Arts Openings, Christmas Parade and More Uniform Follies: This Week in Flagler
FlaglerLive | December 4, 2011
Note: all meetings are open to the public. You're welcome to send tips or suggestions to editor@flaglerlive.com.
The Week's Quick Links


The Flagler Youth Orchestra in Concert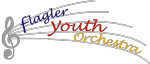 The 280 musicians of the Flagler Youth Orchestra perform their first concert of the 2011-12 season on Wednesday, Dec. 7, at 7 p.m. at the Flagler Auditorium in Palm Coast. Conductor Caren Umbarger and fellow teachers of the ensembles will lead five orchestras — a cross-section of public, private and homeschooled students. The program features music by Corelli, Strauss, Palm Coast composer and performer Lucas Drew, a performance by the orchestra's own faculty quartet, and much more.
Tickets are available at the Flagler Auditorium box office or by calling (386) 437-7547. Adult tickets are $6.00 with $1 from each ticket going to the Auditorium's Arts in Education Fund. Children 17 and under get in free. The orchestra's proceeds help underwrite instrument scholarships and repairs, teaching staff and concert productions. The Flagler Youth Orchestra is made possible by the Flagler County School District, with the support of the Friends of the Youth Orchestra, whose sole mission is to provide free music education after school to all Flagler children with a desire to play an instrument.
For more information on the concert, how you can show your support of this performing arts program or enrollment in the strings program, contact Cheryl Tristam, program director, at (386) 263-2543 or by email at Cheryl@flagleryouthorchestra.org.
Click On:



The Hollingsworth Gallery and the Flagler County Art League both launch new shows Saturday, Dec. 10. At Hollingsworth Gallery, a trio of women painters–Pat Zalisko, Karlene McConnell and Melissa Mason–present "Neoexpressions." It's a return of sorts for Zalisko and McConnell, who exhibited together at Hollingsworth last February, when their work was described here as "big, imposing, arresting heads with disconcerting stares despite brush strokes and color combinations that seem to dissimulate the familiar creasing associated with a face" (describing Zalisko) and, describing McConnell, "sometimes equally big though less imposing—because more serene— trees painted much as Zalisko paints heads: as plays of color and dissimulation, as suggestions that invite the viewer to see things that may or may not be there, much as a walk in a forest is an individual experience even if the trees are all the same." But it's all new work this month. Hollingsworth Gallery owner JJ Graham, who is curating the show, said the pair, with Mason, have been working on this show since earlier this year (they all three paint in new Smyrna Beach). Mason describes herself this way: " I am drawn to sensitive line making, and spontaneous, direct brushstrokes. Alternating between dark/light, equine subject/non-objective works." That painting below, "Monk," is one of her works. The show at Hollingsworth opens with a free reception Saturday, Dec. 10, from 6 to 9 p.m. Hollingsworth Gallery is located at City Market Place, 160 Cypress Point Parkway, behind Walmart, in Palm Coast. Call 386/871-9546 for details.
The Flagler County Art League opens its first annual Juried Photography Show at the same time, Saturday, Dec. 10, with a free reception from 6 to 9 p.m. The league, putting a greater focus on photography this year, will be selecting works befire they are displayed, rather than accepting all submissions, as in previous shows. The Flagler County Art League's gallery is located at City Market Place, 160 Cypress Point Parkway, behind Walmart, in Palm Coast. Call 386/986-4668 for details.
Click On:


Christmas Parade in Palm Coast
Palm Coast's Christmas parade is scheduled for Saturday, December 10, beginning at dusk, in Town Center. Attending the parade is free. In addition to the parade, A 15-foot inflatable clear snow globe, large enough to fit Santa and your family, will adorn Central Park in Town Center on Friday and Saturday, Dec. 9 and 10. The cost of fitting in for snapshots, for up to five people, is $8. It will snow around the globe from 5 to 10 p.m. on the 9th, with the free movie, "Polar Express" shown adjacent in the park, also beginning at dusk. Snow settles in the globe again on the 10th in time for the Holiday Starlight Parade. Palm Coast residents James Sharpe and Earsel Wallace (representing her deceased husband) were recently honored with United States Congressional Gold Medals. Sharpe and Charles Wallace were members of the Montford Point Marines, the first Black Marine Unit that served in the Pacific in World War II. Sharpe and Mrs. Wallace will serve as Grand Marshals in the parade, which features some 85 floats and marching bands. Central Park is located just north of Flagler Palm Coast High School at Bulldog Drive.
There will be also be food vendors, musical performances and letter writing to Santa from noon to 6 p.m., with the parade beginning to circle the park at dusk. Photos in the globe for a family of up to five people will cost $8. For more information, contact the City's Parks & Recreation Department at 386-986-2323.
Click On:



The Flagler County Commission meets for its regular bi-monthly meeting Monday, Dec. 5, at 9 a.m., at the Government Services Building in Bunnell. The county will consider approving a $40,000 to the troubled Family Life Center, which provides shelter to victims of domestic abuse, among other social service grants on Monday's agenda. The commission will likely see some debate over the second and what should be the final reading and adoption of its new animal ordinance. See the meeting's full agenda below.
Immediately following the meeting, the commission will convene in a workshop (where it discusses issues but doesn't necessarily take action) regarding the Hammock Dunes DRI, discussion about a hurricane study and the possibility of hiring a lobbyist to do the county's bidding in Congress.
Flagler County Commission Agenda, Dec. 5, 2011

Click On:



The Palm Coast City Council meets Tuesday, Dec. 6, at 6:30 p.m. at the Palm Coast Community Center for its regular bi-monthly meeting. The council will approve $20,000 in arts grants to a dozen or so local cultural and arts organizations. See the full agenda and links to back-up material on various items here.


Community Forum on School Uniforms

The Flagler County School Board holds another community forum on school uniforms, this time at Matanzas High School's Pirates Theater, at 6 p.m., Wednesday, Dec. 7. The forum will feature a presentation by Osceola County School Board member Jay Wheeler, whose school district made uniforms mandatory for all students, from kindergarten through 12th grade, in spring 2008. The school district, traditionally the lowest performing in Central Florida, has seen significant academic gains since, but the link with uniforms is tenuous. The gains coincided with the hiring of a new superintendent, Mike Greco, who, according to the Orlando Sentinel, "focused on expanding arts and music offerings and starting new magnet programs with focuses on international studies, and science and engineering." Greco resigned last spring over tensions between board members.
Separately, the school board will meet for a workshop on Tuesday, Dec. 6, at 5 p.m., and a regular meeting at 6 p.m., in the Government Services Building in Bunnell.
Click On:



The big news this week will be Gov. Rick Scott's roll-out of his proposed budget for the year. With the state facing a nearly $2 billion budget shortfall, the spending plan for the next fiscal year is expected to be austere yet again, and Scott has been working to lower expectations through public announcements.
Scott releases the budget proposal on Wednesday – and while he does in town last year unlike last year – he quickly skips out of the country afterward. Scott begins a trade trip to Israel on Thursday.
In the Legislature attention turns to personal injury protection fraud and redistricting this week, but also this week the Senate looks at a Republican-sponsored bill to ban texting and driving.
And while lawmakers make laws, the courts have a decision to make this week about the state's drug possession statute, declared unconstitutional by a federal judge. Now several drug criminals are challenging their sentences, an issue that comes up in Supreme Court arguments this week.
SATURDAY, DEC. 3, 2012
RON PAUL SOUTH FLA HQ: The Ron Paul 2012 Presidential Campaign plans to open a Miami headquarters on Saturday. Paul won't be at the event, but supporters will be. (Saturday, 3 p.m., 13971 SW 140 St., Miami.)
BONDI TO QUESTION PRES CANDIDATES: Attorney General Pam Bondi will co-host a presidential candidate forum on the Fox News Network Saturday, along with host Mike Huckabee and two other Republican attorneys general, Ken Cuccinelli of Virginia and Scott Pruitt of Oklahoma. The forum at Fox News studios in New York will include candidates Mitt Romney, Michele Bachmann, Newt Gingrich, Ron Paul, Rick Perry and Rick Santorum. The forum will last about 90 minutes and candidates will answer questions individually, rather than debating and interacting with each other. There will be no studio audience. (Saturday, 8 p.m., Fox News.)
MONDAY, DEC. 5, 2011
STATE BOARD LOOKS AT EXAM SCORES: The State Board of Education will examine changes to how performance on state-administered tests are scored. On its agenda is the FCAT 2.0 reading and mathematics tests, the Algebra 1 end-of-course assessments. (Monday, 9 a.m., Hillsborough County Public School Board Office, 901 East Kennedy Blvd., Tampa.)
SENATE GOV OVERSIGHT: Bills related to an optional retirement system for the state university system (SB 198), and group insurance for public employees (SB 366) are among the measures before the Senate Governmental Oversight Committee on Monday. (Monday, 9:30 a.m., 110 Senate Office Building, The Capitol.)
SENATE MILITARY AFFAIRS: The Senate Military Affairs Committee hears bills related to college credit for military training (SB 532), spaceport facilities (SB 634) and the guardianship of veterans (SB 520) as well as holding a workshop on boosting space-related academic research. (Monday, 9:30 a.m., 37 Senate Office Building, The Capitol.)
SLOT MACHINE TAX, INDIAN GAMING, COURT FEE ESTIMATES: State economists on Monday will meet to discuss projections for slot machine tax revenue and Indian gaming revenue, two subjects of particular interest now with lawmakers considering expanding gambling options available to Floridians. With those two issues to be discussed in a morning session, the revenue estimating conference will reconvene Monday afternoon to talk about Article V revenue, which is money for the court system from court fees. (Monday, 10 a.m. morning session, 1:30 p.m., afternoon, 117 Knott Building, The Capitol.)
FLORIDA POLICY FORUM ON MEDICINES: The American Cancer Society is holding a forum Monday to discuss some new issues related to medications that are going to be before the Legislature this year. One of the issues is cancer specific: discussion of oral chemo bills (HB 623, SB 1066), but there's also a discussion of drug shortages and other issues. Participants include doctors, advocacy groups and lawmakers. (Monday, 10 a.m., TCC Capitol Center, 300 W. Pensacola St., Tallahassee.)
GELBER SPEAKS AT FEA EVENT: Former state Sen. Dan Gelber will speak at a Florida Education Association event called "Jobs, Education and the Economy." (Monday, 12:30 p.m., Turnbull Conference Center, 555 West Pensacola Street, Tallahassee.)
SENATE COMMUNITY AFFAIRS: The Senate Community Affairs Committee takes up several bills, including a measure giving preference to Florida business in government procurement contracts (SB 538) and a bill dealing with paying for seawalls (SB 466), among others. The panel also hears the League of Cities and the Association of Counties discuss their priorities for the coming year. (Monday, 12:30 p.m., 301 Senate Office Building, the Capitol.)
DRUG POLICY GROUP LOOKS AT TRENDS: The Statewide Drug Policy Advisory Council will receive presentations about issues such as substance-abuse trends and treatments. (Monday, 1:30 p.m., 4042 Bald Cypress Way, Room 301, Tallahassee.)
SCOTT, DCF ANNOUNCE FAMILY INITIATIVE: Gov. Rick Scott and Department of Children and Families Secretary David Wilkins will announce a new initiative to help families. The initiative will involve businesses, with statewide business leaders expected to attend the announcement. (Monday, 2 p.m., Cabinet room, the Capitol.)
PUBLIC COUNSEL OVERSIGHT: The Joint Committee on Public Counsel Oversight meets Monday and will hear from Public Counsel J.R. Kelly, who represents the interest of consumers in utility regulation cases before the Public Service Commission. The panel also will hear from staff on what its jurisdiction is. (Monday, 3 p.m., 37 Senate Office Building, The Capitol.)
JOINT LEGISLATIVE AUDITING: The state's auditing agency gives lawmakers a report on Florida's prison diversion drug courts at the Joint Legislative Auditing Committee. The panel also hears a response from the Division of Emergency Management to questions about oversight of state and federal funding for the Brandon Community Advantage Center. (Monday, 3 p.m., 309 Capitol.)
TUESDAY, DEC. 6, 2011
WATERS IN HOUSE COMMITTEE: Department of Juvenile Justice Secretary Wansley Waters will go before the House Criminal Justice Subcommittee on Tuesday morning to discuss juvenile justice reform initiatives. The committee also holds a workshop on mental health courts and veterans courts. (Tuesday, 8 a.m., 404 House Office Building, The Capitol.)
HOUSE ENERGY AND UTILITIES CONSIDERS BLENDED GAS REPEAL: A law that requires all gas stations to sell blended gasoline that includes ethanol would be repealed by a bill (HB 4013) that is before the House Energy and Utilities Subcommittee on Tuesday. The panel also will discuss renewable energy sources and emerging renewable technology, including biomass, solar, wind, and wave energy. (Tuesday, 8 a.m., 212 Knott Building, The Capitol.)
HOMEOWNERS V DEVELOPER CASE TO BE HEARD BY SUPREMES: The Florida Supreme Court hears oral arguments in a case brought by a homeowners association against a developer, claiming the company built a shoddy subdivision. In the case, from Orange County, the 5th District Court of Appeal found in favor of the Lakeview Reserve Homeowners Association in its claim that homeowners had a right to expect that there was an "implied warranty," that the developer would build proper roads, drainage systems, retention ponds and pipes, because those items were necessary to make the neighborhood livable. That decision, however, is in conflict with a 1985 case out of the 4th District, so the Supreme Court has agreed to resolve the conflict. The case is Lakeview Reserve Homeowners Association v. Maronda Homes. (Tuesday, 9 a.m., second case on docket, Florida Supreme Court, 500 S. Duval St., Tallahassee.)
SCOFLA TO HEAR DRUG POSSESSION CASE WITH BROAD IMPACT: The Florida Supreme Court on Tuesday also hears oral arguments in one of the most far-reaching and closely-watched criminal cases in the last couple years, a case involving the constitutionality of the state's drug possession statute. A federal judge ruled in July that the state's drug possession law is unconstitutional because it doesn't require that the defendant actually know they are committing a crime – so-called "guilty knowledge." That has resulted in drug defendants challenging their convictions and prosecutions in several cases, and in October, a circuit judge in Manatee County, Scott Brownell, dismissed charges against 42 defendants in 46 separate cases on those grounds. Several other possible dismissals are pending there, and elsewhere in Florida. That Manatee County case has already swiftly moved to the Supreme Court, being sent up by the 2nd District Court of Appeal as a matter of great importance. The case is Luke Jarrod Adkins et al., v. Florida, (Tuesday, 9 a.m., third case on docket, Florida Supreme Court, 500 S. Duval St., Tallahassee.)
DOT TALKS WORK PROGRAM: Officials from the Department of Transportation give a presentation on the agency's work program to the House Transportation Appropriations Subcommittee. (Tuesday, 9 a.m., 102 House Office Building, The Capitol.)
SENATE COMMITTEE CONSIDERS JUVENILE JUSTICE REFORMS: The Senate PreK-12 Education Committee will vote on a juvenile justice reform bill (SB 834) championed by Sen. Stephen Wise, R-Jacksonville, that would give juvenile justice facilities performance ratings. The committee will also hear a presentation on accountability of John McKay Scholarships for Students With Disabilities. (Tuesday, 9:30 a.m., 301 Senate Office Building, The Capitol.)
FPL FUEL COSTS GO TO PSC: The Florida Public Service Commission will consider a Florida Power & Light proposal that would lead to lower customer bills in 2012. The proposal stems from cheaper-than-expected natural gas costs. (Tuesday, 9:30 a.m., Betty Easley Conference Center, 4075 Esplanade Way, Tallahassee.)
WATER MANAGEMENT DISTRICTS BILL IN SENATE ENVIRO: The Senate Environmental Preservation Committee takes up a bill (SB 560) requiring water management districts to apply certain criteria in determining effects of proposed uses of water, and prohibiting certain consumptive uses of water involving low flow levels. It also hears from the Department of Agriculture Office of Agricultural Water Policy. (Tuesday, 9:30 a.m., 110 Senate Office Building, The Capitol.)
PUBLIC HOSPITALS EXAMINED: The Commission on Review of Taxpayer Funded Hospital Districts will continue discussing whether changes should be made in Florida's public hospitals. (Tuesday, 10 a.m., Agency for Health Care Administration, 2727 Mahan Drive, Building 3, Tallahassee.)
PRESENTATIONS IN GOV OPS APPROPS: The House Government Operations Appropriations Subcommittee hears several presentations and budget requests, including a proposed solution for a projected deficit in a drug and cosmetics regulation program in the Department of Business and Professional Regulation and a presentation by the Department of Revenue on a request for money for an automated child support system. (Tuesday, 11 a.m., 17 House Office Building, The Capitol.)
HOUSE APPROPS GETS STATE INSURANCE, RX REVIEW: The House Appropriations Committee on Tuesday hears an overview of revisions to the State Group Insurance Program and the prescription drug program. (Tuesday, 11 a.m., 212 Knott Building, The Capitol.)
DEMOCRATS HOST PUTNAM: The House Democratic Caucus will hear from Agriculture and Consumer Services Commissioner Adam Putnam. (Tuesday, 1 p.m., House Minority Office, The Capitol.)
SENATE REDISTRICTING PANEL WORKSHOPS MAPS: The Senate Reapportionment Committee meets to consider maps that would redraw Florida's congressional and state Senate districts following the decennial Census. The committee is likely to decide whether to submit the maps as committee bills. (Tuesday, 1 p.m., 412 Knott Building, The Capitol.)
STATE ESTIMATORS LOOK AT NATIONAL ECON: The state's Economic Estimating Conference on Tuesday looks at projections for the national economy and how they might affect economic forecasts in Florida. (Tuesday, 1:30 p.m., 117 Knott Building, The Capitol.)
HOUSE REDISTRICTING COMMITTEE REVIEWS OPTIONS: Members of the House charged with overseeing the once-a-decade effort to redraw the state's political boundaries meet to hear a review of the options for redistricting the state House and Florida's 27 congressional districts. The meeting will mark the first time House members have released potential redistricting ideas for the state. (Tuesday, 2 p.m., 404 House Office Building, The Capitol.)
AGENCY BILLS IN AG: The House Agriculture Committee hears proposed committee bills with catch-all roles for the Department of Agriculture and the Fish and Wildlife Conservation Commission. Also on the agenda is a proposed committee bill on statewide environmental resource permitting and a wide-ranging bill (HB 503) dealing with several aspects of permitting, development and construction regulation. (Tuesday, 3 p.m., 102 House Office Building, The Capitol.)
OVERVIEW OF GAMING IN HOUSE BIZ, CONSUMER AFFAIRS: The staff of the House Business and Consumer Affairs Committee will give members of the panel an overview of gaming in Florida. The panel also will hear committee bills dealing with regional workforce boards, which have been under scrutiny for how they reward contracts and whether the money they spend actually helps people get jobs, and with the unemployment compensation system. (Tuesday, 3:30 p.m., 212 Knott Building, The Capitol.)
REGULATION REIN-IN IN HOUSE BIZ AND CONSUMER AFFAIRS: The House Business and Consumer Affairs Subcommittee also hears several measures related to regulations, including a bill (HB 517) on reducing and streamlining regulations. Other bills before the panel deal with barbering, cigarette metering, professional geologists and ticket sales, among other things. (Tuesday, 3:30 p.m., 212 Knott Building, The Capitol.)
HOUSE TRANSPORTATION AND HIGHWAY SAFETY: The House Transportation and Highway Safety Committee takes up several bills related to designation of transportation facilities, and workshops a bill (HB 599) on mitigation requirements for transportation projects. (Tuesday, 3:35 p.m. 306 House Office Building, The Capitol.)
HOUSE K-20: The House K-20 Innovation Subcommittee hears bills dealing with giving veterans an advantage in registering for college courses (HB 45), and physical education (HB 4057.) (Tuesday, 4:30 p.m., 404 House Office Building, The Capitol.)
WEDNESDAY, DEC. 7, 2011
SCOTT UNVEILS BUDGET: With the state facing a nearly $2 billion budget shortfall, Gov. Rick Scott will unveil his proposals for spending for the next fiscal year in an event at the Capitol. Scott's office has not released any details about the event, but Scott has suggested that it will be an austere measure. (Wednesday)
HOUSE INSURANCE AND BANKING TAKES UP PIP: The House Insurance and Banking Subcommittee workshops a bill dealing with personal injury protection insurance – one of several legislative committee meetings that will occur on the issue in the coming months. (Wednesday, 9 a.m., 102 House Office Building, The Capitol.)
DESTINATION RESORT WORKSHOP, PART TWO: The Senate's Regulated Industries Committee holds a workshop on the high-interest destination resorts bill that would allow up to three luxury Las Vegas-style casinos in South Florida. (Wednesday, 9:30 a.m., 110 Senate Office Building, The Capitol.)
MORE DISCUSSION ON PIP: The Senate Banking and Insurance Committee takes testimony from stakeholders on personal injury protection, or PIP, insurance. The issue is expected to be among handful of highly contentious issues to be address in the 2012 Legislative session. Critics say the coverage is riddle with fraud and should be significantly reformed or jettisoned. Supporters admit the system is flawed, but is critical to provide medical coverage for injured motorists, many of whom have no other coverage. (Wednesday, 9:30 a.m. 412 Knott Building, The Capitol.)
DRIVING WHILE TEXTING BAN: The Senate Transportation Committee has on its agenda for Wednesday a bill prohibiting texting while driving (SB 416), a measure sponsored by Sen. Nancy Detert, R-Venice. The panel also hears other bills, and presentations on REAL ID requirements, Metro Planning Organizations and a presentation by the Government Efficiency Task Force on its recommendations related to the Florida Turnpike Enterprise.(Wednesday, 9:30 a.m., 37 Senate Office Building, The Capitol.)
UNEMPLOYMENT TAX: The state has had to borrow from Washington in recent years to pay unemployment compensation because of the higher number of recipients. But it's also had to raise the unemployment tax paid by businesses. The Department of Revenue gives the Senate Commerce and Tourism an update on where things stand with the unemployment tax. The panel also takes up the bill (SB 238) repealing the ethanol requirement. (Wednesday, 9:30 a.m., 401 Senate Office Building, The Capitol.)
AQUA WATER CASE CONTINUES: The Florida Public Service Commission will continue a multi-day hearing about Aqua Utilities Florida's request for a $4.1 million rate increase for water and wastewater services. (Wednesday, 9:30 a.m., Betty Easley Conference Center, 4075 Esplanade Way, Tallahassee.)
SCHOOL BUS AD BILL IN HOUSE ED COMMITTEE: The next time you pull up next to a school bus, the side of it might say Leon County Schools – and it might also urge you to go to McDonalds or have a Coke logo on it. A bill (HB 19) aimed at generating money for schools by allowing advertising on the sides of school busses just like on the sides of city busses gets its first committee hearing Wednesday in the House K-20 Competitiveness Subcommittee on Wednesday. The measure is sponsored by Rep. Bryan Nelson, R-Apopka and Rep. Irv Slosberg, D-Boca Raton. (Wednesday, 1 p.m., 17 House Office Building, The Capitol.)
AG BASE BUDGET: The House Agriculture Appropriations Subcommittee discusses the base budget in preparation for writing the new one. The panel also gets an update on seafood testing and marketing in the wake of the BP oil spill and on plant pest and disease control. (Wednesday, 1 p.m., 102 House Office Building, The Capitol.)
HOUSE CIVIL JUSTICE: The House Civil Justice Subcommittee has bills dealing with sovereign immunity (HB 385), and several bills dealing with court processes. (Wednesday, 1 p.m., 404 House Office Building, The Capitol.)
OPEN GOV BILLS IN GOV OPS: The House Government Operations Subcommittee takes up several proposed committee bills, most dealing with open government sunshine reviews for records ranging from donors for historic preservation to U.S. Census Bureau address information. The panel also workshops a proposed public record exemption for economic development agencies. (Wednesday, 1 p.m., 306 House Office Building, The Capitol.)
SENATE CHILDREN, FAMILIES: The Senate Children and Families Committee hears a presentation on the guardian ad litem program and takes up bills dealing with independent living (SB 434) and sexual exploitation (SB 202). (Wednesday, 2 p.m., 401 Senate Office Building, The Capitol.)
SENATE CRIM JUSTICE: Bills dealing with video voyeurism (SB 296, SB 436), earlier release of certain elderly inmates (SB 426), substance abuse programs (SB 498), and restraints used on pregnant prisoners (SB 524) are all up before the Senate Criminal Justice Committee. It also hears from OPPAGA on prescription drug abuse and from the Department of Juvenile Justice on a new law trying to expand use of civil citations in lieu of incarceration. (Wednesday, 2 p.m., 37 Senate Office Building, The Capitol.)
EMPLOYEE HEALTH INSURANCE, MEDICAID DISCUSSED: The House Health & Human Services Committee will hear presentations about the state group health-insurance program and about Medicaid negotiations with the federal government. (Wednesday, 4 p.m., Morris Hall, the Capitol.)
THURSDAY, DEC. 8, 2011
WATER STANDARDS UP FOR VOTE: The state Environmental Regulation Commission will consider a plan to replace the U.S. Environmental Protection Agency's proposed numeric-nutrient criteria standards for Florida water bodies. (Thursday, 9 a.m., Tallahassee City Commission chambers, 300 S. Adams St., Tallahassee.)
SENATE BEGINS BUDGET REVIEW: The Senate Budget Committee begins to chew on Gov. Rick Scott's budget ideas with a meeting focused on the governor's proposals and health benefits. The meeting will likely be the first opportunity to get a read on how much of Scott's blueprint will make it into law. The full committee meeting will be followed up by meetings of most of the subcommittees dealing with specific areas of the state. (Thursday, 9 a.m., 412 Knott Building; subcommittee meetings begin at 1 p.m. and 3:30 p.m.)
SUPREME COURT OPINIONS: The Florida Supreme Court releases its regular opinions. (Thursday, 11 a.m.)
HOUSE MEMBERS LOOK AT CONGRESS: The House Subcommittee on Congressional Redistricting workshops options for drawing the boundaries of the state's 27 congressional districts. (Thursday, 12 p.m., 404 House Office Building, The Capitol.)
HOUSE SUBCOMMITTEE CONSIDERS SENATE MAPS: The House Subcommittee on Senate Redistricting is set to review the Senate's proposed maps for the upper chamber and a proposal by the state's NAACP. (Thursday, 12 p.m., 17 House Office Building, The Capitol.)
BUDGET COMMITTEE ON HIGHER EDUCATION MULLS GOVERNOR'S BUDGET: Facing a budget shortfall greater than $1 billion and scrutiny from the governor's office, the budget committee on higher education will consider the Governor's suggested budget and how it impacts state universities and colleges. (Thursday, 1 p.m., 412 Knott Building, The Capitol.)
HOUSE LOOKS AT OWN DISTRICTS: The House Subcommittee on House Redistricting takes on one of the most sensitive tasks of all: Options for how to redraw the boundaries of the 120 House seats. (Thursday, 2:30 p.m., 404 House Office Building, The Capitol.)
SCOTT TO ISRAEL: Gov. Rick Scott heads to Israel on his fourth foreign trade mission.
CLIMATE SUMMIT: Several local officials participate in the third annual Regional Climate Leadership Summit in Key Largo. The summit starts Thursday morning and goes through Friday. The keynote speaker on Thursday is Miami-Dade County Deputy Mayor Jack Osterholt, with an evening address by The Weather Channel's Bryan Norcross.(Thursday and Friday, Murray E. Nelson Cultural and Govt. Center, 102050 Overseas Highway, Mile Marker 102, Key Largo.)
FRIDAY, DEC. 9, 2011
IBUDGETS GET EYED: The Agency for Persons with Disabilities will hold a meeting to discuss implementation of iBudgets, a new way of determining how much money developmentally disabled people should receive for services. (Friday, 1 p.m., 4030 Esplanade Way, Tallahassee.)
ONE WITH CHILI AND CHEESE, PLEASE: The Department of Business and Professional Regulation is hosting its first ever mobile food vendor event on Friday to showcase food trucks, which like all food service establishments, are regulated by the agency. DBPR Secretary Ken Lawson is holding the hot dog cart and food truck event, not so he can get a good lunch, but because he is trying to meet licensees regulated by the department, the agency said. DBPR says mobile food vendors are the fastest growing segment of the agency's food service licensees. The event is open to the public. (Friday, 4 p.m., Northwood Government Center, 1940 N. Monroe St., Tallahassee.)
–Tallahassee review Compiled by the News Service of Florida.