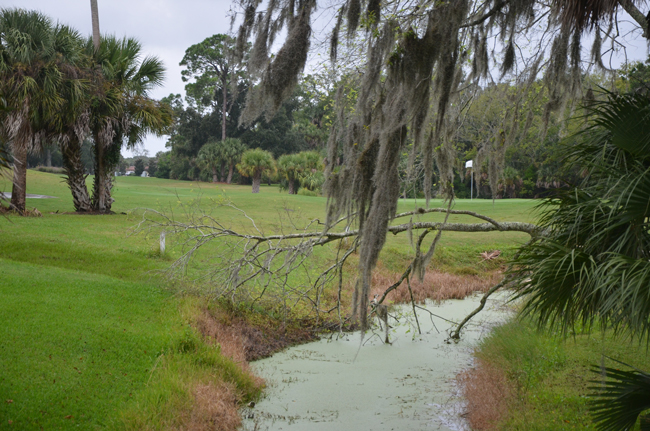 Flagler County Sheriff's deputies on Thursday (May 15) uncovered evidence of what they termed a "mobile" lab that may have been used to manufacture methamphetamine in the woods within the Palm Harbor Golf Club in Palm Coast. The evidence was discovered not far from a house on Cooper Court busted a year ago for being an alleged meth lab.
The discovery late Thursday afternoon was triggered by the reports of a screaming, half-naked woman who yelled from the deck area of the clubhouse that she was on fire, that she was trying to get away from people who had assaulted her, and that there was a meth lab in the woods.
The woman, Nicole A. Rizzo, 22, of Bracken Lane in Palm Coast, is not unfamiliar to local authorities: she was last jailed at the Flagler County jail on a felony probation violation last year, and had previously been arrested on drug paraphernalia possession, theft, and failure to appear in court charges. As she was screaming and acting irate, deputies secured Rizzo in a cruiser and requested paramedics to check her out.
"While in the rear of my vehicle," a deputy's report on the incident relates, "Nicole continued to make numerous statements about a methamphetamine lab in a location she called the island of the Palm Harbor Golf Course. Nicole stated she was in the woods on the golf course with approximately five people, mostly
males and they were cooking meth. Nicole stated that she felt that she was being attacked" by two people, a 42-year-old woman and a 27-year-old man, whom she identified by name. "When I asked Nicole to clarify what she meant by being attacked, she stated that she thought they were trying to kill her. Nicole stated that [one of the suspects] was trying to harm her and that [the other] was trying to lure her into the water in the woods. Nicole stated that they threw some chemical on her and that is why her skin was burning."
Paramedics evaluated Rizzo and concluded that she was under the influence of some type of narcotics or a combination of different ones. Rizzo conceded to paramedics that she takes opiates. But she continued to make claims about the meth lab in the woods, and offered to show deputies precisely where it was located. Deputies followed Rizzo about a quarter of a mile into the wooded area of the golf course from the clubhouse area, traveling rough terrain along the canal, facing north, parallel to Club House Drive.
After checking several possible locations, Rizzo led the deputies "to an area that had apparently been occupied by someone," the report states. "As we approached this location, I observed a tent structure in the woods 100 yards east of our location. I asked Nicole about this tent, in which she replied that [one of the suspects she'd mentioned earlier] placed that tent there and uses it." Additional deputies were called to the scene before they proceeded closer to the tent to resume the search.
Rizzo then began pointing out chairs, bottles and other things she said "they" placed in the woods to cook meth. She pointed out a green lawn chair resting against a tree, and said that was one of the locations where meth-production material was hidden. With Rizzo secured away from the scene, deputies approached the area of the chair and saw a large brown purse or piece of luggage, along with a plastic bag, and smelled propane. Deputies then contacted others at the sheriff's office to inform them that a possible meth lab had been uncovered, and requested the narcotics unit.
The entire area was secured. The tent was searched but proved empty. Rizzo pointed out another location across the canal that could also have been a meth lab zone, where deputies did find additional materials suggestive of such activity, but not conclusively so. The narcotics unit arrived at the scene at 7:48 p.m. and assessed the materials found, processing and removing it from the scene for further evaluation elsewhere. "Later upon further investigation it was determined that the materials found were a quantity of common household products commonly associated with the illegal production of methamphetamines," the report states, "however there was no active cook or product located in the bag."
Rizzo, still disoriented, was taken to Florida Hospital Flagler then returned to a deputy's custody, at which time she asked for a lawyer. Deputies spoke with another woman Rizzo had identified–a woman Rizzo said was not involved in illegal activities. The woman wrote in a statement that she, Rizzo and another person had gone into the woods around midnight the previous night, but got too scared, returned home and went to sleep.
"At this time there is no other evidence of illegal manufacturing of methamphetamines at this location," the report concludes. "This incident will be turned over to Investigative Services for follow up of witnesses involved. No charges will be filed in reference to something being thrown on Nicole to burn her and kill her due to no evidence of chemicals that were supposedly thrown on her could not be verified by any visible injury."
In April 2013, a house at 1 Cooper Lane, reputed to be inhabited by a large number of people with many children, was raided for being a suspected meth lab. Three people were charged, two–Brent Chambers and Will Hodge–were sentenced to 18 months in prison. Charges against the third, a woman, were dropped.