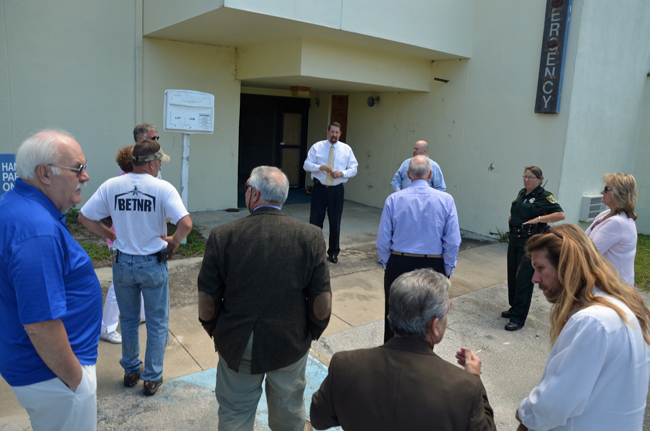 It's not unusual for politicians and their administrators on our local government boards to blow smoke in taxpayers' eyes as they go about misusing taxpayer money. But last week's dog and pony show by County Administrator Craig Coffey and Commission Chairman Nate McLaughlin stands out.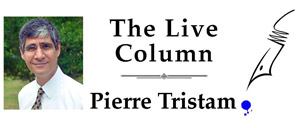 They insulted the public's intelligence by claiming to have been transparent about the hurried deal to buy the old and decrepit Memorial hospital for the indefensible price of $1.23 million (for a property that sold for $750,000 in 2003 and that hasn't exactly gotten handsomer since). They hid behind the cherry-picked documents Coffey stage-managed as if the substance of the deal was in those documents rather than in secret meetings Coffey carried out, with his commissioners' knowledge, but not the public's. Let's not forget that on this allegedly transparent and sunshine-challenged commission, every commissioner knew a deal was going down with the hospital owners in April before it was ever mentioned in public, until FlaglerLive reported it.
And of course during that seal-the-deal commission meeting last week Coffey mocked what he calls the local "papers," accusing them of reporting only "snippets," and urging people to get the real truth by looking up records posted on the county's website and in discussions spoken during workshops and meetings. "I wouldn't encourage people to read the paper," were Coffey's exact words.
Because as we all know, there's nothing like government honesty.
McLaughlin's snide thank you to Coffey aside, fellow-commissioners sat there with their complicit silence, letting their administrator disparage local businesses as they never would let him if he was referring to, say, one of their pals' banks, or one of their lawyer pals' firms. But they have reasons to keep mum. Remember, these commissioners are paying for all this with proceeds from a sales tax they passed unilaterally last year and for the next 20 years, knowing fully well it wouldn't pass at the ballot box. They don't like these reminders because it gives voters ideas when they do get a chance to vote.
That's why bashing media is every craven politician's cheapest scapegoat. The problem in this case is that Coffey and McLaughlin did the bashing behind a small army of straw men, then turned around and flatly peddled one deception after another.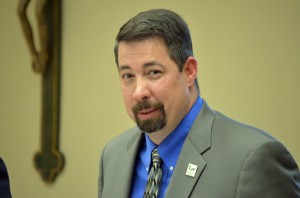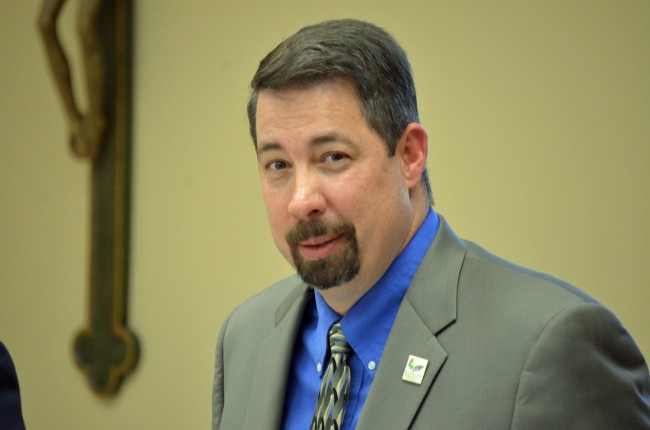 Coffey passed off a PowerPoint presentation that any clever middle schooler could have cut and pasted together as the end-all analysis of the deal. To put "PowerPoint" and "analysis" in the same sentence is an oxymoron. But even the missing bullet points left gaping holes in the presentation. There were no answers to basic questions such as the recurring costs of running that colossal new acquisition, the lost tax revenue to local governments (especially Bunnell's crippled redevelopment taxing district for that area), the source of money for the interest payments on the loan the county will soon take out to pay for its potato-salad of a building, all this presumably with the similarly mounting maintenance costs of the larger jail Coffey and the sheriff want to build, not to mention the mountain of cans commissioners and Coffey say they've been kicking down the road, and that they'll have to be paying for very soon, and so on. None of that was even hinted at in Coffey's "analysis."
A few weeks ago Commissioner Barbara Revels pointed out the lack of cleanliness in the Government Services Building, brought on by cuts in custodial services. If the county is having trouble keeping its main building's toilets, it'll be interesting to see how it intends to manage a 60,000 square foot addition—with money that will have to come out of the general fund, not from sales tax revenue. Money it does not have. Money it is as we speak raising taxes dramatically to close its deficits.
Not that you saw any of this in that pretty PowerPoint, either.
One of Coffey's most blatant deceptions, never once questioned by commissioners too busy playing their assigned roles in this closed-circuit circle jerk, was the calculation of the 60,000 square foot hospital's reconstruction costs. First, he tried to deflate the purchase cost by $750,000 by applying a nutty pro-rated formula in accordance with the square footage only the sheriff would use, as if the county were buying just half the thing. It took Commissioner Charlie Ericksen, a Colombo-type personality who hides his claws behind a genial demeanor, to set Coffey's numbers straight.
But only half the numbers. The rest of the discussion stuck to costs of reconstruction applying only to the half of the building the county will refurbish immediately, without taking into account the reconstruction and maintenance cost of the whole structure even though one of the selling points of the building is its size, and what it will enable the county to do in the future. One of Coffey's "options" included that of demolishing the hospital and building new, at a cost of $4.55 million. That option was included as if to highlight its expense: $7.8 million overall, as opposed to $6.55 million for merely refurbishing half the existing building. But the $7.8 million was as close to an honest number as there was that day. It was quickly dismissed. There was a script to follow.
McLaughlin, who had been more cautious and questioning until then, went so far as to say that the hospital buy is only the culmination of years of meetings—as if the county had been negotiating buying the hospital for the past seven years rather than the past few weeks. But what the hell. Since there's a document about rebuilding the sheriff's office and jail dating back to 2005, let's just say, as Coffey did, that this deal has been in the works eight years. You could dance sophistry to the rhythms of Coffey's logic.
(And not just sophistry. There's something sinister about the way Coffey tries to undermine his challengers. When I called him last Friday afternoon to get his reaction to County Spokesman—and my former colleague—Carl Laundrie's accident, Coffey intimated that I was to blame for the wreck, because Laundrie had been "agitated" from hearing a version of this piece air on WNZF Friday morning. It was a vile suggestion, and Coffey knew it. He backed off when I protested. But he'd made it. That was enough. So he rolls.)
It got worse in that meeting last week. Coffey at one point not only again blamed the media about inaccurately reporting the original acquisition price of the hospital years ago. He went on to misstate the facts himself, and very gravely so, because he was again and falsely making it seem as if the sellers were giving away the property at a loss. This is what Coffey said: "The purchase price that the current owners paid of $750,000, that is not correct. Mr. Gardner will tell you that that was a number generated from his office through some error in software or what have you, but the actual purchase price, he does not have, it's not recorded in that sense. Essentially it was a $1.6 million purchase."
He just threw that figure out there. A figure more than twice the formal selling price. A figure backed by not a single official document, though Coffey can refer to an obscure one-page memo—not from the hospital owners, not one of whom showed his face throughout this charade, but from their real estate broker. And again, not one commissioner questioned Coffey about the substance of his $1.6 million figure. Ah, the transparency.
Coffey was conveniently mixing fact and fiction. There was a fictional transaction once recorded in Gardner's records. Gardner has since removed any trace of that alleged 2006 real estate deal from his website, because there indeed was none. But nor was there a fictional $1.6 million transaction.
The original acquisition of the hospital, by Michael Chiumento (one of the current owners), under what was then called the Maluchi Development Corporation, closed for $750,000 on June 5, 2003. That's the only official deal in the books. That's the only sale figure Coffey should have cited. That figure is not based on property appraiser records, on "some software error" or anyone's memo, but on the Clerk of Court's records, and the dock stamp tax Chiumento's company paid on the acquisition. Records show Chiumento changed his corporation's name to Flagler Crossroads around 2005, dropped a couple of partners and took on a couple of new ones. He is the constant. But what business partners conducted among themselves is their business. It never amounted to an official real estate sale of the building itself. No records to show it, no tax trail.
By law, real estate transactions carry a 70-cent per $100 dock stamp tax on all documents that transfer interest in real property, if we're to believe the Florida Department of Revenue. If you conduct a real estate transaction and don't pay that tax, you're evading taxes. All such transactions must be recorded with the clerk of court. (There are several mortgages under Maluchi-Crossroad's name between 2003 and 2007, which are taxed differently, but taking out mortgages was last decade's pastime.) There is only one transaction taxed at that rate since Maluchi took over, and that's the 2003 transaction.
So either the owners of Flagler Hospital somewhere along the way conducted a $1.6 million real estate transaction, but didn't pay the tax, or there never was a $1.6 million sale, and that $750,000 price is the true price paid for the building, netting its owners the astronomical profit they're now set to reap.
Yet Coffey wants us to trust him and his numbers. Not the media. Not clerk of court and tax records. Just Coffey and his snippets. He wants us to trust him that the old hospital was a prize the county shouldn't let slip away, that the price couldn't have been negotiated down to a less ungodly level, though Chiumento and his partners couldn't find a buyer for it year after year—until the county came along.
I think I'll pass. I'll take the papers over Coffey any day. Lucky for Coffey he has his commissioners exactly where he wants them: in his amen corner. And together they're again making suckers of taxpayers, who'll be paying for this for many years, with more bullet points than could ever fit on a PowerPoint.
Cue the greasy sequel to the potato palace.

Pierre Tristam is FlaglerLive's editor. Reach him by email here.