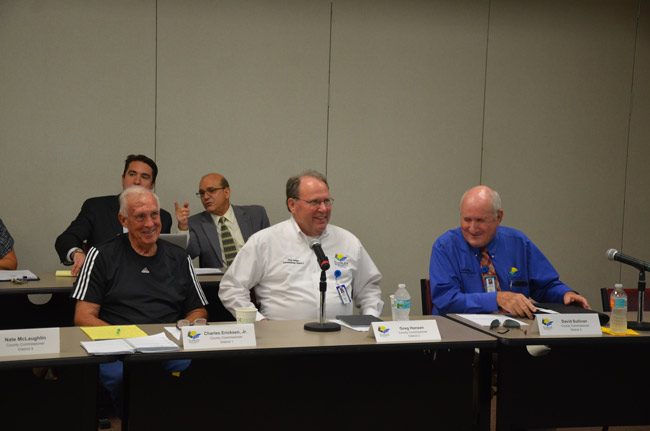 Flagler County commissioners' Nov. 20 vote to ban medical marijuana dispensaries anywhere in unincorporated Flagler County turns out not to have been the final word on the matter. They have to do it again. Twice.
The Nov. 20 vote, as commissioners found out this week, was merely the kill shot for an ordinance that would have legalized dispensaries in commercial areas. That day they were expected to approve an ordinance that would have allowed the location of medical marijuana dispensaries in certain commercial zones in unincorporated Flagler. They had already approved the ordinance on first reading at a previous meeting. It is very unusual that first readings are followed by reversals, but not unheard of: that's why ordinances are required to have two readings.
And in this case, after initially getting the approval of the commission, three commissioners voted against the ordinance on second reading.
But state law requires that to formally ban dispensaries—and in contravention of a constitutional amendment legalizing medical pot last November, approved by 71 percent of Flagler voters and 71 percent of Florida voters–commissioners will now have to approve an ordinance that makes the ban explicit.
That has been scheduled for two public hearings, the first on Dec. 18. It gives proponents and opponents of medical marijuana dispensaries yet another chance to make their case before commissioners, who have themselves seesawed from approval to opposition.
"It's another opportunity for the 75 percent of voters who asked for this to come back and demand that we do what they asked for," County Commissioner Nate McLaughlin, who supports allowing dispensaries, said, leaving his hopes that the commission switches course again in favor of dispensaries unequivocal. "Of course I would, of course I would. There was a vote taken and the vote of the people said this is what we want, they recognize the need for medical marijuana."
But Greg Hansen, who shortly after making the successful motion for the ban at the Nov. 20 meeting was named chairman of the commission, replacing McLaughlin (with McLaughlin's support) and bypassing Charlie Ericksen, a more senior member of the commission, said today he would not change his mind come Dec. 18.
"If I banned it in the unicorporated areas, who would I be harming? The answer is no one," Hansen said, because residents would still be able to acquire medical marijuana through potential dispensaries in Palm Coast or Flagler Beach, two cities that have approved the siting of dispensaries in some of their commercial zones. (None has yet.) Bunnell is preparing to enact a ban. "So if I'm not hurting anybody by banning this, then what other considerations are there that would make me vote for it?" Hansen cited quality of life and a group of Plantation Bay residents who led the opposition to dispensaries last week, when they argued that one such business could be located too close to their back yards.
"The bottom line was to me, I'm doing no harm, and in fact did some good, so that in my mind was the deciding factor," Hansen said. "I'm keeping the quality of life the same."
County Administrator Craig Coffey informed commissioners of the needed ordinance and scheduling in December through an email on Monday. "We wanted you to be armed with this information in case you are asked about it in the public," he wrote.
Commissioner Donald O'Brien—now the vice-chairman of the commission—a supporter of the ordinance that would have legalized dispensaries, said few people expected the vote to go the way it did on Nov. 20. "After it got passed the first reading and it went to the second reading," O'Brien said, "a lot of people assumed it was a perfunctory matter, that it was done, so we really didn't have anybody come speak on the pro side of it because people probably assumed it was going to be voted on like the first time."
So only the voices of opponents were heard. "I'm hoping we get a more Flagler Beach-type flavor to it in that a lot of people come out and speak their side of it," O'Brien said, referring to how the process went in Flagler Beach, where some members of the city commission there initially wanted to ban dispensaries outright—and carried a majority to do so. That prompted such a public outcry and a full house at the next commission meeting that commissioners reversed course and adopted a compromise, allowing dispensaries on the mainland but not beachside. (O'Brien often attends the commission meetings of other cities, including Flagler Beach, to keep up with municipal issues.)
"There's a lot of compelling stories or arguments for the medicinal use of it and how it's benefited people," O'Brien said, "and I don't think the commission heard that."
Dave Sullivan, who's opposed allowing dispensaries all along, doesn't see his opposition to dispensaries as categorical. Like Hansen, he says since Palm Coast and Flagler Beach allow dispensaries, no one in the county will be denied access. (In fact, individuals may also receive medical marijuana by mail.) "I'm not going against the 70 percent, I'm saying the state enabled us to put some restrictions as to where it would be," Sullivan said, noting that if the county administration had gone along with a 500-foot buffer between dispensaries and residential areas, he would have gone along with the ordinance. "As long as I feel we'll have two dispensaries in the county, I'm OK with that."
Sullivan said he would change his mind if Palm Coast were to somehow ban dispensaries. In that case, he'd consider allowing them in unincorporated Flagler. But Palm Coast has already made up its mind and voted to allow them along State Road 100, Old Kings Road and Palm Coast Parkway.
Ericksen has been a swing vote before. He equivocated somewhat as to whether he would be a swing vote again, though he is still "leaning toward" a ban, he said. "The word marijuana is pretty broad for me because I have a son who is addicted to it and I haven't seen him in five years, and that hurts," Ericksen said. "Not that that should have anything to do with what we do here in Flagler but it does influence me a bit." But he also said he had his doubts about the validity of marijuana as a medicine.
Of approving the ban in the coming ordinance on Dec. 18, he said, "I want to have all the information right up to the last minute to make my decision, but I'd be leaning towards it."