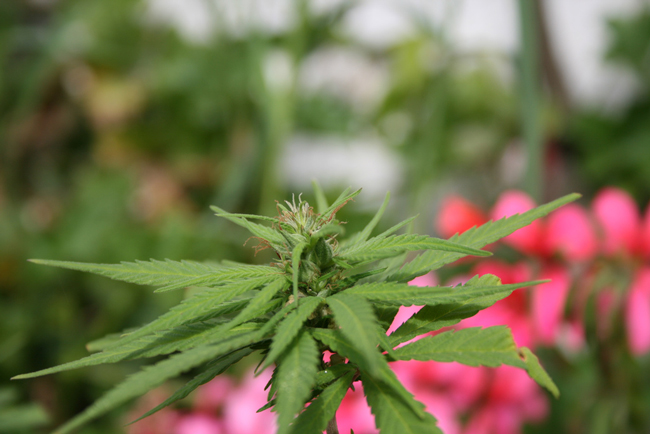 Standing in front of a salad bar in the basement of the Capitol on Friday afternoon, Holley Moseley could not keep from smiling.
Moseley and her adopted daughter RayAnn had just met with Gov. Rick Scott, shortly after the Legislature gave final passage to a measure that Moseley believes can save her 11-year-old daughter's life and that the governor promised to sign into law.
The proposal would make Florida one of a handful of states that allow a low-THC strain of marijuana that proponents say doesn't get users high but can end or dramatically decrease potentially fatal seizures in children like RayAnn, who suffers from a rare form of epilepsy that can cause hundreds of seizures a week.
"It's just really unreal. We're here. We did it," Moseley said while fixing a salad for her daughter, who also has cerebral palsy.
Mosley and her husband Peyton have spent months traveling between Gulf Breeze and the Capitol, where they've been at the forefront of the crusade to legalize a form of marijuana, known as "Charlotte's Web," that is high in cannabidiol (CBD) and low in euphoria-inducing tetrahydrocannabinol (THC). The Moseleys were assisted by at least two lobbyists, public relations pro Ryan Wiggins and Republican Rep. Matt Gaetz, whose Senate president father, Don, also supported the proposal.
Holley Moseley, who with RayAnn watched from the public gallery when the House and Senate passed the bills, said she had faith in God that the bill would pass.
"I honestly believe that every person that had a hand in this was meant to be part of this. There's just something bigger that has gotten us to where we are. I just get chills thinking about it," she said.
The Senate passed the measure (SB 1030) with a 30-9 vote Friday afternoon after rejecting efforts to weaken requirements added by the House on Thursday. The House limited eligible growers to large commercial nurseries that have been in business in Florida for at least 30 years. The measure also requires five distribution centers — one each in the northwest, northeast, central, southeast and southwest parts of the state.
Under the proposal sent to Scott, growers — who will also manufacture the substance and distribute it to users — must also be registered with the Department of Agriculture for the cultivation of more than 400,000 plants and post a $5 million bond.
According to the department, 21 nurseries in Florida would meet the requirements outlined in the bill.
Sen. Rene Garcia, who argued that the measure would shut out small agricultural businesses, tried but failed to do away with the requirement that growers be nurseries and to reduce the length of time businesses had to operate in Florida from 30 to 10 years.
But Senate sponsor Rob Bradley said that, with just hours before the session was scheduled to end, it was too late to make any changes to the bill, which would have to go back to the House on the final day of the legislative session.
"We're not looking to create a marijuana industry in the state of Florida," Bradley, R-Fleming Island, said. "We're on the verge of doing something good. And if we start messing around at this juncture, we very well could be done. Let's move forward and help these families right now and not get caught up in some of these issues that, while important, are missing I think the bigger picture."
Sen. Jeff Clemens, a Lake Worth Democrat who has for years sponsored legislation that would legalize marijuana, agreed with Bradley that lawmakers "are doing something big" but that they have "to do it right."
"Putting a requirement in that a business has to be in Florida for 30 years before they can participate in this program is not doing it right," Clemens said. "There's a reason we didn't have it on our bill — because it's bad public policy."
The Senate rejected the amendment on a voice vote.
Thursday night, Scott, who had wanted to restrict usage of the drug to patients in clinical trials, said he would sign the bill.
"I'm a parent and a grandparent. I want to make sure my children, my grandchildren, have the access to the health care they want," Scott told reporters.
Some GOP lawmakers had been leery of backing the bill because they feared it would signal support for a constitutional amendment on the November ballot that would allow doctors to order traditional marijuana for critically ill patients.
Republicans have gone out of their way to emphasize that, while they support Charlotte's Web, they are strongly opposed to Amendment 2, bankrolled by Orlando trial lawyer John Morgan, who is Democratic gubernatorial candidate Charlie Crist's boss. Some Republicans fear that putting the medical marijuana proposal on the ticket will draw out younger, more liberal voters who might not otherwise go to the polls and who would be more likely to vote for a Democrat.
For Holley Moseley, however, the winners are children whose lives might be saved by the low-THC medical marijuana, which could be available by the end of the year.
"I just look forward to the day that she gets to start it. Hopefully we'll be coming back next year to brag and show her off," she said.
But Ben Pollara, campaign manager for United for Care, the organization pushing the medical marijuana amendment, said the proposal headed to Scott won't help thousands of other suffering Floridians.
"The only complete and permanent solution for all those Floridians who need cannabis to relieve their symptoms from a wide range of debilitating conditions will be the approval of Amendment 2 by voters in November," Pollara said in a statement.
Under the measure approved Friday, cancer patients as well as those who suffer from severe muscle spasms or seizures and who do not respond to other treatments would be eligible to be put on a "compassionate use" registry maintained by the Department of Health. Doctors, who would have to receive special training, would also have to submit patients' treatment plans to the University of Florida pharmacy school. Patients could be charged with misdemeanors for faking a disease and doctors could be charged with misdemeanors for ordering the drug for patients who don't fit the criteria.
–Dara Kam, News Service of Florida