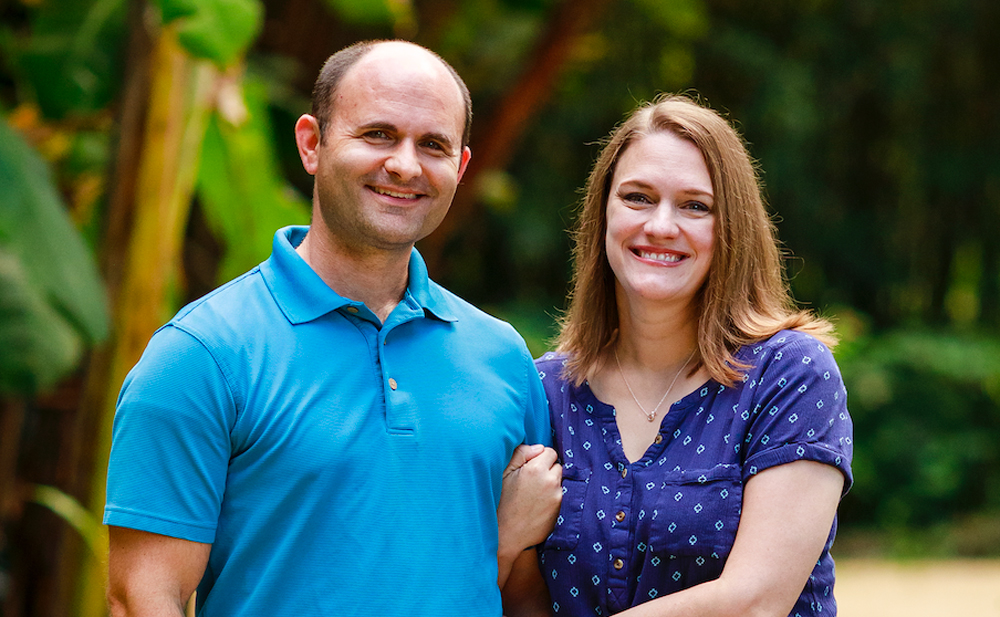 There'd always been something off, something not quite right if not plain wrong, about Brian McMillan stepping down a year ago from the editorship of the Palm Coast Observer, the paper he'd led since its inception 12 years before. Even he spoke about it with misgivings, though he had to do what he had to do for his family's sake: no one is getting rich off newspapers anymore, and the first of five children was college-bound. 




McMillan took a job in a construction company founded by a friend in Utah, working remotely from Palm Coast. It was good work but it never felt right to him. "I wasn't feeling really fulfilled in my job," he said. "I just wasn't really happy." The journalist in him was missing the old passion. 
A few months ago he was parked on A1A facing the ocean, speaking by phone with Matt Walsh, who'd mentored McMillan for 20 years, since well before he and his brother John Walsh hired McMillan to run the Observer in 2010. He asked Matt what new path he thought he could take, how he might get back into journalism. He had the same conversation with John. 
Though he had spoken to them independently, both brothers had the same idea: buy the Palm Coast and Ormond Beach Observers. 
Tuesday afternoon, Brian and Hailey McMillan did just that, signing the papers that made them co-owners of the two papers, which have a staff of about 10, themselves included. John and Matt called a Google Meet (the online Zoom-like video conferencing) of the Observer staff, with the McMillans in the background, and in an emotional moment, John announced the sale.




Intentionally or not–emotions played a part in the delay–there was a palpable moment of tense suspense: John didn't immediately reveal to whom the paper had been sold. Finally, he said it was the McMillans. "Of course that got smiles from everybody in the meeting, and applause," said Jonathan Simmons, the managing editor whom McMillan had hired in 2013. He had no idea that was coming. "I found out with everybody else," he said.  "They're just the perfect people to take it." (Somehow, the Observer this time managed to break the story ahead of FlaglerLive last night.)
When the McMillans got home, their children cheered, too. They're not alone.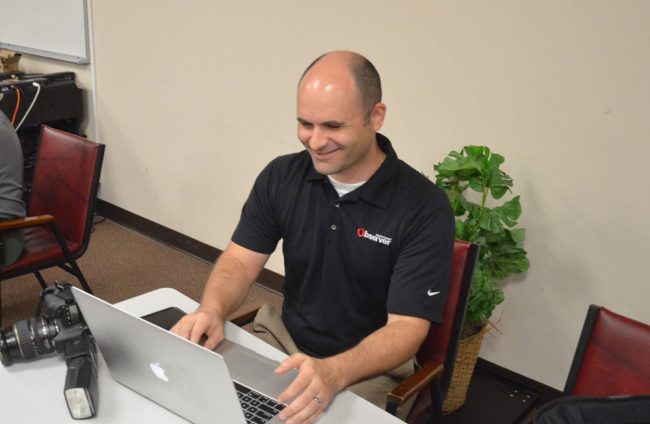 "This is great news for the community," David Ayres, president and general manager of Flagler Broadcasting, said this morning. Ayres has hosted Free For All Fridays on WNZF with McMillan for the past 13 years, a gig McMillan could not let go of when he left the Observer last year, and that he will continue as publisher.  
"Because when out of town, out of market, people buy other media, whether it be newspapers, radio, TV or whatever," Ayres continued, "a lot of times they don't get it. They don't understand the local community and they try to force corporate, kind of outside forces on to things that aren't in the best interest of the community, the advertisers, the people and ultimately even themselves,  unbeknownst to it. But with Brian, I think that's the ideal person to take the Observer to the next level, because he gets the community, knows the community. He's learned a lot here. And that's what his passion is." 




The words that most often occur to those who know McMillan and describe him are: low-key, smart, grounded, fair, compassionate, and morally centered. Just as telling, the words that do not occur to those who know him–words not unusually associated with people in media, whether as reporters or marketers–are: aggressive, cut-throat, power-hungry, presumptuous.
"Brian McMillan projects and exhibits a heartfelt degree of empathy and has a connection with the community that I have not seen by many others," Palm Coast Mayor David Alfin said. "I think that will be reflected in his choice of stories and his content. And that in my opinion is what makes a local hometown media newspaper important to the community because it's not like anything else." 
For the record, Simmons, the managing editor, will remain in that role, in charge of all editorial content. "I think Brian knows how newspapers are supposed to work and that'll be to the paper's benefit, to have  somebody who really understands journalism and the industry," Simmons said. "And no, I don't expect him to interfere in any kind of improper way in editorial." He added: 
"I think it's a great step forward for where the Observer is going next. I thank John Walsh for his time here, and am very glad that the McMillans are the ones that are taking over." 




Brian McMillan says there's a lot he has yet to figure out regarding the leadership and direction of the papers, among them his role now as publisher, as opposed to editor. The same holds true for Hailey McMillan, who has been the award-winning design editor for the paper and will continue to be, essentially reporting to Simmons, who will report to Brian, while still being the paper's co-owner. It's a "Modern Family" sort of phenomenon not uncommon anymore in workplaces where relationships and roles have become more fluid than the days of Brooks Brother-shirted rigidity (not to mention sexism and other presumptions). 
"I know him by his reputation and his writing and I'm glad to see the baton passed," said Merrill Shapiro, who chairs FlaglerLive's board of directors. "It's wonderful that it's a valuable enough property, it is being handed from one generation to another to ensure that there's good continuity. It could have been somebody from the outside. Who doesn't know Flagler County from borscht. And so I feel good about that." 
Shapiro noted the competitive relationship between the Observer and FlaglerLive, both of which started contemporaneously. "One of the strengths of our community, I think, is the fact that you guys worked so well together and know each other and are friends essentially, is my sense of things," he said.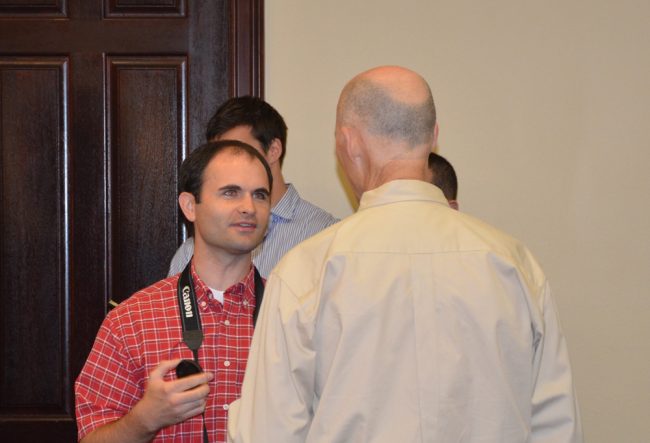 The McMillans' conversations about what turned out to be the papers' acquisition go back a few months. They kept the secret from everyone. At first it looked impossible short of mortgaging their house or taking on impossible debt. But an unobtrusive investor stepped in within the extended family with a loan with more favorable terms than a bank would have provided, and a mortgage-like term of 25 years, no huge down payment upfront, enabling the buy. (They are keeping the more precise terms of the sale confidential.) They formed McMillan Ink LLC (get it?), and signed the papers.




Anxieties have not been few for either McMillan. "We've definitely had ups and downs as far as being terrified, and yet very excited to do this," Hailey said. "I just have a lot of confidence in Brian and his ability to make this paper great again. So I guess that's where a lot of my confidence comes in. And we're both very religious, and we felt this is kind of the path our family is supposed to take. So we're taking a leap of faith and hopefully it works out." (The reference to making the paper great again had no undertone, except to the phrase's purer meaning before it was politically tainted.)
But if there's "tremendous anxiety," as Brian puts it, it's anxiety laced in excitement and a sense of possibilities, and for Brian, the recovered impulse of an explorer's anticipation. "I really feel like I've learned so much about the Observer way of doing things," he said. "Matt Walsh was from day one: you just do the right thing. The values are just really strong and the mission statement says at all. I've always promoted that mission statement–to inspire the community with extraordinary local content and help our partners prosper, right?" 
Typically complimentary even of the competition, McMillan went on: "We're trying to make the community a better place, and it just feels good going to work every day. It always did for those 12 years when I was working there. So I felt like there was something missing in my previous, my in-between jobs. Not that there's any knock against the whole construction world. I just didn't quite connect to it in the way that I had with the newspaper, and so being back into it is just such a great feeling."
Same goes for Hailey, who's always wanted to go beyond doing the paper's design. "When I was a little kid, I always wanted to run a business, and my kids are now old enough, my littlest one's in kindergarten, so he's gone all day, so I have more time." she said. "I think it's going to be fun to kind of jump in and be a part of the Observer a little bit more than I have been." (The McMillan children range in age between 5 and 19, the oldest one currently finishing a degree at Daytona State College. But he's more interested in numbers and architecture than newspapers.)




There are a lot of unknowns ahead, still a lot both McMillans have to wrap their heads around in the business. "I don't really know what my role is going to be on the selling ads part," Brian said. That had been a strength for John Walsh, a marketer. "I don't know if I'm going to be doing a lot of that versus trying to find other ways to generate revenue with events or with social media marketing campaigns or with other things like that. I just want to be around the community and make connections and hopefully make the place a better place to live in one way or another." 
The Observer's offices will also move from Observer Plaza off Florida Park Drive, where the offices have been for nearly a decade and a half, to a smaller space off Leanni Way, near the public library on Palm Coast Parkway.  
Some driving editorial principles are clear. For example, Brian is abandoning the Observer's habit of political endorsements in elections. He'd never been too comfortable with the concept. He wants to focus on providing information, not sway. He wants to do so by exploring new ways of delivering information, and making the paper's subscriptions and paywall–both of which will remain in some form–worth the price, even as the days of 25,000-issue print runs are over. "It's definitely gone down over the years," McMillan said, as it has for most print papers. 
He's very big on listening to readers in tracing the future direction of the paper, and doing so with a boundless optimism despite the fear. Matt Walsh had told him to use the fear: it's a great motivator. He also told Brien he had no choice but to make it work. 




McMillan is 43. When Matt Walsh was 41, he bought the Longboat Observer with his wife–he remembers the date: March 27, 1995–and started what became the Observer Group, which has since grown to seven papers on Florida's west coast and three on the east coast, including the Palm Coast and Ormond Beach Observer, co-owned by John Walsh locally. 
Matt Walsh said he didn't feel the need to impart any overarching wisdom to the McMillans. "Brian already knows what to do. Brian, as you know, is a smart guy," Walsh said. "He's incredibly energized right now. As energized as you see Brian McMillan ever get. He's not real effusive. But in our conversations, leading up to this, I can tell that Brian is probably as excited as he has ever been about the prospects of what's ahead for him and his wife, Hailey. And so Brian knows what to do. He did a great job for us when he was executive editor of the Palm Coast Observer and Ormond Beach Observer. And so I think he has a great foundation and a great base of knowledge to take the helm and take those papers to the next level."
What led to the Walsh's decisions to turn over the reins was a combination of factors for both brothers: For John Walsh, whose daughter had been an integral part of the paper until last year,  he wanted to hand over the paper to the next generation and retire. For Matt, there is concern for his wife's health. Both brothers had considered selling the two local papers to another newspaper company–Matt is not selling the Observer Group–but the McMillan take over was far more attractive. 
Matt described the sale as both very sad and very joyful. "I'm so happy that it is Brian," he said. "I did not want to sell it to a company that owns 60 and 70 newspapers, because I know what happens with that. Newspapers need to be owned by people who live in their communities. And I'm not only thrilled for Brian and Hailey, I'm thrilled for Palm Coast, Flagler County and Ormond Beach because they have a local owner who really cares about what happens in that community."




John Walsh, in a text, summed it up this way: "I cannot think of anyone better to carry on the mission of the Observer. Brian and Hailey will continue to inspire our communities with extraordinary quality local news and help their community and advertising partners prosper. I am proud to have them carry on the legacy we created 14 years ago."
The McMillans' first full day as owners of the paper was drizzled by Hurricane Idalia, so they worked from home–not an unusual alternative anymore in the industry, though Brian still prizes office space. 
In a pair of interviews Tuesday and Wednesday, he spoke as he always does–ever the calm eye at the center of what may be all sorts of storms surrounding him, a happy navigator of known unknowns in an industry not lacking for challenges, but also an industry that, in some respects–the hyper-local weekly focus–is, as Matt Walsh sees it, irreplaceable. 
"I don't know exactly what it's going to look like in 20 years," Brian said. "But I think that if we are humble and we listen to the readers and listen to the businesses, and we really understand their problems and their desires in life and in business, our goal is to provide a solution for them to get the news, maybe to get the news in different ways than they did before. We can either resist that or we can try to get one step ahead of them and make it even easier to get it the way they want it. Same with businesses. Then I think that there's always going to be a need for it. And so do I think that I'm going to get rich doing this? No, I don't, but I think that we have a plan that will make it, and I think that in the end, when I retire someday, if I ever do, then I think I will be able to look back and say: I had a meaningful career."