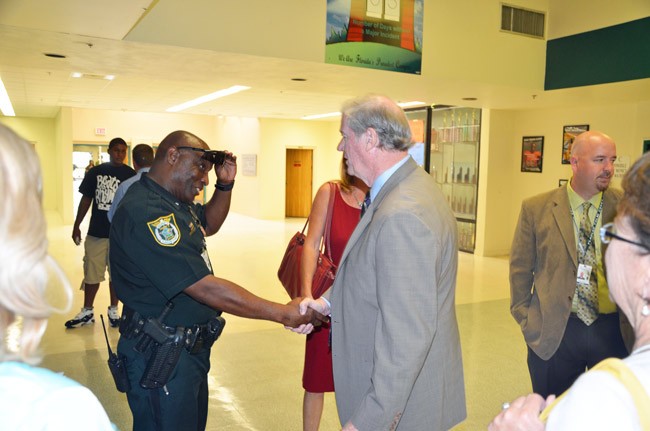 For the past several years, Flagler County schools have had six Flagler County Sheriff's deputies—or school resource deputies–on their 11 campuses. The district foots the $280,900 bill for four of the deputies through a state Safe Schools grant. The sheriff's office pays for one. And Palm Coast government pays for the sixth.
Palm Coast does so as part of its $2.6 million contract with the sheriff's office, which polices Palm Coast with 24 uniformed officers. One of those is assigned to schools during the school year, and to patrolling the streets the rest of the time, although road patrol is part of every SRD's job description when school is not in session. The arrangement enabled the school district to maintain at least some deputy presence in the schools, especially elementary schools, after former Sheriff Don Fleming scaled back the program considerably and shifted costs to the district because of budget constraints: in 2006, nine deputies covered all schools for just $222,000 billed to the district.
Palm Coast City Council member Bill McGuire doesn't want to carry that cost anymore.
"I support the increase in pay for the deputies, but I still don't think that the city should pay for an SRO," McGuire said this morning during a budget workshop of the Palm Coast City Council. "I think that should come out of the school district's budget. I don't like paying for an SRO. First of all, I don't think they do anything. But even that aside, if you're going to put deputies in the school, let the school pay for it."
McGuire is supporting of a pay increase for the city's share of deputies, which will increase the city's policing cost by 3.7 percent next year—or $97,000—even though the city's contract with the sheriff states that no annual cost increase may exceed 3 percent. But Flagler County Sheriff Jim Manfre has been in negotiations with the deputies' union, promising them to push for a 5 percent pay increase through the county commission. That pay increase would have to apply to the contract with Palm Coast. The commission is supportive.
"I support this and I hope the city council will support this too," City Manager Jim Landon said. The council is supportive. But it was at that point that McGuire raised objections to the SRD segment of the contract.
"The concept behind this is that when the deputies are, during the summer, when they're not in the schools, they're in our neighborhoods," Landon said.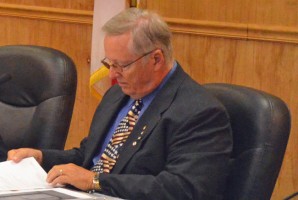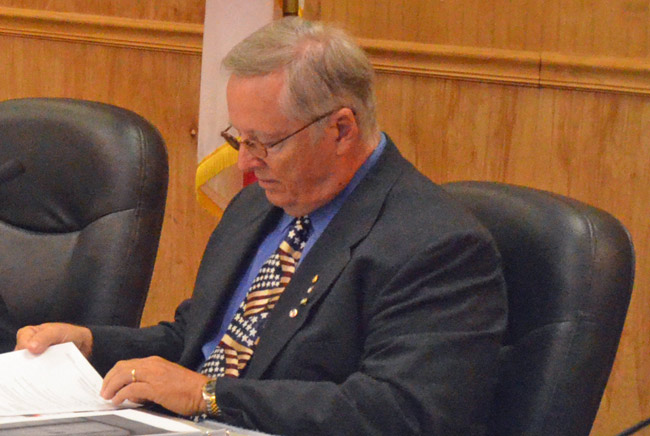 "The SROs circulate within the schools looking for possible illegal activity," McGuire countered. "They'll tell you that well we get a lot of tip-offs of drug deals going down and things of that nature and we're able to head them off. But I don't want to get into a long discussion on that. I think from a responsibility standpoint, if it's a program that goes into the school the school budget ought to pay for it. They're 60 percent of my taxes anyway."
Superintendent Jacob Oliva said the loss of funding from Palm Coast would be critical for the program. "It's big for us," he said, citing the state funding that the district uses in its entirety to cover the other deputies. "With the city paying for the additional deputy it gives us an extra layer of support for the elementary schools where we weren't able to have one previously."
Winnie Oden, the district's transportation director who's also its security point person, says SRDs are a lot more than just deputies in schools. The program is modeled on the national concept of the National Association of School Resource Officers. "They are actually a teacher, a mentor, and of course law enforcement," Oden said. The deputies foster educational programs and activities that increase the student's respect for the law and function of the law while keeping abreast of community trends relevant to school security.  "They want to be a mentor, a role model, and these officers are involved in a lot of activities beyond the school."
McGuire questioned the effectiveness of deputies in schools from a law enforcement perspective. "They're very well trained and very professional law enforcement officers," he said. "I'm not sold to having a full-time deputy patrolling around," he said, "nor does it give the kind of security that you would need if you got another Newtown thing that would happen."
Oden said that while no security presence is entirely foolproof, a deputy on campus remains a first responder—and the first responder in any crisis. "It's just an added safety bonus that brings a comfort—to me I know it did as an administrator—to children, to parents. I think we're better in having them already in the schools." Oden was principal at Buddy Taylor Middle School for seven years where, she says, she would not have wanted to work without the presence of an SRO.
Palm Coast's law enforcement contract calls for 24 deputies—one commander, three sergeants, two corporals, and 17 deputies, one of them being the school resource officer.
Landon said the contract can be amended to reflect the change McGuire was seeking. "We will bring that to you. At that time if you want to reduce it and decide what deputies and school resource officers you pay and don't pay for," Landon said.
But it isn't likely to get that far: McGuire was alone in opposition to the city's funding of an SRO.
Council members Jason DeLorenzo, Steven Nobile and Heidi Shipley all support continuing the contract as is. "It makes more sense if the schools are paying for it, but I don't know, it takes a community, and they're doing good work in the community as well," DeLorenzo said.
"I look at the SRO as a specialist," Nobile said. "He's familiar, the kids will be familiar with his face. I agree, I think we should always try to get the county to pay for it." He quickly corrected himself: "I'm sorry, the school district."
"Heck I'd be happy for the county to pay for it also," Mayor Jon Netts said. "I see them more as a proactive, preventative kind of presence. You're right, in the event of a school shooting, one deputy there is not going to make a bit of difference. But maybe that deputy gets wind of, gets advance notice, here's trends and rumors." Netts said the hardest thing ion law enforcement is measuring what crimes are prevented, as opposed to crimes committed.
Oliva, the superintendent, said if the city pulls its funding the school board would not have an alternative absent a workshop where it would have to determine what else to cut to cover the cost. The council does not adopt its budget until later this summer, leaving room for further discussion on the matter.