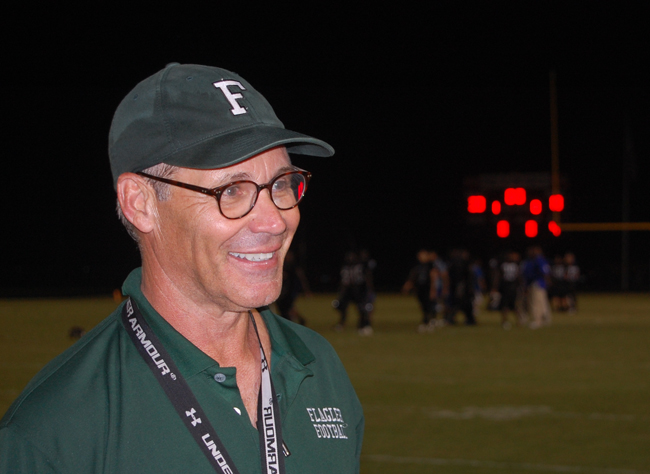 Fifteen minutes from kick-off. The Pirates' stands might as well be a Pacific Ocean of blue. The Bulldogs' stands, sun-drenched in self-confidence, are a bit more sparse. Blame it on mid-town traffic. Keep it here. We'll at least update you with scores and a few shots along the way. FPC's sign of the hour: "Sink the Ship." Matanzas will be receiving.
Four plays, little gain, great punt to FPC's 1-yard line, FPC takes over. Same story, Four downs, little gain. FPC punts, Matanzas takes over at FPC's 47. A 5-yard penalty (false start) sets them back.
Bulldogs take over deep in their end, Andre Gillis makes a great catch at the Bulldogs' 43 for a 27-yard gain.
Matanzas' Christian Benvenuto goes for a 47-yard attempt, no good. Seven minutes to go in the first.

Matanzas force a punt, take over at their 19 with 3:45 to go in the first. No go, another punt, 30 yards, no return. FPC take over at their 45.
15-yard gain for FPC's Derron Green to Matanzas' 30. Penalties push them back.
End of the first. Not as bad as last year, when FPC took a 28-0 lead by the end of the first.
FPC's Yeovanti Williams opens the second quarter with a gain of a dozen and a great catch at the Pirates' 13, but the Pirates turn on the defense and push them back. Bentlee Critcher the FPC quarterback-kicker goes for 47-yard field goal attempt. No go.
Matanzas return with an efficient drive, gain after gain to the Bulldogs' 20-yard line, first down with 9 mn to go in the second. Check that: a massive penalty negates the last 20-yard gain. They're pushed back to the 41, 2nd down. FUMBLE! FPC recovers, with Victor Dove taking possession.
37-yard pick-up on a throw by Critcher to Williams.
Derron Green Touchdown on a pass from Critcher with 8 mn left in the second. The extra point is no good. 6-0 FPC.
Matanzas tries, battles at midfield, eventually turns it over after going for it on fourth down. FPC turns it on, capping an efficient drive with a 48-yard run by Chris Stubbs and a two-point conversion by Devonte Williams. 14-0 FPC.
Matanzas answer that with a terrific 33-yard run by Dorian Stanard. They're as deep into FPC territory as they've been, with 2 minutes to go.
The drive ended with the Pirates' Christian Benvenuto's 37-yard field goal attempt blocked by FPC's Chris Stubbs, who's having a fine evening for the Bulldogs.
We're set for the second half.
Critcher ends a 7-minute drive by the Bulldogs with a field goal from around the 20. Workmanlike drive.
Between Chris Stubbs and Derron Green, FPC has Matanzas surrendered: the Bulldogs cap another five-munute drive with a Green touchdown set up by smart rushing by Stubbs. Extra point was good.
FPC 24, Matanzas 0.
The Pirates manage to force a fumble and recover with 10 minutes to go in the 4th, at midfield. Will they score one?
Not quite. FPC takes over. 8:22 to go.
With 7 minutes to go Matanzas intercept at midfield, run it down to the 10. An injured Pirate. It'll be 2nd and… goal, or close to it.
And yes, Matanzas get their TD with Marquese Jones rushing it in from the 9 and Benvenuto converting the extra point, with just under 7 minutes to go. 24-7 Bulldogs.
The Bulldogs' answer? Markes Thomas, who rushes it in to make it 30-7 with 2:41 to go.
And with less than seconds in the game, the Pirates pull another one out of their bag of tricks, with a TD by Tim Morley.
Final: FPC 30, Matanzas 13.