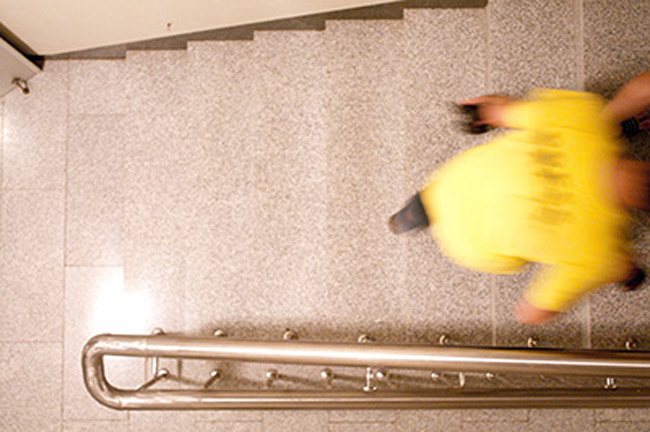 For several years, D'Shawn Hosang has been a concern of school authorities and, at times, of police. He was enrolled in Flagler County's African American Mentor Program when he was at Buddy Taylor Middle School. The program pairs young boys who are either at-risk of straying into destructive behavior or have already done so, with an adult mentor who supervises the boy's academic and social activities. The program has had its successes, lifting many a student's performance or righting his course. But it has its setbacks: mentors have been known to have to visit their charge in jail.
Last June, Hosang, who's now 16 and who used to attend Flagler Palm Coast High School, was part of the mentor program's annual end-of-year ceremony, recognizing its ranks. A month later, Hosang was under arrest, one of three teen-agers charged in a burglary spree in Palm Coast's B Section.
Numerous electronics that had been reported stolen from several cars were found in the attic of the house where Hosang lived, with his mother, on Berkshire Lane. He was charged with a felony, and placed on probation. When school resumed, he was at Matanzas High School.
The latest charge against Hosang is far more serious. He is accused of raping a 14-year-old girl in a stairwell at Matanzas High School.
The incident is alleged to have taken place at 9:46 a.m. on Monday (school starts at 8 a.m. at Matanzas). According to the arrest report, "the victim stated in her interview that she and D'Shawn Hosang were kissing in the stairwell and then D'Shawn Hosang pulled out his penis and forced her to perform oral sex on him. The victim then stated that D'Shawn Hosang forced her to turn around and penetrated her vagina with his penis."
Matanzas is on block scheduling, meaning that class periods last 82 minutes. The alleged incident took place 10 minutes into the second period, which had started at 9:35 a.m. Both students had requested (and been granted) hall passes to go to the library and check out a book, according to the school administration. Two separate teachers provided the passes, unaware of the other's actions.
How sexual activity could take place in a school stairwell may be a pressing question after an allegation of the sort, but Matanzas Principal Chris Pryor said it's impossible to have eyes and ears in every segment of the school at all times.
"We can't control everything," Pryor said. "We don't have cameras everywhere, we don't have enough people to patrol every hallway and every stairwell. This was a well-traveled stairwell, I was surprised" that the alleged incident had taken place there. The school has its own School Resource Deputy.
There were security cameras in the stairwell–above and below where the alleged incident took place. But students are wise to the cameras' emplacements, too.
Pryor is meeting with the faculty today to talk about strategies for greater attention. "Other than completely locking kids in classrooms 100 percfent of the time, all we can do is urge teachers to be more vigilant," Pryor said, referring to when students are let out on hall passes.
Hosang was arrested at 5 p.m. yesterday after being questioned at the sheriff's office's Investigative Services Division (he still lives on Berkshire Lane). According to the arrest report, which was heavily redacted, Hosang gave a recorded statement to police, but denied having sex with the girl. He admitted meeting the girl in the stairwell.
The arrest was based on evidence from text messages exchanged between Hosang and the girl between 9:59 a.m. and 10:54 a.m. "Both the victim and the defendant showed me their cell phones and the text messages back and forth between the two," the arresting deputy wrote in the report.
Hosang was taken to a youth jail in Daytona Beach. He is charged with felony second degree sexual battery, a legal term for rape, and also charged with violating probation.