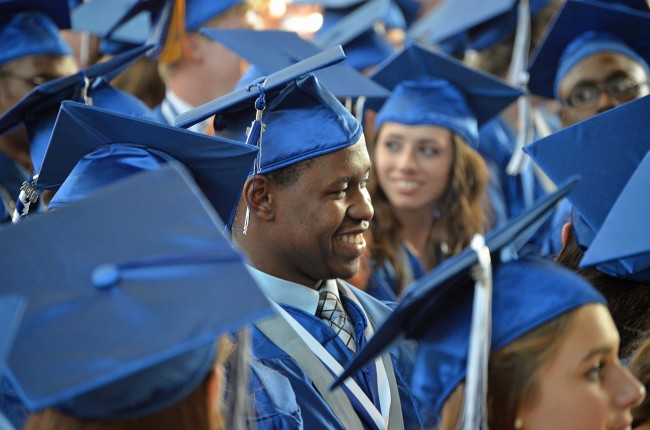 What is it about Matanzas High School's graduations that gives them a more intimate, more family feel, compared to Flagler Palm Coast High School's more gargantuan productions?
Maybe it's the setting. The St. Augustine Amphitheater is naturally (and literally) warmer than the cavernous and concrete-ridden Ocean Center in Daytona Beach. Maybe it's the amphitheater's proximity to the oldest city in American and the William Bartram trail instead of strip joints and bong stores. Maybe it's class size, though Matanzas's 340 graduates Friday evening were only about 100 students short of FPC's the evening before. Maybe it's because Pirates are naturally predisposed to revel in life more than frowning Bulldogs, sometimes to excess (Matanzas has had two students arrested for assaulting sheriff's deputies in the last two years; FPC's students threaten to bomb the school or import their battles to campus).
Or maybe, and mostly, it's the evident rapport between students and their faculty, including their principal and assistant principals, who each got deafening cheers when introduced at the beginning of Matanzas's 2013 Commencement ceremony Friday evening (while FPC's assistant principals were victims of Greek-tragedy staging: they only existed off stage Thursday).
There's something to be said for continuity. Chris Pryor, who looks the part of a previous life's pirate, has been the one and only principal at Matanzas since the school opened. FPC has had four principals in that time span. Pryor—or Dr. Pryor, as everyone, without exception, calls him, that Dr. accompanying the principal like a pirate's parrot—likely knows every one of his students by first name, knows their histories, their accomplishments, their troubles and hopes.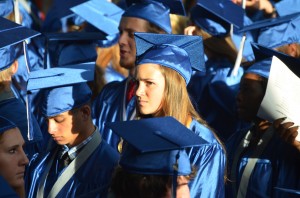 Sure he had a script Friday, but you got the sense that he might not have needed it but for the decimal points when he named Megan Christian, who made it through four years of high school without missing a single day, or Courtney Crum, Ashley Pratt and Francesca Short (who also got an AA degree from Daytona State, one of 12 students who did so) made it through 13 years of school without missing a single day. ("Holy cow, that is awesome," Pryor said. "I heard a little rumor that that other school only had three," he said moments later, referring to those who got their associate's degree from DSC.)
Or the way, after he cited the combined $1.8 million in scholarships to colleges and universities Matanzas students landed this year, he named Giovanni Gonzalez and Nicholas Policastro, who received $182,000 in Navy scholarships, or Mattie Vidor, who received a full ride to Johnson and Wales University for culinary studies, or Christine Delaney who got $153,000 from Stetson University. And Short again, who had logged well over 1,000 hours of community service, essentially accounting for 4 percent of the school's combined 25,000 community hours.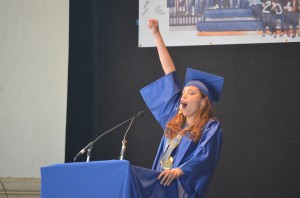 Prior also recognized the 29 cum laude students, who had to have at least a 3.75 GPA (last year the school only had 24), the 42 magna cum laude students who managed a 4.0 GPA (last year there were only 34), and the 23 suma cum laude students who managed a 4.5 or better. (Last year there were 11.) He recognized the two dozen-odd students joining the military ("thank you for helping to keep our country free") and veterans in the audience (Pryor also knows how to warm, and warm up to, a large crowd), in a nice dovetail into recognizing others who have made great sacrifices for students to make it this far: educators, and parents.
Parents especially. "They remember the day you went off to school for the very first time," Pryor said, "they remember that, and it was only yesterday, it was only yesterday that you graduated from—kindergarten. It was only yesterday. So this is a very proud moment, but it's an emotional moment, too. So sometime this weekend, if you see your dad weeping in the corner some place, just ignore him. He'll be all right. He'll be all right." And then he asked all the family members to stand so students could thank them. Another thunderous round of cheers and applause.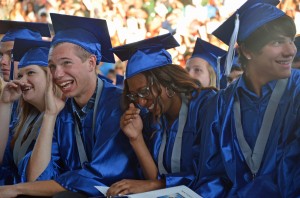 And with every sweep of recognition, Pryor was managing to intimately and just as sincerely connect the crowd in the 4,000-seat amphitheater with the 350 graduates seated in their sea of blue in the pit of the theater, between stage and rising seats.
Only then did Pryor turn to the inevitable: the fatherly advice of every commencement address, a summation of what he had spoken to his students virtually every morning during his daily announcements. After quoting Elbert Hubbard ("Every man is a damn fool for at least every day; wisdom consists in not exceeding the limit," though Pryor changed "damn" to "darn"), he said: "So the goal that I've set for you guys is to make the very best and wisest choices that you possibly can by listening and remembering the words of wisdom that those people out there gave to you. Listen to them."
By then he was no longer speaking as the students' principal who could exact anything of them anymore, but as something the students might not have possibly imagined in their previous four years, and something Pryor—as the seasoned educator that he is—would not have allowed until then: a friend. It's part of that turning of the tassel.
He then invited Giovanni Gonzales to deliver the first of two graduation speeches.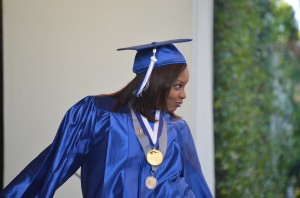 "It's been a rough four years full of tests, quizzes, extra credit and papers," Gonzalez said. "We've been pushed to stuff our brains with as much as possible to make our teachers happy, only to find out that after we'd aced the test we had to start all over again with a brand new topic. All the while that our teachers were pushing us to our limits and bringing out our true potentials, we were having the greatest times of our lives. We were making lifelong friends and cheering on our pirates." Don't get so wrapped up in the future, she advised her classmates, "that you forget to live in the present," ending on a life usually attributed to John Lennon: "Life is what happens to you when you're busy making other plans" (several lesser writers and actors had used the line before him).
Bryanna Maddox was next, recalling how freshman year began with a lockdown, and how "many of us were prematurely hit with senioritis in sophomore year."
"Nothing is more real and amazing than actually being here, right now," Maddox said, "with the people who over the past four years have become family." She had trouble keeping it together. Then again, she was not alone. That was just the atmosphere Matanzas's graduation had created in the St. Augustine Amphitheatre Friday evening, a moment that would prove as fleeting as the 13 years that had led to it.

---
Commencement's Main Speeches: Pryor, Gonzales, Maddox

[media id=327 width=500 height=400]
A recording of the main commencement speeches and more images will post shortly.