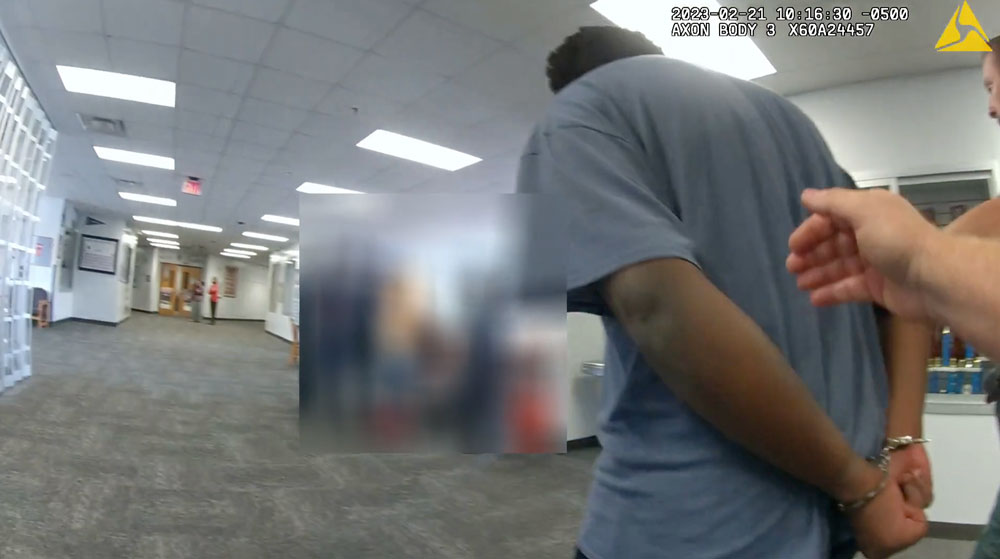 The public reaction to 17-year-old Brendan Depa's assault of Joan Naydich, his paraprofessional, at Matanzas High School last week is for the most part reassuringly analytical, balanced and compassionate.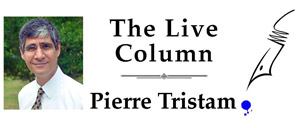 The more strident reaction among elected officials is not. Elected officials are not only exploiting the situation. They're exploiting Depa. They want blood. The making of an injustice is unfolding before our eyes, and at this point the public's more measured reaction will count for nothing if it stops there. It'll turn complicit in the miscarriage if it doesn't pressure the elected to back off and courts to restore fairness and proportion.
State Attorney R.J. Larizza last Friday decided to charge Brendan as an adult, with a first-degree felony to boot, so Brendan is looking at up to 30 years in prison instead of a few months' probation on his juvenile charge. Larizza had four days to think about it. Knowing Larizza and his prosecutors, I suspect this isn't the way he wanted to go. But he saw the story circling the globe. Maybe he didn't want to be accused of timorousness in a state whose governor lynches school board members and state attorneys who don't toe his line. Juvenile court proceedings are all but hidden from view. Adult proceedings are not. Here was a chance for Larizza to prove his fealty to our reigning Hammurabi.
Let the court figure out Brendan's competency. Let the John Goode Pre-Trial Detention Facility in Jacksonville deal with his autism and, starting on August 22, when he turns 18, the Flagler County jail. Let the taxpayers pick-up the tab, since he's not about to make bail.
We are led to believe by his $1 million bond that this autistic young man who probably doesn't know bail from Tuesday, this boy more obsessed with his game console and his group home, this student who's been at Matanzas High School for a year and a half without drawing attention, is more dangerous than murderers and rapists.




It's absurd and unconscionable. But it's not an exaggeration. Damari Barnes, the youth accused in the shooting death of Jamey Bennett near Matanzas a year ago, is being held on $500,000 bond. Victor Williams, the 40-year-old man who worked with autistic kids and was arrested on a charge of raping a 16 year old, was held on $108,000 bond, which he posted until his conviction. Kwentell Moultrie was out on $100,000 bond after being charged with raping a 16-year-old girl, at least until he was re-arrested on a murder charge. I could add to this list.
Barnes, Williams and Moultrie didn't make the news in L.A., London, and Sydney. And Tallahassee. Brendan did. Of course he's not more dangerous than the others. But he's now a commodity, not a human being. He's a pretext, an opportunity, an example to be made of. He doesn't count.
I expected some of the new school board members to go medieval on Brendan. Two of them devour Deuteronomy for breakfast. I did not expect the rest of them to join in the gluttony. But barely a day after the attack was first reported, before the district had time to conduct its own investigation into what is obviously an exceptionally unusual incident, before the victim could even be debriefed about it all, the school board went into knee-jerk convulsions.
The second School Board member Christy Chong called for a discussion on alternative schools, the rest signed on, as if standing up one of these splendid little concentration camps the district wisely did away with a few years ago would take a workshop, a work order to the facilities department and a couple of transfers of teachers on somebody's shit list. Doesn't matter whether it's actually needed or not. Doesn't matter if there are a zillion alternatives to alternative schools, as there weren't 10 years ago. Doesn't matter if Brendan's case is an aberration (in the atypical, not the Parkview Church, sense of the word). Doesn't matter whether an alternative school could even accommodate a student like Brendan without a mountain of expenses and liability risks.




Public schools' responsibilities with special education students can't be outsourced. That's why charter schools and private schools can get away with their self-segregated enrollments. They're not under the same constraints. So it's not as simple as warehousing all the supposed trouble-makers in a campus ghetto. But Chong, so silent for so many months, is now hearing "a constant complaint across the campuses" about trouble in schools. The undocumented gossip is good enough for her, and apparently good enough for the rest of the board, to start talking about reviving an outdated model at huge expense. I'm surprised one of the board members didn't call for bringing back whipping children. That may not be far off, judging from the smacking sounds from Brevard.
Chong is new to the board. She can't be blamed for double standards. Not until after this paragraph ends. We now know that another profoundly autistic student at Flagler Palm Coast High School years ago broke the arm of his teacher and assaulted another autistic child, leaving her bruised. He was never disciplined nor transferred to the alternative school, which was still open at the time. Why? Because his parents were prominent. Because they were take-no-prisoner advocates for their child, as any parent ought to be. Because they insisted he be treated according to Exceptional Student Education laws and regulations. Because they knew their parental rights before it became a hollow fad on Hammurabi's electoral slates. Because the school was terrified of a lawsuit, and those parents could pay for it. Because the child was white. And because the incident was not on camera or on a sheriff's blast list.
Unluckily for Brendan, he doesn't check any of those boxes. He doesn't count.




Meanwhile Chong, even as she was calling Brendan's behavior "not okay," found a "Safe Space" sign at Matanzas unacceptable. Read that line again, because in this context it takes some suspension of disbelief: A Safe Space sign. Unacceptable. She thinks safe spaces are gay. Literally. The rainbow colors caught her attention. So the sign should be banned. The district agrees. This school board grows irony like kudzu and doesn't know it.
The official handling of the Depa case mirrors the way Brevard County Sheriff Wayne Ivey in late November choreographed a video selfie with the state attorney, the new chair of the school board and a "business representative" at his back, all of them standing in a visual gauntlet of barbed wire at the Brevard county jail.
Ivey was wistful for the days when "the clowns who continually disrupt our classrooms" could fear having "the cheeks of their ass torn off." That's the language and the location Ivey chose to showcase his crossing of the Rubicon, as it is now accepted practice in Florida, from the governor on down, that goons who threaten violence even as they decry it, and who have no business in education, will use use demagoguery backed by zero evidence to set education policy. How different Ivey's posturing about these "clowns" is from Iranian Mullah's tearing the cheeks off the asses of women and girls who don't wear the veil is a matter of degrees.
As are some of the comments that couldn't be published on this site in response to the Matanzas incident, at least not without condemnation, comments that show what kind of neighbors we have living among us, like this: "It makes me wanna vomit how the majority of people on here think that there is some worth in keeping these monsters around in our society. The sooner you exterminate these beasts, the better life is for the rest of us."




Ivey and the rest of them aren't saying anything much different. They're just polishing off their grandaddies' dog whistles to do it so Google doesn't flag their videos as "dangerous or derogatory content."
There is solace only in the public reaction at large, thank you Flagler. Of course there are vengeful comments. But if 500-some comments to date are an indication (on FlaglerLive platforms, anyway), the public is for the most part reasonable, often compassionate, rich in personal and professional experiences that inform the debate. It managed to balance sympathy and generosity for Naydich with compassion for Brendan Depa, reserving judgment about his sole responsibility. It takes account of his special needs status, the area's lack of mental health, the need for alternative placements, though not necessarily an alternative school. We should be horrified. We should also be humane.
It's been a reasonable debate on a difficult issue that has no single answer, certainly not in a state where mental health is not a priority and where the same people who howl at the non-existent defunding of police (like our own Paul Renner, the House speaker) have no problem authoring the largest effort to defund public schools to date as they turn around and blame schools for allowing something like last week's incident to happen. It's been the kind of reasonable debate the school board should be having, and the state attorney should be deferring to juvenile court, if that.
Where's Brendan in all this? He's at that juvenile jail in Jacksonville, god knows under what circumstances and in what state of mind, awaiting his March 6 arraignment here. He is no longer Brendan. He doesn't count. He is booking number: 23-486.

Pierre Tristam is FlaglerLive's editor. Reach him by email here. A shorter version of this piece is airing Friday on WNZF.