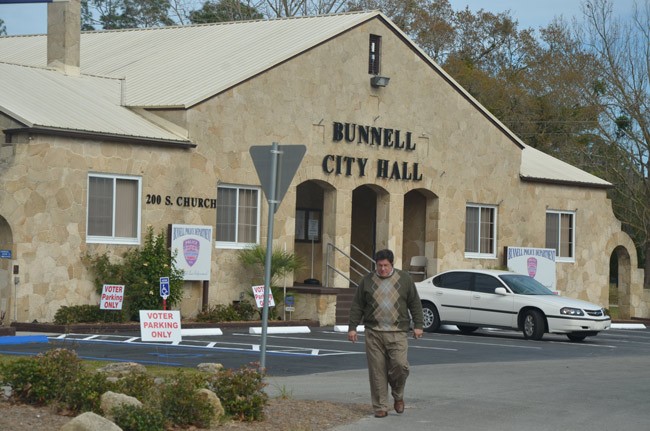 The Equal Employment Opportunity Commission has dismissed a complaint by former Bunnell City Manager Armando Martinez against the Bunnell City Commission. Martinez is of Cuban descent. He had alleged that the city ended his contract in 2013 because it didn't want a Hispanic individual in that position.
Martinez based his allegation on a meeting where Commissioner Elbert Tucker had said that in the city's search for a new manager, the candidate should "not come from south Florida or Miami." Tucker subsequently and repeatedly said that the comment was misconstrued, and that his intent was not to have a "big city" manager. He said he would have been just as opposed to hire a candidate from any of Florida's larger cities. Bunnell ended up hiring Larry Williams, who had been a city manager at smaller cities.
Martinez was Bunnell's first minority city manager. On his watch, which began in Jan. 2006 (after he'd served as the city's first Hispanic police chief) the city also hired its first black police chief, the late Arthur Jones. Both positions have been filled by white men.
"Based upon its investigation," the EEOC said in its brief finding, "the EEOC is unable to conclude that the information obtained establishes violations of the statutes. This does not certify that the respondent is in compliance with the statutes. No finding is made as to any other issues that might be construed as having been raised by this charge."
That doesn't end Martinez's course of action. Martinez, whose contract with Bunnell ended in October 2013, has until June 15 to file a lawsuit against the city. Martinez, a Brevard County resident, has disconnected the private cell phone he used in his years in Bunnell. Contacted by email, he had not responded before this article first posted.
"It's not that I feel vindicated," Tucker said Thursday. "I'm happy it was found by the EEOC what their finding was. I don't hate this guy, I don't even dislike him. He's an OK guy. I just think he got the wrong impression."
Tucker says it did not cost Martinez anything to file the complaint, though it cost Bunnell to fight it. And it may not be over. "That's only the first round," Tucker said. "He still has opportunity to take it to court and pay an attorney, so far it's just been a complaint with the EEOC. Good luck to him. I'm still thinking he's probably not on the right track, same as I'm not prejudiced against Mexicans, Cubans, Miamians, whatever it was."
The EEOC issued its dismissal notice on Feb. 24. The dismissal was conveyed to the city on March 16, and commissioners learned of it in an email from their attorney on Wednesday.