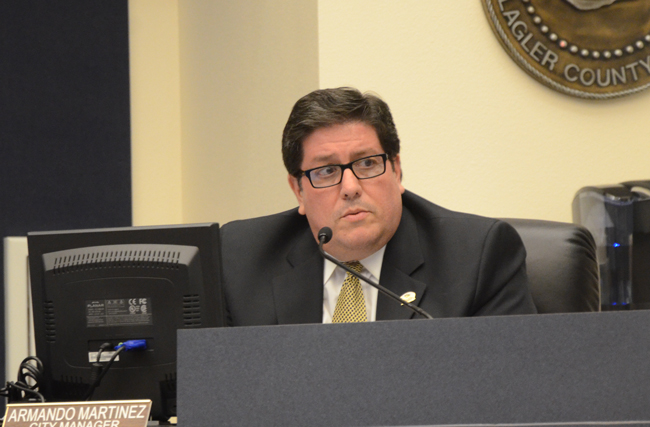 To paraphrase Faulkner, the past is never over in Bunnell. It's not even past. So it is with Bunnell City Manager Armando Martinez.
Martinez was fired by a 3-2 vote less than six weeks ago. But there he's been since, attending city commission meetings, running the city, participating at forums and celebrations and commending staffers, including his finance director, who quit by blaming the commissioners who fired him. Martinez hadn't left yet because the commission's firing was velvet-gloved: even the three commissioners wanting to get rid of Martinez were willing to let him serve out his contract until October, ostensibly giving them time to find a replacement.
On Monday night, again late into the night—this time at 9:15 p.m. instead of the midnight vote that was to end Martinez's tenure—the city commission reversed itself. Or rather, Bill Baxley, the swing voter in every case, reversed himself.
On a 3-2 vote, the commission agreed to negotiate a new contract with Martinez. Baxley joined Mayor Catherine Robinson and Commissioner Jenny Crain-Brady in the majority, with Elbert Tucker and John Rogers in dissent.
"I have not changed my mind," Baxley protested. "When we brought it up to vote to fire him I voted no. But my campaign that I campaigned on, to the citizens of Bunnell, the people that elected me, my comment to them, or my pledge to them, that I would not renew his contract as written, and that's exactly what my campaign—I'm still in that same vote." He said the board had voted not to renew the contract despite the suggestion to renegotiate: that motion was rejected.
Baxley had asked for an agenda item: to discuss the possibility of appointing an interim manager—and to have Martinez train that interim, even as Martinez was on the job. Baxley this evening revealed that he'd spoken to some department heads who would be willing to serve in that position, and who told him that their subordinates could step in their shoes.
That raised some eyebrows on the commission: both Robinson and Crain-Brady, for just reason, questioned another commissioner's authority to explore administrative issues without the commission's consent. Robinson also wondered aloud why Baxley was willing to have the man he was getting rid of train his replacement. If that were the case, Martinez's quality as a trainer could be skipped, and his quality as a manager retained.
"Basically you're revalidating what he was doing," Mike Langello, a Bunnell business owner and city booster who attends most commission meetings, told Baxley.
Langello was among few members of the public (fewer than in previous similar episodes when Martinez's fate was the issue) who pleaded with commissioners to end the yo-yo effect of debating Martinez's viability. And after another impassioned defense of Martinez, Robinson, who knows how to outflank her opponents, surprised Baxley by upstaging his proposal, turning the tables on him–and his own arguments against him–and moving to have a new contract negotiated with Martinez.
Rogers tried to have the issue tabled. He wanted to think matters over. His proposal got no second. And Robinson flatly stated that she had no interest in withdrawing her motion: she had sensed an open door. When Roger called for a vote (he'd taken over the gavel as vice mayor, since Robinson could not make the motion while chairing that portion of the meeting), Martinez again had his 3-2 majority.
It was yet another remarkable turn of events in Bunnell. But it is not necessarily over. The scene next moves to a negotiation with Martinez (that responsibility falls on the attorney and the commission), with salary terms yet unclear. Martinez may have to concede that his current salary of around $112,000 will not sit well with Baxley. And he told Rogers that he was willing to relocate to Bunnell, or at least Flagler County. Still, all these terms are as uncertain as Martinez's fate has been for the past several months.