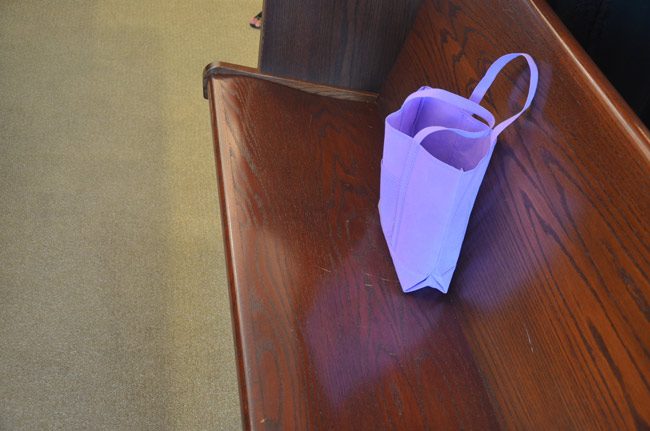 Voters in Florida and five other states soon will face a ballot initiative that for some seems like a no-brainer: whether to grant crime victims certain rights under the state constitution, such as the right to be treated with fairness, the right to confer with the prosecution and the right to attend key court proceedings.
But even as a coordinated, billionaire-backed campaign spreads across the country, some lawyers and civil rights experts say the push to give crime victims constitutional rights equal to those of criminal defendants could set up a clash over core aspects of the U.S. legal system, such as the accused person's Sixth Amendment right to due process and the right to be presumed innocent until proven guilty.
"It undermines our system of justice as we know it," said Holly Welborn, policy director for the American Civil Liberties Union of Nevada.
Since 2008, voters have approved "Marsy's Law" amendments in California, Illinois, North Dakota, Ohio, South Dakota and Montana (Montana's amendment later was struck down on procedural grounds). This year, voters in Florida, Georgia, Kentucky, Nevada, North Carolina and Oklahoma will consider versions of the amendment.
All versions of Marsy's Law on the ballot this year would make it a state constitutional right for people directly harmed by a crime to request and receive notification when the alleged perpetrator is released from jail or prison, for instance.
The initiatives also list — among other rights — victims' right to be told about and to attend public proceedings involving the criminal; to be heard in any public proceeding involving sentencing, release or a plea; and in the case of the Nevada and Oklahoma proposals, to refuse interviews or other requests made by the accused person unless ordered to do so by a subpoena or court order.
The Florida, Kentucky and Oklahoma initiatives all say that victims' rights shall be protected "in a manner no less vigorous" than rights given to the accused.
Under Marsy's Law, victims generally must assert their rights. For instance, they must ask to be notified of upcoming court dates, rather than be automatically notified. Eventually, the campaign hopes to get rights for victims written into the U.S. Constitution.
All six states with a November ballot measure already have a victims' rights law or constitutional amendment on the books, but supporters of the initiatives say existing protections aren't strong enough.
In Nevada, for example, the Republican governor, attorney general, key law enforcement officers and advocates for domestic violence victims all back the initiative.
"As a law enforcement officer, I've seen too many innocent people devastated by crime. And when the victims are denied equal rights, they're victimized again by the criminal justice system," Clark County Sheriff Joe Lombardo said in a commercial — set to melancholy orchestral music — that the Nevada campaign released in January. By changing the state constitution, he said, "We can fix this and stand up for Nevada crime victims."
The overall impact of Marsy's Law has been hard to gauge because so many variables play into the outcome of criminal cases, legal experts say. Such amendments have led to some legal confusion, and in South Dakota, a deluge of paperwork. In California, some victims' rights advocates say a decade-old amendment was a good idea, but could be better implemented and enforced.
Giving Victims a Voice in Criminal Cases
Henry Nicholas, the billionaire founder of semiconductor company Broadcom, has almost single-handedly bankrolled victims' rights amendments in a dozen states through a campaign called Marsy's Law for All, named for his sister, Marsy, who was murdered in 1983.
Days after the murder, their mother ran into the accused killer, the girl's ex-boyfriend, at a grocery store, unaware that he had been released on bail, according to the Marsy's Law for All campaign. He was later convicted of second-degree murder.
Through the end of 2017, Henry Nicholas had spent about $27 million on the campaign to get the six amendments onto the ballot and approved by voters, according to Ballotpedia, an online encyclopedia of American elections.
For much of American history, victims have not had much of a voice in criminal cases beyond answering questions on the witness stand, according to the American Bar Association. That's because criminal cases pit an accused person not against the victim, but against a prosecutor acting on behalf of the state.
But over the past 40 years, the federal government and every state have enacted laws to help victims, including laws that instruct judges to consider victims' safety before releasing defendants from custody, and that give victims the right to be notified when a defendant gets out of jail. Heartfelt statements from suffering victims have become a courtroom norm.
Yet in many states, current law isn't good enough, said University of Utah law professor Paul Cassell, a victims' rights expert who has advocated in favor of Marsy's Law. Statutes can be more easily ignored than constitutional amendments, he said, and even some amendments to state constitutions aren't comprehensive enough.
"Does this take victims' rights to the next level? Yes, it does," he said of Marsy's Law. "That is by design."

There are countless examples of victims who slip through the cracks of existing law, said Henry Goodwin, communications adviser for the Marsy's Law for All campaign. For instance, the Oklahoma campaign has highlighted the story of Leesa Sparks, who says she was never told about her abusive ex-boyfriend's court dates, sentence or release after he spent four years in prison. Sparks disagreed with his sentence, according to a testimonial on the Marsy's Law for All website, but never had a chance to share her views in court.
Legal Concerns
The American Civil Liberties Union, defense attorneys and some prosecutors say states already are doing plenty to protect victims, and that the proposed amendments could make it harder for the accused to get a fair trial.
Drew Findling, the Atlanta-based president of the National Association of Criminal Defense Lawyers, said he's practiced all over Georgia and never come across a prosecutor who's not sensitive to the needs of victims. "I don't even know what this is doing in this state," he said of the Marsy's Law proposal.
Lawmakers in Idaho and New Hampshire declined to put Marsy's Law measures before voters this year, arguing in each case that the state was already well served by existing law, and that amendments to the constitution are hard to roll back.
Marsy's Law would interfere with a defendant's due process rights, said John Piro, the chief deputy public defender for Nevada's Clark County, by giving people harmed by a crime the right to be present and heard before the alleged perpetrator has pleaded innocent or guilty.
That inserts people who are hurt, angry or grieving into what's supposed to be a dispassionate process, he said. "Now the prosecutor is going to be unduly influenced by a passionate person who wants to see vengeance — they'll call it justice — handed out."
Researchers have found that emotional statements from victims in court can make jurors angry and more eager to punish defendants — particularly when a victim is white, DePaul University law professor Susan Bandes wrote in The Atlantic.
But Cassell, the law professor, said he hasn't heard Marsy's Law leading to any systemic problems with increased litigation or paperwork in most states. California, for instance, has had a Marsy's Law in its constitution for a decade. "The sky did not fall," he said.
He also questions the assertion that allowing the victim to share more information will create bias in the system. "Instead, the criminal justice system simply gets more information."
Still, the California amendment led to litigation and a state Supreme Court case over a portion of the law that lengthened the time between parole hearings for prisoners serving life sentences. In 2013 the state Supreme Court ruled against an inmate's claim that the new parole hearing schedule guaranteed him a longer sentence, arguing that he hadn't proven that Marsy's Law had kept him locked up for longer.
The California amendment also gives victims the right to refuse requests for interviews and information made by defendants and their legal team, which "is a very serious problem," said Robert Weisberg, law professor and co-director of the Stanford Criminal Justice Center, in an email to Stateline. Victims' silence could prevent information from coming to light that could prove the defendant innocent or cast doubt on his guilt.
Cassell said that Marsy's Law doesn't compromise a defendant's interests in preparing for a trial, but it does protect victims from having to share information that could put them in danger, such as their home address. "I'm interested (once again) to see the objection made by the opponents without pointing to a specific example — much less, a systemic problem that exists in the big states that currently have Marsy's Law," he said in an email to Stateline.
The biggest problems have occurred in South Dakota, where a version of Marsy's Law approved by voters in 2016 led to longer jail stays while courts waited for victims to be notified and swamped county staff with notification paperwork — even for minor crimes such as vandalism, local officials say.
"It overwhelmed some of our systems, and I think some of the true victims this was intended for sort of got lost," said Minnehaha County Sheriff Mike Milstead.
Interpreting the Amendments
Milstead's department and other law enforcement agencies also interpreted the law's privacy protections to mean they couldn't share information about unsolved crimes with the public, Milstead said. "We use the eyes and ears of the public to help us solve crimes," he said.
The problem was that the amendment made victims' rights compulsory unless victims opted out of exercising them, said House Speaker Mark Mickelson, a Republican, in an email to Stateline. Mickelson initially proposed repealing the amendment, then teamed up with the Marsy's Law for All campaign to write a ballot initiative that changed the language to make the rights "opt-in" rather than "opt-out." The fix easily passed this summer.
Across the border in North Dakota, where victims must "opt in" to exercise their rights under a 2016 Marsy's Law amendment, the criminal justice system has experienced no such crisis. But it has caused some confusion, additional litigation and expense, said Aaron Birst, the executive director of the North Dakota State Attorneys' Association. Counties and the state have spent more than $800,000 updating automatic victim notification systems to cover more criminal proceedings, he said.
Several North Dakota police officers who have shot and killed civilians have claimed they are victims and have invoked Marsy's Law rights, which has prevented their names from being released — even though North Dakota Attorney General Wayne Stenehjem has said Marsy's Law doesn't shield victims' names unless they're victims of domestic violence, human trafficking, a sex crime or are a minor.
It's also unclear whether courts must change their schedules to accommodate victims. Birst said he recently spoke to a prosecutor working on a rape case that had an out-of-state victim. The victim couldn't make it back to North Dakota for the scheduled plea hearing, but the court went ahead anyway.
Sometimes a person accused of a minor crime can plead guilty the day after they're arrested, he said. "Most courts have just taken the plea and hoped that notice was provided to the victim."
In California, courts have reportedly erred on the side of giving victims more of a voice in some cases than others. For instance, some California prosecutors recently told the news website The Marshall Project that they don't promptly reach out to victims and their families unless the victim was killed or seriously injured.
It's important for victims to have the opportunity to have their voices heard, said Mariam El-menshawi, director of the Victims of Crime Resource Center at the University of the Pacific's law school. But awareness and enforcement of Marsy's Law rights can be spotty in California, she said. Her recommendation is that courts implement a system for checking in with victims to make sure they are aware of their rights and options.
While some victims' rights advocates have argued that victims would be better served not by a constitutional amendment but by more funding for victims' services, such as programs that help victims of sexual violence, supporters of Marsy's Law say the amendments not only give victims greater ability to participate in the criminal justice system, but also lead to investments in notification systems and victim services staff that will pay off.
"My belief is that today in South Dakota, there are more resources for victims than before Marsy's Law was implemented," Sheriff Milstead said.