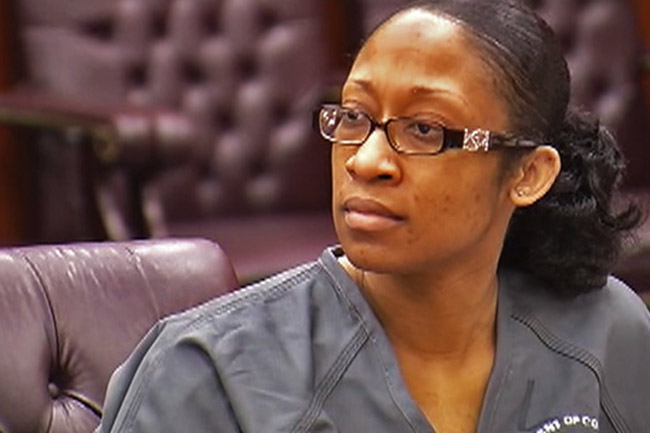 As Florida reviews its "stand your ground" law in the wake of the Trayvon Martin killing, Marissa Alexander on Friday received a 20-year sentence for firing a shot in what she claims was self-defense and her backers say was a case of her standing her ground.
Alexander, a 31-year-old mother of three, was sentenced in Jacksonville under a mandatory minimum law for firing one shot in the direction of a spouse with a record of domestic violence in a 2010 dispute.
A judge had rejected Alexander's "stand your ground" defense, saying she could have escaped instead of firing. Florida courts have often recognized a common law doctrine that says when someone is acting in self defense in their home, they don't have a duty to retreat to first.
Alexander's case has a twist from the usual "stand your ground" claim: she didn't shoot her spouse. She fired, but didn't hit him.
Her case has drawn immense attention, and gained even more notoriety than it likely otherwise could have as the state has been gripped by a new debate over self defense laws in the wake of the Martin shooting earlier this year.
"If we want to protect self-defense in Florida, we can't have a 20-year mandatory minimum hanging over the heads of people who fire warning shots instead of just killing their attacker," said Greg Newburn, Florida Project Director for Families Against Mandatory Minimums.
Newburn will attend the first public hearing of the task force appointed by Gov. Rick Scott to review the "stand your ground" law on June 12 in Sanford, where 17-year-old Trayvon Martin was killed by a neighborhood watch volunteer. The acknowledged shooter, George Zimmerman, claimed self-defense, but is now facing second degree murder charges.
Angela Corey, the special prosecutor handling the Martin killing, will obviously fight any attempt to use the "stand your ground" defense in that case. And she said it doesn't apply to Alexander, either. Her office had offered a plea bargain of three years, but Alexander rejected it, hoping to convince a jury she had been in fear for her life.
"She got two shots at her self-defense theory," Corey told the Huffington Post on Thursday. "Neither a judge nor a jury bought it."
"It's a pattern we see all across the state," Newburn said. "[Defendants] turn down a plea deal because they think they're innocent…If you're guilty and you know it, you take the plea."
In Friday's sentencing, Judge James Daniel said he had no choice under state law but to give Alexander the 20-year sentence.
"Under the state's 10-20-life law, a conviction for aggravated assault where a firearm has been discharged carries a minimum and maximum sentence of 20 years without regarding to any extenuating or mitigating circumstances that may be present, such as those in this case," he said.
Now Alexander's options are few. She can appeal, which Newburn says she will do. And the governor and Cabinet can grant her clemency – that is, if one of the members of the clemency board can bring up her case, because Alexander herself can't apply until she's served ten years, or half her sentence.
In court Friday, Corey said Alexander's shot could have hit her husband or his children. She told the Huffington Post that Alexander "was angry" when she fired the shot. "She was not in fear."
That's a distinction that Linda Osmundson, director of Community Action Stops Abuse, the domestic violence shelter in St. Petersburg, finds difficult to draw.
"The thing I see they're hanging their hat on is that she was angry," Osmundson said. "Well, wouldn't you be angry if someone was beating you up?"
In the late 1980's, Osmundson was instrumental in Florida's establishing the possibility of executive clemency for battered women who kill their abusers. About 30 women went free over the next 15 years as a result.
"Most of the women killed their abusers in self-defense because they thought they were going to die, or their child was going to die," Osmundson said. "But almost all those women got life sentences."
The "stand your ground" law was passed in 2005.
Alexander's husband, Rico Gray, 36, has been arrested twice for domestic battery, and Alexander had filed an injunction against him, which was active on the night that landed her in jail. She, too, has been charged with domestic battery, in an assault on Gray four months after the shooting. Alexander pleaded no contest to that charge after her trial in March and was sentenced to time served.
Newburn said domestic violence is a key factor in Alexander's case.
"I think the background of abuse is relevant in terms of her state of mind when she fired the weapon," he said. "There's nothing mutually exclusive about anger and fear."
Meanwhile, Corey and Alexander's supporters continue to clash in the national media, which is now drawn to another Florida controversy over its "stand your ground" law. Alexander's family has launched a petition drive and created a web page to solicit defense funds.
Her backers have also solicited help from the governor – noting that he got involved in the criminal case involving Zimmerman and Martin, so he could also intervene in the Alexander case.
Corey said Alexander's family and attorneys are spreading "misinformation" about her having been a victim who acted in self-defense.
"If there was a way to prosecute [Alexander's family] for what they are doing I would," Corey said.
Meanwhile, Jacksonville Congresswoman Corrine Brown is calling Alexander's case a product of "institutional racism." She said she cannot locate a "stand your ground case" in her area where an African American has been the beneficiary of the law. Alexander is a black woman.
Brown will be calling for a national study by the U.S. Department of Justice or another entity to determine whether there are racial disparities in the application of the "stand your ground" defense.
And domestic violence advocates like Osmundson say the criminal justice system is biased against women who fight back.
"It's not feminine for women to defend themselves," she said. "In the minds of most people, women ought to be protected, not protect themselves."
"Ms. Alexander exhibited great courage and restraint in protecting herself while also not killing anyone," said Rita Smith, director of the National Coalition Against Domestic Violence. "Where is the justice for battered women in Florida?"
–Marge Menzel, News Service of Florida