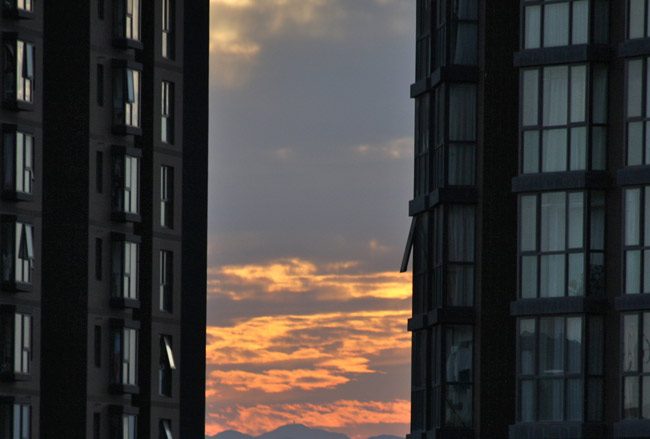 Tall buildings aren't non-existent in Flagler County and Palm Coast: Flagler Beach has the Aliki condominiums, rising past 170 feet on the ocean, Hammock Dunes has its Tuscany and Cambria condos, reaching nearly 150 feet, there's Surf Club's 98 footers on State Road A1A, approaching Marineland, and in Palm Coast proper there's the Hilton Garden Inn, rising past 70 feet. But so far Palm Coast has managed to keep its residential zones limit at 35 feet.
That's about to change.
The combination of an 11-year-old agreement between the developer and the County Commission and a state law Palm Coast had nothing to do with, combined with an annexation agreement it had everything to do with—but that wouldn't have stopped the development even if it didn't exist—will result in the resumption of a large project on 110 acres off Colbert Lane, going east toward the Intracoastal.
The development was once called Harbor View Marina. It will now be called Marina Del Palma. It will add up to 615 residential units, only 154 of them spread over single-family homes. Those homes may exceed Palm Coast's current height limit and go up to 45 feet. The rest—461 units—will rise within towers (how many towers isn't exactly clear) that will top off at 95 feet and each contain seven or eight stories, depending on your definition of a floor. There'll also be some 46,000 square feet of non-residential uses, including commercial space and a marina (but no fast-food restaurants and gas stations).
Palm Coast residents come out in force to oppose most apartment buildings, even when those buildings are in the distant planning stage. But they also come out to oppose tall buildings. Residents neighboring the proposed development off Colbert, a dozen of whom addressed the Palm Coast City Council last week, aren't happy. Much of the council isn't happy, particularly Mayor Milissa Holland, who has used variously strong language to describe the towers, including "monstrosity" and "staggering." The city administration isn't happy, either. But city officials insist they had no choice.
The land was once in unincorporated Flagler County. In 2006 the County Commission approved what's called the Planned Unit Development and it was due to be built then. The Great Recession interfered. Developers resumed their plans a few years ago and broke ground in 2014. They came to Palm Coast for water and sewer hook-ups. That meant they had to be annexed into the city. The council approved the annexation, not aware of the project it was also annexing. Last week the council had to approve a zoning designation for the land, keeping that designation as close to its county antecedent as possible. Details of the project reemerged. Opposition coalesced.
But state law forbids a city that's annexed a property from applying a different developmental designation than allowed by the previous government. A property owner's entitlements, in other words, may not be changed or messed with. That includes building heights and density. And it's not as if the city could forego annexation. Doing so would not stop the project. But it would deny the city substantial tax and impact fee revenue, which helps defray the cost of development.
In essence, the city had no choice. The reaction was no less fierce.
---
Between the actions of the County Commission and state law, Palm Coast government says it had no choice but to go along.
---
"The reason that we need the height that we have is that we need to be able to get some views from those buildings," developer Ken Belshe, managing director of McElhaney and Bain of St. Augustine—and the developer of nearby Palm Coast Plantation–said. "Originally we asked for 125 feet." The compromise was 95 feet, or seven stories of living space over one story of parking. "It has been a long process here but we feel like we have done everything that we could possibly do to satisfy and to comply with everything that we were required to satisfy and comply with."
Then he added a line that turned into a match lighting a fuse. "I'm not sure why this sudden surge of concern is about this property, but we feel that we're vested with our rights here," Belshe said.
"I need to interrupt you for a second because let me tell you why we're surprised," Holland said, cutting him off. "Since you're familiar with our community you'd be familiar that not one county commissioner that's serving today was on the county commission when this was approved in 2006. I was not on the county commission, I served for six years. So yes we had a downturn in the economy, but now you're looking at a brand new council." What public hearings took place did so outside the city, the mayor continued.
"I'm surprised that you're surprised," she said. "I'm not anti-growth by any means, I'm not anti-growth on this entire corridor, but this has been a very staggering moment., certainly for me, when this first came to us, this last first reading, and that was the first I'd ever seen of this height requirement. That's where the surprise comes from."
Belshe said he was referring to the pre-annexation agreement approved by this council. But he also got some help from Steve Nobile, one of the council members. "The people who bought property around there knew what that was set out," Nobile said, drawing howls from the crowd. "So anybody who would have been there after 2006, who would have investigated that would have found that out." He said the reaction to the developer was not fair, particularly since the city is prevented from making any substantial changes. "I don't want to attack these developers," he said.
A dozen people or so addressed the council, all to speak their opposition to the project or at least their hope that the developer would work with the city to lower heights and increase buffers between the project's boundaries and nearby homes, currently set at 25 feet.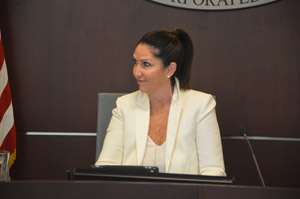 "When I moved here in 2011, I could never have imagined the possibility of 95-foot tall buildings behind my house," one resident who said one of the towers will be 25 feet from her property. "In fact the real estate listing described the area behind my property as preserve, as did the listings of my neighbors, and technically there is a preserve behind my house. It's that 25-foot buffer." But hurricanes Matthew and Irma knocked down the trees, so there's not much of a buffer left before a de-forested area for the development appears. "High-rise towers are certainly incompatible" with residential homes, she said, though she'd accept two to three-story condominiums.
Sara Lockhart, who retired as a senior planner from Palm Coast a few years ago, referred to Ira Corliss, a former senior city official in the administration, who used pre-annexation agreements extensively for economic development. "And at some point out of the attorney's office rolled an opinion that pre-annexation agreements weren't worth the paper they were printed on because it binds a future board's hands, and you can't make a decision," Lockhart said. "Your police powers would be bound. So the alternative to that, recognized by the courts, are called joint planning agreements, and I see nowhere in your intergovernmental comprehensive plan element a reference to pre-annexation agreements. There are references to joint planning agreements. There's also reference to utility service agreements. I would suggest that you ask your attorney for a full analysis, and don't rush him, this is a very complex area of the law, but there has been these annexation wars going on for a long time, and this is not the first rodeo. So there are alternatives I think available to this so you don't get boxed in every single time. This has been going on in this county for a long time, but yet your comprehensive plan lays out a process. So in my opinion what you're doing is not in concert, not compatible with your comprehensive plan."
However opposed to the development's particulars, the council appeared uninterested in attempting to take the route L:ockhart was proposing. Her points were summarily addressed: there was an "effort" to have a joint-planning agreement, William Reischmann, the city attorney said.
Holland was resigned to the inevitable: "An unfortunate set of circumstances that have us in a situation where we're very much limited on our ability to even negotiate any changes other than just requesting," she said. "But there's no law governing us to force the hand of the developer in this discussion."
Still, she tried to force the hand of the developer at least on getting an agreement from him that there should be no short-term rentals allowed, and she appeared, after a long debate and resistance, to be successful in that regard.
"We have no plans to do short-term rentals," Belshe said, but then he prevaricated. "We may be the developer that builds these buildings and we may partner with some other company in the future and we may sell the property to somebody else in the future. I don't think it would be fair to ask us to restrict what we're going to do beyond what the city allows or doesn't allow."
"This is not being a good partner when you're coming to us and asking for some type of agreement that we're working towards, knowing that you're going to have future projects that come before us," Holland said. "We do not want that type of industry in our community that's wreaking havoc. You look to the north of us in unincorporated county, they're having this exact issue, where they're having 40 people in a condo unit during race week next to a residential area, and there's parties going on until 4 in the morning, there's loud music and it's causing disruption in a residential area. Vacation rentals have a place, and I'm not opposed to vacation rentals. What I'm opposed to is vacation rentals in a residential area that is meant to be residential." (She made an exception for Airbnb-type rentals, which she said are not as problematic.)
Remarkably, Jim Landon, the city manager, did what he's never done before at a meeting: he tried to negotiate with the developer then and there.
"It seems to me like you want to sell lots and houses," Landon told Belshe. "You should have no desire to actually get into the rental business or to sell a house to somebody that's in the rental business, so it seems to me like this is not an unreasonable request, to just agree that in your HOA covenants and restrictions, we'll say that you'll not have short-term rentals." HOAs are homeowner associations. "This actually protects your investment."
Again Nobile came to the developer's rescue, though he had the law on his side too, as Reischmann explained. "I'm in the middle of a residential area and I can rent my house to 20 people for a week, so why would we impose that on him?" Nobile said. "I agree with this discussion but I do not agree with public having this discussion. I think this is a discussion that needs to occur between our administration and the developer on this because we're starting to create good and bad people here, and I don't like that in public, like this."
"If we could tell these folks that they can't have time-share, if we could legally do that, we could tell them that they can't have a building more than 40 feet," Reischmann said.
But Belshe made a concession: "We don't have any intention of doing short-term rentals, that's not the business we're in," he said.
The council approved the land-use changes in two separate, 4-0 votes. (Nick Klufas was absent.)

Land Use Changes Along Colbert Lane: The Documents