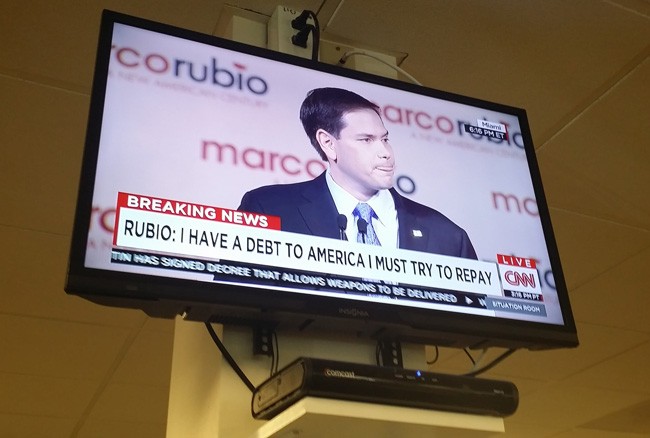 If you listen closely not every part of the presidential election campaign has been hijacked by Donald Trump and his apprentice dunces. On the Democratic side, Bernie Sanders may not have a chance, but he's the anti-Trump and anti-Hillary all in one: he is so serious that he can't be bothered with the oily niceties of the campaign trail or the oilier slickness of PR flackers. He's all plans: a higher minimum wage, a single-payer health care system, ending corporations' free tax ride, and so on. In comparison Clinton is a muddle of dullness and predictability. It's as if she fears original ideas, at least those she cares to share with us beyond her private servers.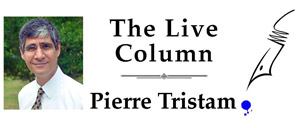 On the Republican side there's so much noise and hilarious fury that it's difficult to pick out any serious ideas. But they're there, and from the most surprising candidate: Florida's Marco Rubio. Look beneath the ideological surface, and what you see is a less rigid, more daring candidate than Jeb Bush, who more and more is beginning to remind me of Gerald Ford. He keeps tripping over his own words, especially when he tries to speak English.
One Rubio idea stands out for its apparent radicalism. It attempts to deal with a problem that's pricing out millions of students from a proper education. That's the rising cost of college and a crushing loan system that's leaving graduates with an average of $35,000 to pay back. That's more than triple the amount students carried into the work force in 1993. College tuition has also more than doubled–at private and public colleges.
Florida is not helping. Four years ago the Florida University Board of Governors allowed our universities to increase tuition by 15 percent every year. They're doing so because the Legislature cut its funding, and, in a twisted bit of reasoning, to make Florida universities more competitive by attracting more reputable faculty. The message to Floridian students: we're looking past you for deeper pockets. Once-exemplary state scholarship programs such as Bright Futures have lost half their value in a student's aid package, with no interest from the Legislature to make up the difference. Students make up differences in loans. Or by foregoing college.
Rubio's idea is provocative. But it's also slightly dehumanizing. It turns students into something like equity shares. We live in a strange age when the supreme court thinks nothing of equating corporations with persons. So it may seem natural to equate persons with corporations.
In Rubio's financial scheme, a student needing $10,000 to afford tuition would sell herself to investors. They would look at her major, decide whether to give her the money, and set the terms of paying it back. She'd have to pay a percentage of her salary for five, 10 or more years, whatever salary she's making to the investors. Rubio says she'd be under no obligation to pay back the loan over the life of the contract. But since the investors set the terms, it's difficult to imagine that the result won't be like a casino where the house always wins.
High-demand majors might get more generous terms, because the income they're expected to generate is higher. Low demand majors would either get no investors or harsher terms, like 10 percent of one's salary over a longer period of time. Universities would then be less inclined to offer majors that don't attract students. And people like Rubio and Rick Scott, who think anthropology majors are from the Jurassic era, would celebrate.
The scheme is called human capital contracts. It sounds like free enterprise with all the fixings. It sounds, as Rubio describes it, "revolutionary."
But it's nothing of the sort. It's as old as share-cropping, except with brains. It turns students into indentured servants for a chunk of their career. It lets investors dictate what majors matter and majors don't, flouting the whole purpose behind a college education that makes academic freedom, and the student's freedom to choose, the first principle of that education. And it does nothing to address the root of the problem: that's rising tuition. Loans are a crutch, too. But no student loan is ever conditional on a student's chosen major or choice of career. It's a neutral contract.
And it's not variable. A $150-a-month payment at graduation will still be a $150 payment 10 years hence. A tithe on a graduate's paycheck will take an ever-increasing amount of money out of that graduate's paycheck as his or her income rises. And if that graduate turns into a Jeff Bezos-type entrepreneur, it's jackpot for the investors, but not necessarily an incentive to the graduate for enrichment. The pay-back scheme is no different than a tax.
Rubio is right to focus on college costs. American universities are the envy of the world. But they became so because they have been shielded from the corruptive influence of the market, not because the market had an open door to the university. Rubio's scheme turns that principle on its head while doing nothing to cut costs. In other words, it's just a new way to shove dollars to investors at the expense of the university.
There are better ideas out there, among them the proposal, favored by Hillary Clinton, to cap loan repayments at 10 percent of income over 20 years, and forgive whatever remains of that debt at 20 years, with the government making up the cost at that point.
The best thing about Rubio's idea is that he's made college costs a topic of debate. Beyond that, he should brush up on the bleak history of servitude in this country before proposing a variant where it does not belong.

Pierre Tristam is FlaglerLive's editor. Reach him by email here or follow him on Twitter @PierreTristam.A version of this piece aired on WNZF.