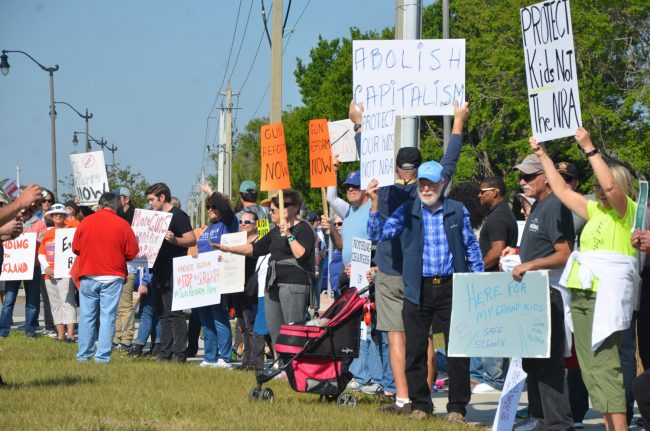 Savanna Dacosta is a 15-year-old freshman at Flagler Palm Coast High School. At 10:30 this morning, she was one of more than a hundred people lining the sidewalk on Palm Coast Parkway at Boulder Rock Drive, doing what hundreds of thousands of people were doing in some 800 planned "March For Our Lives" demonstrations across the country and the globe throughout the day: protesting gun violence and lawmakers' inaction, token responses aside.
"I'm here because I feel like this is an issue that's taken too lightly," Dacosta said, holding a big blue and black sign that echoed many like it in the rest of the country: "ARMS are for HUGS."
"The biggest thing is the awareness and having our voices be heard," Dacosta continued over the din of passing traffic, most of it honking its approval of the demonstrators. She spoke with the spontaneous eloquence that's become a trademark of the student movement:"One of the biggest things that's holding us back is such close-mindedness from people who aren't willing to open up to more innovative and vivid ideas and aspects that could potentially be what causes the change in the world. That shooting at Parkland could have been any school in this county, any school in any other county in Florida, in the country, it could have been anywhere, and I feel like any of those kids could have been someone I love, you love. It could have been anyone here, and I feel like it's not OK, and people aren't able to accept that. It's not necessarily the guns in general. It's what people are doing with them that's so bluntly inhumane, and it's not something that's to be taken as lightly as it is, and that's a problem to be addressed."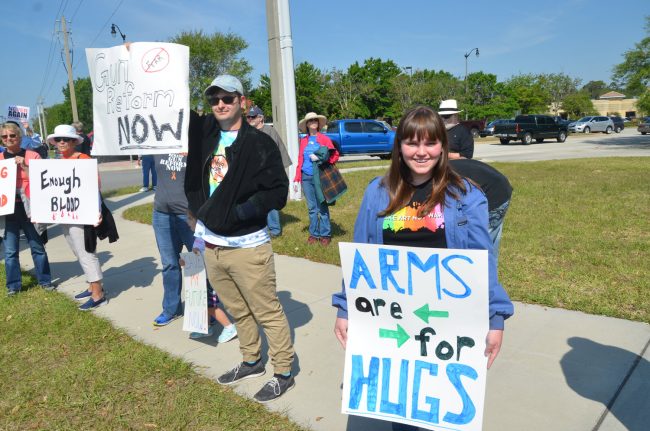 Students have been at the forefront of that movement since the Parkland massacre that left 14 students and three adults dead at Marjory Stoneman Douglas High School on Valentine's Day, with numerous shows of solidarity and demonstrations locally taking place at Flagler County's high and middle schools and in a high-profile march across the Flagler Beach bridge on March 2. Demonstrators said then it would not be anywhere near the last, and it hasn't been, though today's demonstrations are by far the most coordinated and extensive of the series: they are taking place on every continent but Antarctica: it is the first time since the attacks of September 11, 2001, that a catastrophe in the United States has led to such a global show of solidarity.
"I've only gotten a couple of fingers," Pat Ferraro, a Flagler Beach resident for three decades, said on the protest line this morning, before heading to the demonstration in St. Augustine later, like many others along the line. She was referring to the people in passing cars flipping the bird to demonstrators, something Ferraro is used to, being a veteran of local demonstrations. "Really, not that many. Probably three or four. A whole lot less than peace signs and horns. A very, very positive reception, I would say. I can live with a couple of fingers. We don't respond. I'm one of those certified peacekeepers, so."
"All but two have shown support," Vincent Lyon, the Palm Coast attorney, said as he stood on the line with his wife Vivianne Holt. Both had also been part of the march across the bridge. "One guy drove by and shouted 'I'm keeping mine,' I assume his gun, and I said if you're not a criminal, I'm OK with that."
---
"It's not necessarily the guns in general. It's what people are doing with them that's so bluntly inhumane."
---
You could hear the occasional "NRA is the way" shouted out of passing cars, "Guns aren't the problem," "Go Trump" and a few more goonish, less printable ejaculations. But considering the explicit gun-control message along the line, which included the odd "Abolish the Second Amendment" sign (that one held up by Bill Moya, who sees hunters in countries all over the world without a Second Amendment), the response over a 45-minute span was remarkably supportive, even surprisingly so for a county reputed to be among Florida's more gun-toting.
A few extremes aside, a closer look at the signs and a closer ear to the message of the organizers reflected what most of these marches today are reflecting: The insistent pragmatism of marchers who are asking nothing like the abolishment of the Second Amendment or the taking away of guns, as National Rifle Association misinformation claims, but sensible, common-ground approaches to gun safety that have broad support, such as universal background checks, a ban on assault-type weapons commonly used by military forces, and more restrictions on the ability of violent or mentally ill people to buy or keep guns.
"To me this isn't really a Second Amendment issue," says Stephanie Capehart, the new, high-energy president of the Flagler Democratic Party and the organizer of today's demonstration. She was there with her partner and their toddler daughter, who did her share of sign-holding. "This is an issue of these weapons that have become so easily accessible that have no reason to be in the hands of a civilian. Banning an assault weapon is not the same as stripping someone of their Second Amendment right. And I think that's part of the problem, everyone is confusing the two conversations."
Capehart grew up around guns and bristles at the notion that guns should be banned. "I actually had to at one time defend my home by loading a rifle and sitting at the top of the stairs, hoping that the police got there before somebody broke in the house," she said. She was a college student at the time and had gone home for the weekend when her parents were out of town. They lived "in the sticks," Capehart said. "My dad was a hunter. We had rifles hanging on every wall in the house, underneath the bed, it was no big deal, and he was a member of the NRA. But that was when the NRA represented hunters and sportsmen. And now they just represent gun manufacturers. This is the thing that gets me about all of these folks that are so pro-NRA. They are not representing you. They are not representing the common person who is going to go hunting or going to go shoot at the range for sport."
The NRA has nothing if not enormous grassroots support, from which it draws its power. It is also indisputable, from lawmakers' voting records and fear of bucking the organization, that the NRA wields disproportionate and possibly illegal power in state legislatures, as was the implication of a New Yorker profile of Marion Hammer, the long-time NRA lobbyist in Florida who is reported to regularly draft, edit and veto legislation before it finds its way to committee votes.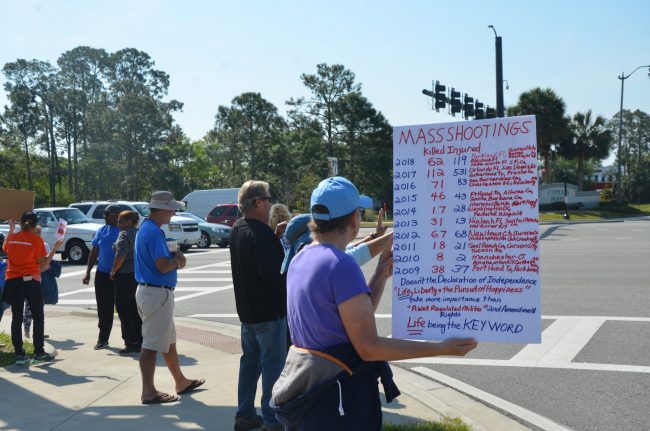 That's the power Capehart says must be confronted with an alternative. Car honks, she says, aren't enough. There's a difference, she says, "between the affirmations of the people driving by and the people that are standing here and being able to spread a message effectively on a mass scale. And we have not done that successfully up to this point." The next step is to get the alternative point of view elected. "We have to get out and vote."
And the strategy, Capehart says, is not to alienate the opposition, but to find common ground, even with an opposition not merely entrenched, but entrenched and armed, metaphorically anyway, with more than protesters have been able to counter.
"What I'm saying is: these weapons that are getting into the hands of people that have no reason or right to have access to them, are committing these catastrophic crimes, and that is an extreme," Capehart says. "And the people that know that these horrific things continue to happen and still say, 'I'm not going to budge a bit on my Second Amendment right,' it's very difficult to have a meaningful conversation with someone that is on that extreme if we come at it with the, 'You're absolutely wrong, you're ridiculous, etc., etc.' We're willing to come in off of that margin a bit in the hopes to start a dialogue that could lead to a constructive solution."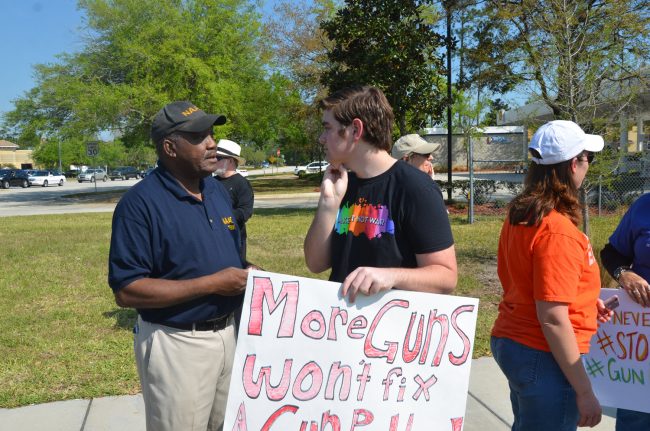 Capehart spoke this morning alongside Tyler Perry, the Flagler Palm Coast High School junior who organized the march across the Flagler Beach bridge earlier this month. He says the achievements of marches like that, which were conducted with cooperation rather than resistance from school officials, may be a model of steps to come that take the issue to a more state and national level. There is little appetite for confrontation and alienation, and a great desire for what he calls "level ground."
"The best way to go about inspiring change, I'm a strong believer, is that if you work with them, not against them, you're more likely to have the outcome you want, and we got the outcome we wanted on the local level," Perry said, noting the securing of more school deputies, shooter training and a safety curriculum. "That's why we're here to try to move on to the next step. We got what we wanted on the local level, now let's go to state and federal and let's get the gun regulation that we need." He added: "I think we can get the gun regulation we need if we put the right people in power. So 2018 is going to be the most important election year the country has seen and I think we're going to get the right people elected by elevating them, not tearing down others. I'm a strong believer in that."
He left only the tiniest crack open for the possibility of more disruptive action, but essentially, only if all else fails. "If we keep going through the election and nothing happens, I think we might reach that point," Perry said. "But we're going to try to make as much change as we can without being such a disruption that we're going to make enemies, because nothing is going to happen when you start making enemies."

FlaglerLive doesn't happen by magic: we are a non-profit, 501-c-3 news service that depends on your contributions: we have no paywall, and advertising revenue is limited. To contribute from as little as $2, go here.