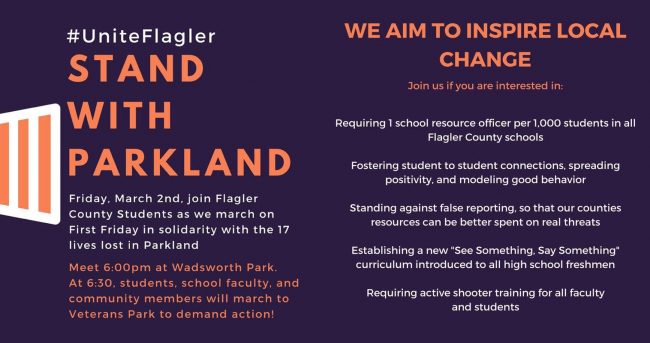 Tyler Perry, president of the Student Government Association at Flagler Palm Coast High School, was looking for means to express student reactions to the massacre at Marjorie Stoneman Douglas High School, but in a way that would bring awareness to local students' concerns: to make them feel safe, nurtured, accepted.
Perry wasn't looking for political shock but to "inspire local change," as the social media banner he started circulating put it: more school deputies, "spreading positivity," battling rumors that lead to false alerts on campus, spreading a "see something, say something curriculum," requiring active shooter training for all on campus, and developing a sense of school community that prevents any single student from feeling isolated to the point of turning into a Nikolas Cruz, the 19-year-old shooter at Parkland whose history was draped in red flags.
Perry met with School Board member Colleen Conklin to bounce off ideas and develop connections, met with Superintendent James Tager, met and spoke with others in the community, and within days the plan for Friday evening's student-led march from Wadsworth Park to Veterans Park in Flagler Beach was born. It quickly picked up interest and attention—some of it nervous attention—on social media, with Matanzas High School joining in, along with support from faculty and administrators.
The nervousness was in part tied to the fact that the marchers would literally be descending from the bridge onto First Friday in Flagler Beach.
"Initially there was some worry in the community, 'oh my god they're going to hijack this event," Perry said in an interview this morning. "I want to make it clear, we have no intention of hijacking the event."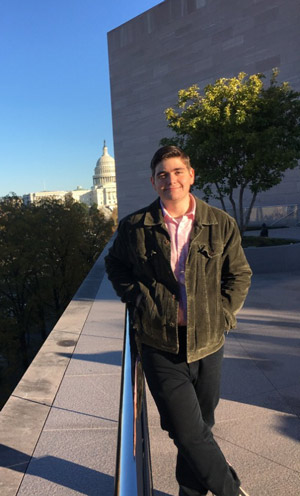 Rather, the students will be given 10 minutes around 7:10 p.m., during the live band's intermission, to take the stage, read the names of the 17 victims of the Parkland massacre, and speak their minds, framed in large part by the themes Perry laid out.
"We believe that to make the most positive change we need to do it in a positive, peaceful manner, we don't want to make any enemies in Flagler, we don't want anyone to think we're against them," he said.
That put a lot of people at ease and convinced David Ayres, the general manager at Flagler Broadcasting, whose Cool 100.9 sponsors First Friday's music at Veterans Park, to incorporate the marchers into the event. "The intention wasn't to be disruptive, but to be heard," is the message Ayres got, he said. "It's a public park, it's a public gathering, so they put some thought into it, they have a message they want to be heard, and they want to be heard before the end of the session in Tallahassee. So they're hoping for media coverage which is good."
They'll be getting it, including through an appearance by Perry live on Ayres's Free For All Friday show on WNZF Friday morning (Perry will step out of class to call into the show). "I don't really see it as political, I see it as voicing opinion. There's going to be a few hundred kids marching, I'm sure they have differing opinions themselves," Ayres said. "Personally I'll be curious to see what they want us all to walk away thinking from this."
The Flagler Beach city administration and police got in on the plan, with Flagler Beach Police Chief Matthew Doughney preparing a plan to ensure that the students are safe along the streets and crossing them. What the students may say on their signs is not a concern.
---
"I will be joining the students, because I think this entire county should join them, I think every single person should stand with them."
---
School officials see it as a non-school event. "That is a student-led initiative," said Superintendent Jim Tager today, "and one thing that I would tell you is that I've been very, very impressed by the students from Douglas High School with their stance and the way they are able to articulate their ideas, their intelligence. Certainly young people have a lot to say that's of value, and I've listened to our students, I think they've conducted themselves in a respectful way. It speaks well of them, of their families an upbringing, and our education system."
Tager sees concrete possibilities coming out of the initiative, such as incorporating the "see something, say something" in Freshman Success classes. If he had a recommendation for the students, it was to "be respectful" of the memory of the Stoneman Douglas victims. Will he be at the march? "Haven't really decided what I'll be doing Friday night yet, couldn't tell you either way on that one."
Conklin, the school board member, intends very much to be there: she's been promoting the march on her social media accounts, where conversations and debates resulting from the Parkland shooting have gotten so intense that she had to close one thread after it generated upwards of 200 comments and very high decibels. She doesn't see the march devolving into that sort of tenor.
"I respect the students' right to share their perspective on this issue and I am extremely proud of the way they have handled themselves," Conklin said, addressing not only the coming march but the way students at Matanzas and FPC have, in fact, already demonstrated, in brief self-controlled spurts. "I think they have a powerful, powerful voice that should be respected in this conversation and in this space, and I think they have every right to share that in a constructive way." Conklin added: "I will be joining the students, because I think this entire county should join them, I think every single person should stand with them, show respect to Parkland as another community, show that Flagler County stands with Parkland, and that all of us, all of us, together, should never have to witness this occurring again in our country."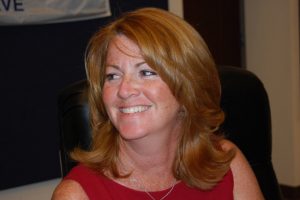 The nervousness over the march was exemplified by Flagler Beach City Commissioner Rick Belhumeur, who started a social media debate of his own on one page where he described the marchers as potentially "crashing" First Friday—and doing so on the Flagler County Democrats' page. "What does Flagler Beach have to do with safety in public schools?" he asked. "This IS a peaceful community event hoping to keep the community peaceful," came one answer.
"The thing that put a little scare in me was the way that flier was put together, that they were going to come over and demand action," Belhumeur later said in an interview. "It's morally not right, there's an event going on and if they're invited, which they have been, now, and they worked out the term, then that's good." He added, referring to Larry Newsom, the Flagler Beach city manager: "Of course I believe in their cause but there's a way to do it. It's like Larry said, if we knew it was something they wanted to do we'd give them the whole park and let them make a day of it, but to come in and impose themselves I guess is another way of putting it."
But he got no disagreement from Conklin or fellow-City Commissioner Jane Mealy when they said they'd rather the march did not have political overtones.
"I'm all in favor of what they're doing," Mealy, a former teacher, said. "Those kids in Parkland, they have amazed me. Having been a teacher for so long I've never met a group of kids like that so articulate and so strong, so I was not opposed to the march. My feeling about First Friday is it's such a homey community event that to politicize it, I thought we needed to be kind of careful about that, and I didn't know how rowdy the kids would be and things like that. Not to hush them up, because I certainly believe in that and I certainly believe in their cause. In sum, she said, "I was afraid of it becoming a big uproar, because I don't know how many pro-gun people we have in town, quite a few for sure, and I didn't want it to become a pro-gun, anti-gun, on a First Friday."
Conklin says marches like that are part of a context that's making the sort of difference that hasn't been seen in the past. Angry as the Parkland massacre made her, she insists that the aftermath has been more of a turning point in the gun debate because partisanship is giving way to a more human debate.
"This isn't just about removing guns. This isn't about the Second Amendment," Conklin said. "
This is about a very complex issue that includes, yes, access to guns, it's about mental health, it's about a generation that has become de-sensitized to violence, it's about psychotropic drugs, it's about the breakdown of the family, it's about social media, it's about isolation, it's about bullying and cyberbullying and being 24 hours connected. It's not one thing that's going to fix it. I do give it to the students, because the students, especially those from Douglas that have come out to share their voice, and because they are so close to voting age, you have legislators that are finally listening that should have been listening for a long time. I think they are concerned that these young people are going to vote, and they are going to demand to be heard. I think it's very different."
Many of those crossing the Flagler Beach bridge Friday evening will be voting in their first election come summer and November.