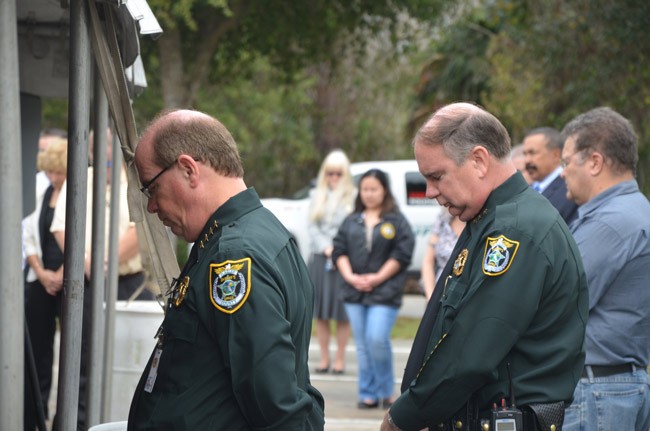 Reenacting a playbook he used 11 years ago in Orange County, where he ran against the man he'd served as undersheriff, Rick Staly today did what most of those who know him predicted he would do: he announced his run for Flagler County Sheriff against Jim Manfre, whom he served as undersheriff for two years until his retirement in April.
Staly joins a crowded field of candidates that includes Don Fleming, the former two-term sheriff Manfre defeated by a few hundred votes in 2012, and three lesser-known names (John Lamb, Gerald O'Gara and Mark Whisenant). All five are running as Republicans. Manfre is a Democrat perceived as weakened by ethics violations and unusual turn-over at the agency.
But such a split field amplifies the primary election outcome's uncertainty despite the name recognition of two candidates as divided votes could then allow a lesser-known candidate to squeeze by. Staly's challenge, beside his four opponents, will be to distinguish himself from the administration he served for two years as he speaks of bringing about "much needed change" to an agency he'd been brought on to change.
"With cars being stolen, homes and businesses burglarized, thefts and robberies increasing since I've retired, and with agency morale at its lowest and employees fearful of their jobs, I feel compelled to run for Sheriff," Staly said in a press release drafted by Bob Weber, one of Manfre's former public information officer. "Flagler County has had almost 16 years of the same two people as Sheriff with
both having major problems during their time in office. It's time for a new Sheriff in town."
When Staly resigned in March, he and Manfre painted the occasion as a retirement related to personal and family priorities. The two only had freindly words for each other, at least in public. Even then speculation was swirling over Staly's intentions. A Republican, he had been openly critical of Manfre in statements to Florida Ethics Commission investigators, who were looking into several matters involving Manfre's misuse of an agency credit card, his acceptance of a gift from Staly and his use of agency vehicles for out-of-state-travel.
The ethics commission found him in violation on all three counts. Manfre vowed to fight the findings, and the matter is ongoing. It was at Manfre's news conference discussing those findings that the niceties between Manfre and Staly ended in earnest: Staly in comments to a News-Journal reporter that day had compared Manfre to a criminal, and Manfre at the news conference attacked Staly as disloyal and repeating a pattern of undermining the sheriffs he's worked for.
Manfre did not return calls to his cell phones Wednesday afternoon. At 1:36 p.m., Manfre issued an emailed statement through Jim Troiano, his chief spokesman. "Rick has a history of running against the sheriff's he served as undersheriff," the statement read. "The last time he did this, he ran as a democrat against the incumbent Republican Orange County Sheriff Kevin Beary. Rick lost that election. Rick has flipped his party affiliation and is now running as a republican against the democratic sheriff that he served. Notwithstanding Rick's sudden departure from the FCSO, the agency has moved forward and has continued to improve its operational efficiencies and service to the citizens of Flagler County."
In 2004, Staly ran against Orange County Sheriff Kevin Beary. Beary beat Staly with 53 percent of the vote. A month after the election, Staly brought an ethics complaint against Beary, which eventually led to a $10,000 fine and $10,000 restitution cost against Beary, who'd inappropriately accepted $40,000 in consulting fees from a non-profit corporation Beary had himself created and subsidized with tax dollars.
"Manfre can say whatever he wants but he has a history of trying to rewrite history," Staly said in an interview just after 2 p.m. "The accurate fact was that there was an unethical sheriff in Orange County. I ran against him in 2004. I'd been a Republican probably 90 percent or more of my life. I changed political party because I knew he could not be beaten on the Republican side because he already had another opponent. It was a hard thing to do but I became a Democrat so I could force him all the way to the general election." Staly said he'd been bringing ethical matters to the sheriff's attention for a long time before he resigned and decided to run. "If standing up against the most powerful sheriff in Fla for ethics violations is disloyal, then I plead guilty to that."
John Pollinger, himself a candidate for sheriff in 2012 who joined Fleming as an adviser for the 2016 race, said there was nothing surprising about Staly's entry into the race, as it was expected all along. "I don't believe it'll be a surprise to anybody," Pollinger said. "The more the merrier." Pollinger disputed Staly's characterization of problems under Fleming's tenure "other than what's already been addressed and put to rest." (Fleming paid a $500 fine subsequent to a Florida Ethics Commission finding that he'd inappropriately accepted a privileged access to the Hammock Beach Club.) Pollinger also tied Manfre's current issues of morale and crime with Staly: "He was partially responsible for that during the time he was the undersheriff," Pollinger said.
Pollinger said he "took exception" to Staly claims that he'd not necessarily been planning to run, even as he was still the undersheriff. "I sat down and had lunch with him last year, and I'm sure it was to find out my intentions if I was running," Pollinger said of a lunch in August 2014 at Hooligan's in Ormond Beach. Staly told him he was planning on a run, and would precede his decision with some internal polling first. "He told me face to face that's what he was going to do."
Staly's version of events is slightly different: "I had a lunch with John Pollinger and I'd asked him if he was running for sheriff," Staly said, "he said no, I said I don't know what I'm going to do, but if I were to decide to run, I'd hope you join my team. I never told him I was in fact running, because at that point quite frankly my mind was not made up."
Staly's four-page news release devotes almost three pages to endorsements and testimonies of supporters, including the endorsement of Jack Bisland, whom Manfre had brought in in 2013 as head of investigations in what turned out to be a brief and unhappy tenure: Bisland was among the first to leave Manfre's administration, disenchanted. Oddly, the release announcement was accompanied by Staly's official portrait as undersheriff at the Flagler County Sheriff's Office, and he purposely tied his announcement to Tuesday's Florida Cabinet meeting, where he received the governor's Heroism Medal for surviving a line-of-duty shooting incident in 1978.
The release also summarizes Staly's four decades in law enforcement, most of that time in Orange County (though the Orange County Sheriff's Office is not mentioned by name) and his brief time as head of a private security company in Flagler.
Staly said that as far as having been part of the administration he now claims needs a change, "Manfre made it very clear to me that I did not have the authority to hire and fire. Only he could do that. He doesn't listen well to guidance, hence why he's in the trouble he's in with the ethics violations. So I can give advice, but I'm not the sheriff, and those decisions were made by him." He said he was able to accomplish certain things "with one hand handcuffed," in an agency Staly now says was not supportive of its sheriff. "Was I there? Yes. I'm not the one calling all the shots. I can make recommendations. Sometimes they get listened to, and sometimes they don't. And I'll stand on my record."