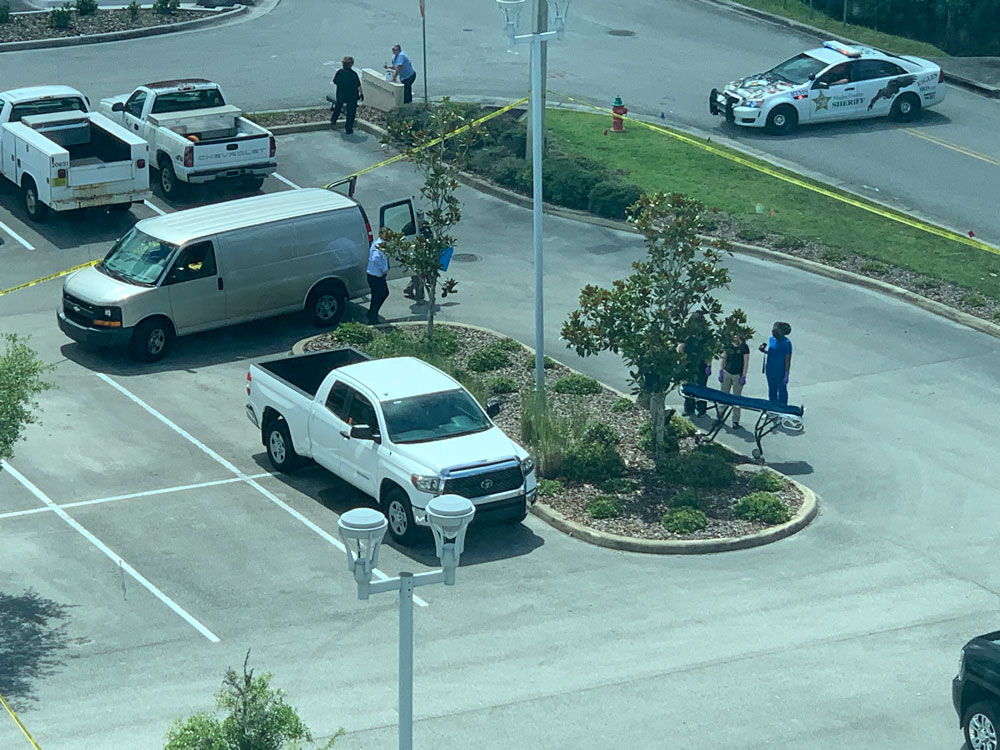 A man shot and killed himself in the parking lot of the Flagler County courthouse this morning around 10 a.m.
Mario Arter, a 46-year-old resident of Palm Coast's C Section, shot himself mere minutes from when he was due to appear in circuit court to be sentenced to three years and six months in prison on charges of possession of child pornography. He had been arrested at the end of April 2020 and initially faced 30 counts of possession, later reduced to 10 as part of his plea agreement. (See: "500 Images and Videos of Child Sexual Abuse Found in 46-Year-Old Palm Coast Man's Tablet.")




He had driven in for his sentencing in a white Pick-up truck. He parked the truck in the parking lot below the east side of the courthouse, in direct sight of the fourth-floor courtroom where he was to be sentenced. He had informed authorities where he would be found. He never stepped outside the truck before shooting himself, and authorities at the courthouse said no one had been endangered.
Arter's attorney was waiting for him upstairs, where Circuit Judge Terence Perkins was conducting sentencing hearings, pleas and docket sounding hearings all morning. No one appears to have heard the sound of the gunshot. Court proceedings stopped once court personnel was made aware of the incident and further proceedings were temporarily delayed.
The crime scene was broken down at 11:45 a.m. a tow truck from Saxon's Towing in Bunnell removed the pick-up truck by noon, slowly driving out of the parking lot as it was followed by the CSI unit.
Arter had contacted authorities a few minutes earlier and apparently warned of his imminent action, telling a 911 dispatcher where he would be found.
The parking was sealed and numerous units of the Flagler County Sheriff's Office reported, including the department's Crime Scene Investigations unit. The body was removed at 11:35 a.m., and taken away by the Medical Examiner, to St. Augustine, for an autopsy. Detectives and crime scene personnel remained as they continued to process the scene.




Court was in session this morning, with a heavy docket involving all three judges–Perkins and County Judges Melissa Distler and Andrea Totten. Circuit Judge Chris France was scheduled to hold hearings in the afternoon. Proceedings continued.
Arter had initially been booked at the county jail on $100,000 bond. His attorney argued successfully to reduce his bond to $50,000, conditional on his forfeiting his passport and remaining in Florida. A truck driver by trade, the man was ordered to limit his routes to Florida. He was not required to relinquish any firearms as part of the pre-trial order, though as a convicted felon he would have been barred from owning or possessing firearms. But the conviction was not to go into effect until this morning, since he had not yet been adjudicated. He bonded out of jail on June 11, 2020.
His fiancee had answered the door when detectives served him a search warrant last year. He had never been arrested before. Having already served 34 days in jail after his arrest, and with early release for good behavior after serving 85 percent of his sentence, Arter was unlikely to have served more than 34 months in state prison–less than three years.

The following resources are available for individuals in crisis:
In Flagler: The Crisis Triage and Treatment Unit (CTTU) is a crisis assessment and referral service for Flagler County residents experiencing behavioral health crisis. It is located at 301 Justice Lane in the Brown & Brown Outpatient building at the Vince Carter Sanctuary in Bunnell. This program is limited to individuals escorted to the program by law enforcement between the hours of noon and midnight daily. Law enforcement is able to transport individuals to SMA to assess and determine the appropriate clinical disposition. When required and appropriate, SMA then transports the individual to a receiving facility in Volusia County.
In Daytona Beach: Stewart-Marchman Act Corporation Crisis Center
1220 Willis Avenue
Daytona Beach, FL 32114
Crisis Line: (800) 539 – 4228
Available 24 hours.
National Suicide Prevention Lifeline, 800/273-8255 (TALK), or use the online Lifeline Crisis Chat, both available 24 hours a day, seven days a week.
Veterans Crisis Line: 1-800-273-8255.
People 60 and older can call the Institute on Aging's 24-hour, toll-free Friendship Line at 800-971-0016. IOA also makes ongoing outreach calls to lonely older adults.
If you are concerned for someone else, read about warning signs here. For additional resources, see the Speaking of Suicide website.