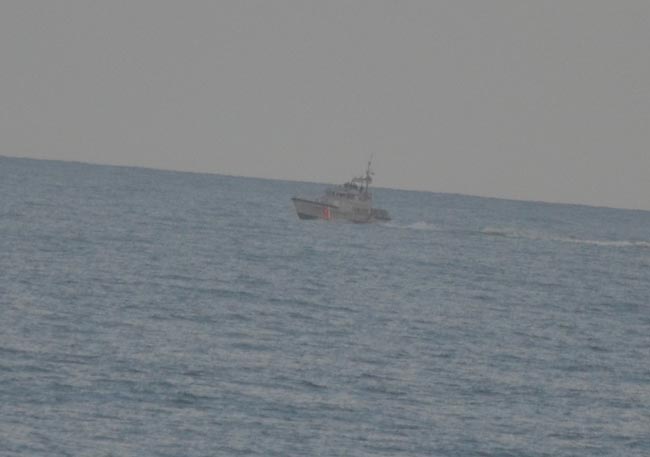 Last Updated: Tuesday, Sept. 6, 8:50 a.m.
Brian J. Oliver would like to let people know that news of his drowning was premature.
Oliver, 45, is the captain of the "Cedar Roost," a 22-foot sailing vessel. He was feared dead Sunday after he'd gone overboard and rescuers from four agencies in boats, jet skis and a helicopter searched for him from 5 p.m. until past sundown.
Oliver washed up on shore at Cinnamon Beach, in the Hammock, at half past midnight, more than nine hours after his ordeal began: he'd actually fallen in the water at 3 p.m., two hours before rescuers got the call through the U.S. Coast Guard that he'd gone overboard. He'd been clinging to a cooler the whole time. His vital signs were fine. "He didn't even want to go to the hospital," said Lt. Drew Hardesty, one of the marine rescuers who'd been part of the search teams earlier and who responded to the call at Cinnamon Beach. Oliver just wanted people to know he was OK, and to stop searching for him.
The captain told Flagler County Fire Rescue personnel that the boat was listing terribly at around 3 p.m. when he fell overboard, as did the blue cooler, which turned out to be his life-saver. Hardesty and Aaron Price, searching for him later on a jet ski, were to find a raft that they thought he'd clung to and lost. Oliver said he'd never used the raft, which must have fallen in with him. Oliver did see Fire Flight, the county's rescue helicopter, once or twice–and the helicopter saw him, but Oliver was then lost to sight.
---
Audio: Coast Guard's Franklin Timmons Describes the Search and Rescue[media id=245 width=250 height=205]
As it turned out, he washed up further to the north than where the rescue effort had concentrated from 5 to 8 p.m., in a wide circle about a mile off-shore from the area parallel to Varn Park south to Flagler Beach. It was somewhere in that area that the helicopter had appeared very briefly to make visual contact with Oliver, who was seen in the middle of a school of dolphins. Oliver was cold and hungry, but otherwise fine, Hardesty said.
Two people remained on board, neither of whom could communicate with the Coast Guard during repeated attempts. One was of Finnish descent, the other Norwegian, Coast Guard Petty Officer 3rd Class Franklin Timmons said. "We tried to get communications going on but it was real rough," Timmons said.
Oliver was taking the pair from Ponce Inlet to St. Augustine "and in route I guess they hit a squall and the captain fell overboard," Timmons said.
The Coast Guard helped the pair anchor the sailing vessel "and just get it settled so we could take care of going back and searching and helping searching for the man overboard," Timmons said. Referring to Flagler County's Fire Flight helicopter, he continued: "In the meantime while all that was going down, the Helo spotted somebody in the water, but then lost sight of them, so they continued the search."
Early this morning he was with the Flagler County Sheriff's Office, on his way to meet with the people who'd been on his boat–a boat he captains for them, and lives on. The boat was moored offshore, Hardesty said.
Below is Monday's original story as it developed through late afternoon and early evening, when all signs were pointing to Oliver's demise.

A search about a mile offshore from the northern portion of Flagler Beach is continuing for the captain of a chartered sailboat who inexplicably abandoned ship just after 5 p.m. today, leaving at least one person aboard. The sailboat, called the "Cedar Roost," was reportedly in very poor condition, its sails torn: a storm had just whipped through the area it was sailing through.
Jet skis from Flagler County Fire Rescue and the Flagler Beach Fire Department were deployed soon after the U.S. Coast Guard reported the incident. A search and rescue boat from the Florida Fish and Wildlife Conservation Commission joined the search, followed by a vessel from the U.S. Coast Guard, as well as Fire Flight, Flagler County Fire Rescue's helicopter.
The man, described as shirtless and about 50, went into the water with what appeared to be a life raft and was, in fact, located by Fire Flight at 5:55 p.m. It's not known why he went into the water. The man waved to the helicopter, or looked as if he was waving–he may also have been flopping–but then was described as going under. The Fish and Wildlife boat was five minutes away from where the helicopter had located the victim. By the time the boat got there, along with the jet skis, the man could not be found.
By 7 p.m., a couple of all-terrain vehicles were riding up and down the beaches in what by then was a grimmer search–for a body washing ashore, if the man had drowned.
For two hours, Flagler Fire Rescue had established command at 17th St. North in Flagler Beach, from where several people had also gathered to peer, some of them through binoculars, at the distant sights of boats circling in the water and Fire Flight passing overhead. Fire Flight was there past sundown, but that command post disbanded from that particular location at 7:30 p.m. as hopes of finding the man dimmed considerably with sunset.
"It's been 2 hours and 20 minutes that we got the call," Flagler County Fire Rescue Capt. Ron Bolser said at 7:20, "you'd be pretty beat down after two hours and 20 minutes of being out there and nobody finding anything."
Just before 8 p.m., Flagler County's and Flagler Beach's marine rescuers had returned to shore, were mooring their jet skis to tow away and turning over what remains of the rescue (or recovery) operation to the Coast Guard. They held little hope.
Aaron Price, who was on Flagler County's marine rescue unit for almost three hours, described the sea as "very rough, high surf, heavy currents, not survivable without any kind of life-safety equipment. The average person wouldn't last more than 20 minutes out there, I'd say." Price added: "We did locate the raft that he was floating on originally." It was a pool raft.
Price, who was on the jet ski with Drew Hardesty, described the swells as relentless–"one after the other."
Steven Cox and Keaton Nicastro were on Flagler Beach's marine rescue ski. "It was at least 5 to 10-foot swells out there," Nicastro said.
The rescuers had come to shore just north of the Flagler Beach pier, near State Road 100. They had cleared the beach by 8 p.m. It was not clear where the boat was, or where it was headed–north or south–after the Coast Guard had secured it, though it was last known to have been in the Hammock Dunes area. Bolser said the woman who'd been left on board "couldn't communicate at all" because of a language barrier. The woman reportedly spoke Spanish. There may have been one other person on board.
Earlier in the day in Flagler Beach, rescuers were called to the scene of a feared drowning, but the person was pulled from the surf alive and refused assistance from paramedics at the scene. In the afternoon, a 40-year-old St. Petersburg man, Richard Kerr, was surfing with his children off Daytona Beach when he was carried out by the current and later found unresponsive. He was taken to Halifax Health medical center, where he was declared dead.
It is the second time in the last two weeks that a Volusia County drowning took place on the same day as a drowning in Flagler–or what appeared to be a drowning on Labor Day. On Aug. 27, two men, both 55, drowned in the surf (in Beverly Beach and in New Smyrna Beach), what remained of Hurricane Irene. Today's drownings may have been related to Hurricane Katia, which is far off shore to the southeast, but already churning up the surf near shore and triggering dangerous currents.